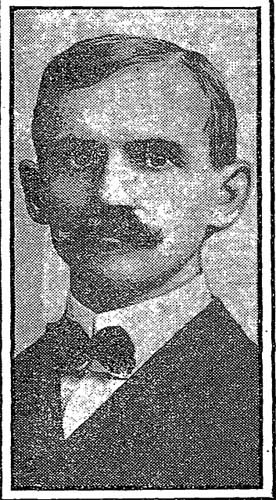 S. Frank Holley
This photograph appeared in the New York Times, Sunday, March 30, 1913, II, 13:1, with a story that read in part as follows:

COFFEE BROKER MISSING SINCE HE LEFT HIS OFFICE ON MARCH 22
Friends and relatives of S. Frank Holley, a coffee broker, of 17 Hubert Street, who has been missing a week, said yesterday that the police and private detectives had been unable to find any trace of him...
Mr. Holley makes his home with his sister, Miss Harriet Holley 301 [?] West 101st [?] Street. He is a bachelor and the only other relative whom he has in this city is a brother-in-law, E. H. Hudson of West 101st Street, who is a widower. Mr. Holley is the owner of an estate at Dorset, Vt. and it was thought at first by his friends that he must have gone there for a brief visit...
G. L. Stowell one of the members of the firm of Wood, Harrison & Co. of 261 Broadway, who is an intimate friend of Mr. Holley, said yesterday that his absence could not be accounted for on any reasonable grounds.
"Mr. Holley was a man of substantial means and temperate habits. An examination of his books and accounts show that his holdings had been prosperous. He had been working hard, however, and on the day that he disappeared he informed several of his friends that he was not feeling well. Before that time he had never complained and was apparently in the best of health. He left his office about 4 o'clock last Saturday afternoon after saying to members of his office staff:
"'I am not feeling well. I'm tired of this grind and guess I'll go home a little early.'
"From the moment that he left the office nothing has been seen of him. He was methodical in his habits and devoted to the business... In the Summer he usually has spent a few weekends at Dorset, but never before has he been away from the desk for more than a few days at a time. In twelve years he never has taken a vacation.
"Mr. Holley is 54 years old and a confirmed bachelor," he said.
Mr. Holley is five feet ten inches tall, weighs about 135 pounds, and has blue eyes and brown hair. He wore a close-cropped manly mustache when seen last by his friends. His upper teeth are artificial, and the lower front teeth show gold fillings. He wore a gray overcoat, dark suit coat and vest, gray trousers and black derby hat.
Copyright © 2002 Walter Grutchfield