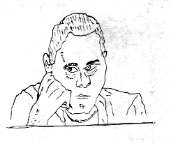 Je veux me servir de cette page pour présenter mon coin de pays:
Cretan Coffee
One morning in Heraklion (Crete) I decide to go to Phaistos, get up early, go off to the bus station. There is a time to wait for the bus to leave. So I sit down at a cafe and order a cup of coffee. This turns out to be the cup of coffee I will always remember when I look into any cup of coffee. It is so thick I have trouble finding the liquid. It is so strong I can barely stand the taste. I wonder if this is a joke played on tourists. But I will always believe that this flavor, this texture is what coffee should be. Today it is worth being alive just to remember this cup of coffee.
- - - - - - - - - - - - -
Phaistos
I may even have had a copy of The Colossus of Maroussi with me. On the boat to Rhodes my copy I brought from the US was stolen from me, but I bought another copy. Alexandros is there, an old man, still willing to guide. Sitting with some of the other guides later beneath some trees in the shade, one of them surreptiously offers to sell me some "ancient" coins. He says this quietly, tells me Alexandros would disapprove. I refuse to buy, can't tell if they are geniune anyway...
- - - - - - - - - - - - -
Pan Pipes
Hot afternoon, natural time for a siesta. So I set off down the road to Hagia Triada. I don't know how far this will be. Doesn't matter. Plodding on and on. Come across two men sitting beside the road. One of them is carving something, holds it out to me as I pass. I stop, look. It is a small "pan" pipe. He offers this tourist trinket like I should be glad to pay any price. It really doesn't matter to him. Bargaining is probably expected, but in this heat? Pointless.
- - - - - - - - - - - - -
Fu Shan
It is better to be awkward than to be clever, better to be ugly than charming, to be disharmonious rather than lightweight and slick, straightforward rather than manipulative. - Fu Shan (1605-1684/85)
(cited in The Embodied Image: Chinese Calligraphy from the John B. Elliott Collection; Princeton, 1999.)
- - - - - - - - - - - - -
Daniel Webster
In Central Park (New York City) there is a statue of Daniel Webster. I pass this way on my way home from work. One day there is a mother there with two children. The mother points out the statue to the kids and says, "See? That's the guy who wrote the first dictionary."

Several years later I am passing the same spot. There is another family group. But this time there is a father as well as a mother and two children. The mother says, "Look kids, that's the guy who wrote the first dictionary." But the father says, "No, dear. That wasn't Daniel Webster. That was Merriam Webster."

Now I am waiting to see what the third iteration on this can be. It is beyond me to imagine...
- - - - - - - - - - - - -
Tati
I am difficult to make me laugh - Jacques Tati
- - - - - - - - - - - - -
Tripod
Trying to take picture with camera on tripod. First I can't find subject (wall) through the camera. Finally get that right. Then I can't get the tripod to tighten. Seems this is a class tripod and all the little screws are missing. I already have this picture but want another one with different framing. A truck nearby will look good beside the wall.
Shop
See leaves against light on a church front. Get out camera. Try to find right angle. Nothing looks good. Light seems to have moved. Now notice at ground level an antiques store with lots of stuff on wall. There is good light in a corner. Adjust camera. Can't seem to focus very well. Also see girls inside shop door who are well lit. Almost as good as stuff on wall. Have trouble getting shutter to go off. Woman in doorway strikes several good poses, but I keep missing the precise moment. Another woman carrying a lot of stuff wants me to take picture. I manage to get some of the stuff on the walls. Want more pictures. Want to get crowd in. Not sure I have exposure right for the light. Bright sunlight has disappeared...
- - - - - - - - - - - - -
Grazie per aver visitado il sito.