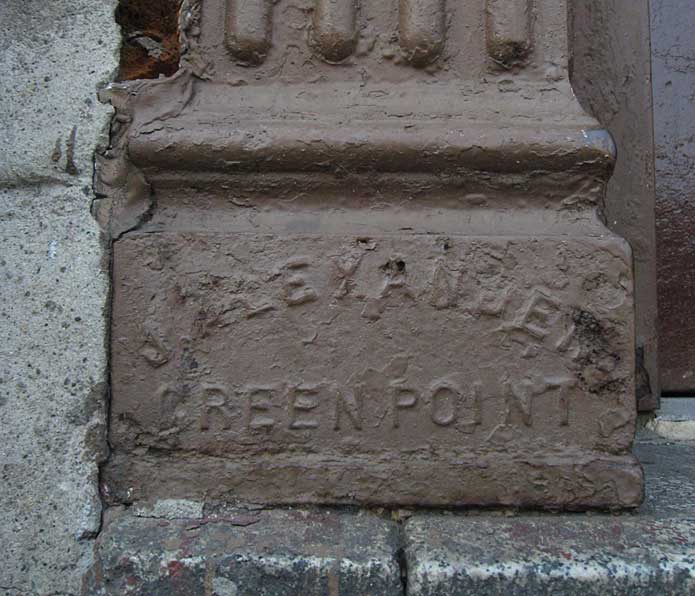 J. Alexander, 1035 Manhattan Ave., Greenpoint, Brooklyn, 2009

----------------
J. Alexander
Greenpoint
John Alexander's foundry was located at the corner of Quay St. and West St. in Greenpoint, Brooklyn, from approximately 1871 to 1882. Then for several years (1882 to 1885) the address was nearby at 20 Franklin St.
Brooklyn city directories listed him living in and around Greenpoint from 1856 to 1901. He lived at 348-350 S. 5th St. from 1889 to 1895. Then at the time of the 1900 U. S. Census John Alexander (1843-?) lived at 436 Franklin Avenue. This address is several miles south of Greenpoint in the western end of the neighborhood now (2011) known as Bedford Stuyvesant, near Clinton Hill.
The Brooklyn Daily Eagle (9 April 1878) reported on a dispute between John Alexander and the New York and Manhattan Beach Railroad Company. Alexander is described in the article as "an iron founder, whose factory is situated on Quay street, between Franklin and West streets, Greenpoint."
home | about me | list of images | see what's new
Copyright (c) 2011 Walter Grutchfield