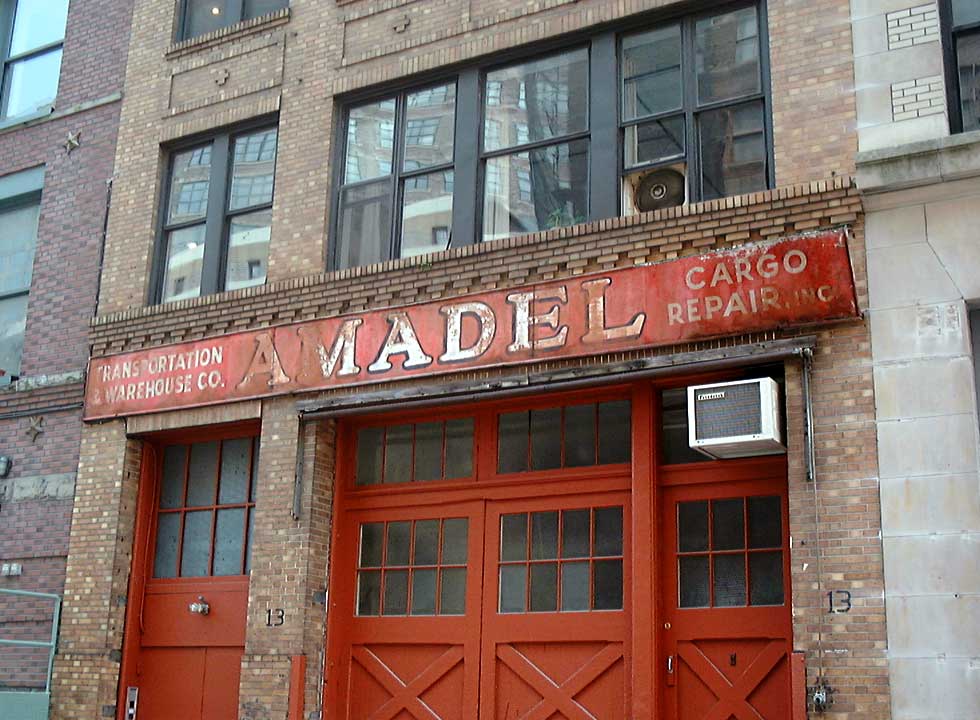 Amadel Transportation & Warehouse Co. / Cargo Repair Inc., 13 Vestry St., New York, 2002

13 Vestry St. would probably be considered the back entrance to the building that runs through the block and has a downtown side with the address 34 Laight St. 34 Laight St. is the address given in the Manhattan telephone directory for Amadel Transportation Co. and Amadel Cargo Repair Inc. from 1961 through 1973. Amadel began downtown in 1934 and were located mostly at 59-61 Water St. until moving to Laight St. in 1961. In the early 1970s they moved their operations to Jersey City, NJ. The last entry in the Manhattan telephone directory (1984) reads, "Amadel Inc Pr 9 Ft Of 12 Jersey City NJ NYC Tel No 349-4840."
In 1940 the president of Amadel was Alfred Muller. The New York Times (8 Dec. 1940, p. 220) reported, "John J. Kennedy, builder, has erected and sold to Alfred Muller, president of the Amadel Transportation Company of 61 Water Street, Manhattan, the new eight-room dwelling on a plot 50 by 95 feet at 5259 Fieldston Road, in the Riverdale section of the Bronx."
13 Vestry St. / 34 Laight St. is described in www.metrohistory.com as a 5-story brick warehouse, 29 by 175 feet, constucted in 1918 at a cost of $44,000. The owner was J. Fleming, Morris Ave. & 184th St., and the architect was Otto Reissman, 147 4th Ave. (Office for Metropolitan History, "Manhattan NB Database 1900-1986," (2009), http://www.MetroHistory.com).
New York City Department of Buildings (as of Feb. 2009) lists the building as having Landmark status.
Copyright © 2009 Walter Grutchfield