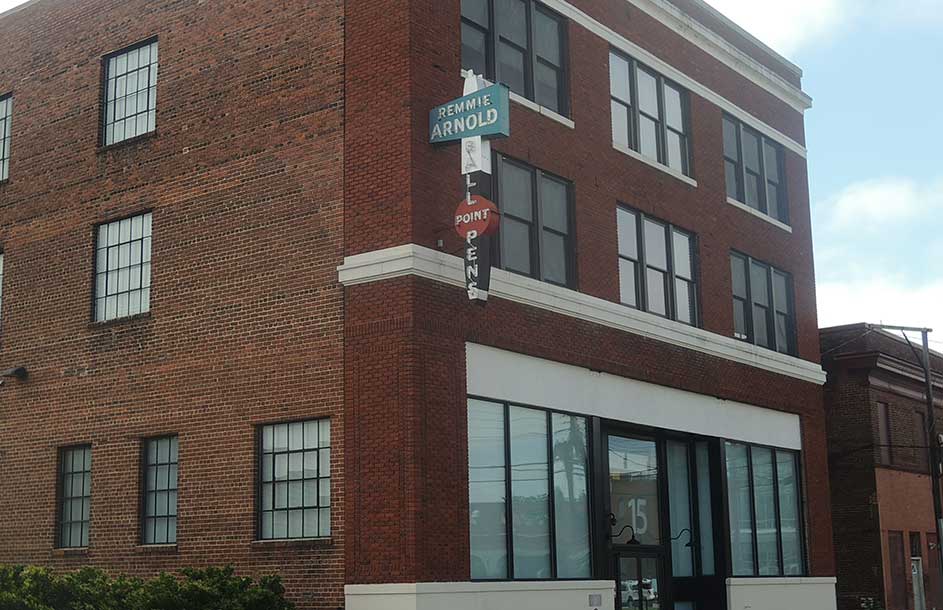 Remmie Arnold, Ball Point Pens, 15 N. Union St., Petersburg, Virginia, 2018

Click for closeup on the sign.
Founder and proprietor of Remmie Arnold Ball Point Pens was Remmie LeRoy Arnold (1894-1971). He was the son of Alex Arnold, and he appears in the 1900 U. S. Census, 6 years old, living with his father, mother and 3 siblings at 530 Pearl St., Petersburg. A delayed birth record says he was born 25 January 1894 to Andrew Alexander Arnold and Mary Virginia Longworth. Alex Arnold was a boilermaker in the census but appears as a clerk at the Petersburg Furniture Co. in Hill's Petersburg City Directory of 1901-02. He is listed as a sawyer in subsequent directories, and as a sawyer in a trunk factory in the 1910 U. S. Census.
By 1910 Remmie Arnold, age 16, worked as a laborer in a shoe factory. Later he was a ticket agent at Seabord Air Line Railway. In 1916 he was a clerk at Edison Pen Co. The Edison Pen Co. was first listed in Petersburg city directories in 1913/14. President was Ford D. Cromer. This company was in business until the mid-1940s.
Arnold founded his own company to manufacture pencils and fountain pens in 1935. Ball point pens came later in the 1950s.
In 1948 Arnold ran unsuccessfully for governor of Virginia. At that time the following sketch appeared in the Highland Recorder, Monterey, Virginia, "Highlights in the Life of Remmie Le oy Arnold A biographical sketch of the life of Remmie Le oy Arnold, who has announced himself as a candidate for the Governorship of Virginia follows: Born in Petersburg January 25, 1894, Arnold attended the public schools of that city for five years and then attained the remainder of his education by the 'hard way of trial and errors'. He began his business career at the age of 13 in a planing mill and subsequently held jobs as a worker in a trunk factory, stock room clerk in a shoe factory, repairman in a jewelry store and in various railroad jobs before going to the Edison Pen Company in 1915. In a matter of a few years he rose to manager and president of the company and in 1935 he founded the R. L. Arnold Pen Company in Petersburg, which he built into the 'second largest manufacturer of mechanical pencils and fountain pens in the world.' For the past 13 years his success has been almost phenominal [sic]. From this vantage point, he rose to be twice elected president of the Southern States Industrial Council, covering industries in all southern states. Most of his national notoriety comes from his connections in the fraternal world. These exploits have dubbed him a joiner extraordinary.' He has for many years been one of the leading figures in the Shrine and in 1954 will become Imperial Potentate of all Shrindom in America. So well is he known and honored that he holds lifetime membership in 72 of the 159 Shrine temples in North America. He has served as national president for both the American War Dads and the Circus Saints and Shriners of America and is at present a national councillor for the United States Chamber of Commerce and a member of the Advisory Board of the National Security Committee. He is a member of the Virginia Manufacturers Association and the National Associate of Manufacturers, The Dokeys and Knights of Pythias. His other memberships are numerous and varied. They include: the Elks, Eagles, Saints and Sinners, Masons, Kiwanis, Red Men, the Adventurers Club of New York, U. S. Navy League, the Petersburg Chamber of Commerce, the Virginia State Chamber of Commerce, the Civilian Flying Corps, the League of Virginia Municipalities, Shrine Clubs of Petersburg, Richmond, Alexandria, Staunton, Winchester and Farmville and numerous other smaller organizations. In addition to this he is president and owner of the R. L. Arnold Pen Company and serves on numerous labor and management committees in the state and nation. He served for eight years on the Petersburg City Council, 1936-44, and has been active in civic affairs of that city. In his wartime role as president of the American War Dads he was a guest of the Supreme Allied Command and the British Government for an extensive tour of the battlefields of France, Belgium, Italy, and North Africa. On this tour in 1944 he literally lived in the field with G. I.'s for over six weeks and won respect of military and civilian leaders in these countries and in England where he toured U. S. and British bases which served the operations in Europe. Back home in Petersburg he assisted in practically every move made in that area in connection with home defense and served as head of several committees for conducting the 'home war' on the home front."
On his death in 1971 Arnold received the following obituary in The Progress-Index, Petersburg, Va., 24 June 1971, pg. 16: "Remmie LeRoy Arnold Sr. of 12 Saddleback Lane, Petersburg, died Wednesday morning at Petersburg General Hospital following a brief illness. He was a native and lifelong resident of Petersburg and president and owner of Remmie Arnold Pen Co. He was a son of the late Alexander and Mary Longworth Arnold. He was past Imperial Potentate AAONMS of North America and a member of Powhatan Starke 124 AF&AM. Surviving are his widow, Mrs. Charlia S. Arnold, Petersburg; a daughter, Mrs. Robert Waite, Waukesha, Wis.; a son, Remmie L. Arnold Jr., Petersburg; four grandsons and two granddaughters, Remmie L. Arnold, Alexa Ann Arnold, and Stacey Lynne Arnold, all of Petersburg, Robert Jr., Stephen and Richard Waite all of Waukesha, Wis., and a great-grandson, Robert Waite III, Waukesha, Wis. Graveside services will be at noon Friday in Blandford Cemetery with the Rev. John Grainger, recor [sic] of St. Paul's Episcopal Church, and the Rev. John J. Jones, assistant rector of Christ & Grace Episcopal Church, officiating. The procession will leave the Adams Street entrance of J. T. Morriss & Son Funeral Home at 11:45 a. m."
On his father's death Remmie LeRoy Arnold Jr. (1920-1985) became president of Arnold Pen Co. Remmie Arnold Jr. was mayor of Petersburg in the mid-1970s. His death certificate says he was chairman of the board at Arnold Pen Co. when he died.
A posting at https://www.amazon.com/Remmie-Arnold-Pen-Company-Fountain/ reads "After 75 years of faithful production the Arnold Pen Company shuttered the factory and closed its doors after producing the companies [sic] final pens in February 2010." Photos of Arnold pens are available on this page. Other photos can be seen at http://www.fountainpennetwork.com.
The Arnold headstone in Blandford Cemetery, Petersburg, is accompanied by seaparate markers for Remmie L. Arnold, Sr., and
Remmie L. Arnold, Jr.. These are Find-A-Grave memorials.
Copyright © 2019 Walter Grutchfield