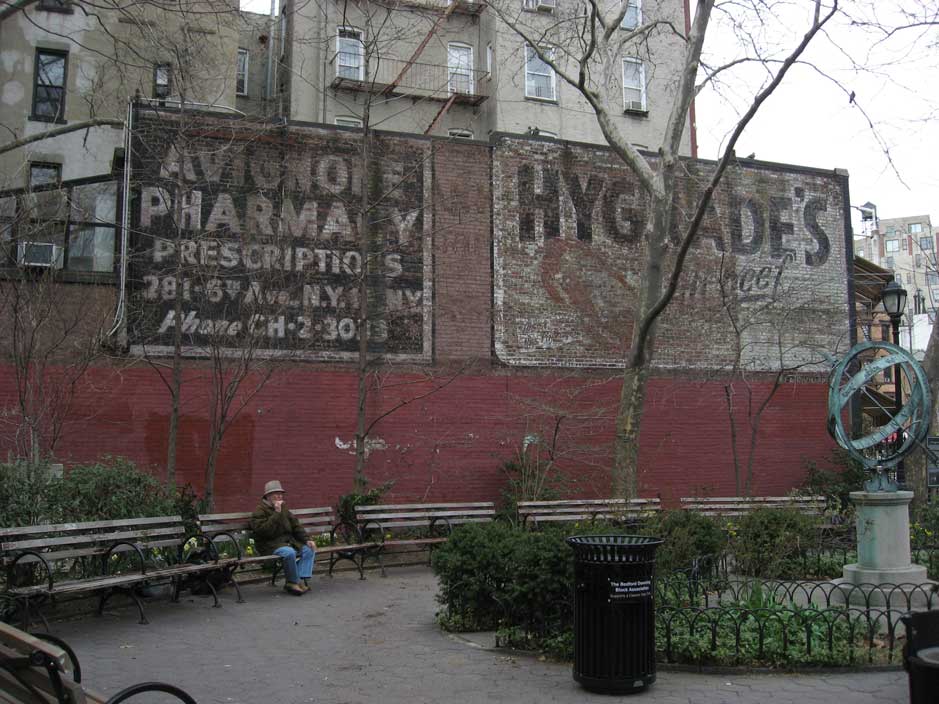 Avignone Pharmacy / Hygrade's All Beef, 281 6th Ave. at Bleecker St., New York, 2008

Avignone Pharmacy moved to 281 6th Ave. in 1929, but the telephone number CH 2-3033 appears for the first time in the Manhattan telephone directory in 1952 (click here for detail on the sign). Earlier the number was CH 2-6715. The sign, then, is not particularly old.
The original Avignone Pharmacy was located at 59 MacDougal St. This was a building that must have been demolished when Houston St. was widened in the early 1930s. The Manhattan telephone directory lists "Avignone Francis & Co, Pharmacy 59 Macdougal [tel] Spring 1340" in 1898. "Francis" Avignone was Frank Titus Avignone (1876-1956), who at the time of the 1900 U. S. Census was living at 151 W. Houston St. He was 23 years old, born June, 1876, in Italy, and he immigrated to the U. S. in 1890. He registered for the World War I draft in 1918 when living at 59 MacDougal St., and appears in the U. S. Census reports for 1920 and 1930 when he lived in Massapequa, Long Island.
The present (April 2008) Avignone Pharmacy (click here for image) fronts onto the downtown side of Bleecker St. between Downing and Carmine Streets. The building has the address 226 Bleecker St. as well as 281 6th Ave. In 1929 plans were filed with the New York City Dept. of Buildings for a 2-story brick drug store and office building at 224-226 Bleecker St. The owner was Belvedoric Land Co., Inc., Horatio Avignone, president (Office for Metropolitan History, "Manhattan NB Database 1900-1986," (2009), http://www.MetroHistory.com). Horatio Avignone was Frank Avignone's brother. So 281 6th Av. was built by the Avignone family to house the pharmacy.
------------------------------------------------------------------------------------------------------------------------------
The brand name Hygrade's, used on beef frankfurters, is currently (Feb. 2009) owned by Sara Lee Foods, Inc. Trademark registration (filed 30 Jan. 1948) by Hygrade Food Products Corp., 40 Oak Hollow, Suite 355, Southfield, Michigan, indicates its first use in commerce was 1915.
The founder of Hygrade Food Products was Samuel Slotkin (1885-1965). He registered for the World War I draft in 1918 when living in Brooklyn, and gave his place of employment as "Hygrade Provision Co., 131 South 8th St., Brooklyn, NY." His obituary (New York Times, 31 Oct. 1965, p. 87) says, "He founded the Hygrade Provision Company in 1914 with $15,000 and 12 employes [sic]. In 1927 he merged it with eight companies to form the present corporation and became its president...
"He was born in Minsk, Russia, the son of a Tamudic scholar and teacher of modest means. Elder brothers and sisters, all in America, helped the family with remittances. At 15 Samuel arrived in New York, carrying a camera. He worked as a photographer while studying English in school and then, attracted by the Pan-American Exposition in 1901, he went to Buffalo. There on one job he sat in a store window and painted to lure customers. He was paid $5 a week. He discovered that picture salesmen made more and took a door-to-door job himself.
"In 1903 Mr. Slotkin returned to New York, getting a free ride in a cattle car owned by the Jacob Dodd Packing Company of Buffalo. In 1939 he bought that concern's $4 million plant to add to his Hygrade string. Mr. Slotkin joined the Zimmerman Provision Company of New York as a helper in the curing cellar and rose to clerk. Next, as a salesman for the Gomprecht Company here, he traveled through eastern and southern states, successfully persuading high-class groceries and department stores to open delicatessen departments and buy Gomprecht meats. While traveling he decided that the best way to succeed in the meat business was to sell processed foods, packaged under a brand name. 'Maybe the big packers,' he said, 'could afford to sell fresh meat without any marks of identification. For the little fellow, processing is the thing that makes money.'
"Mr. Slotkins [sic] first loyalty was always to the quality frankfurter, and he used to order a side dish of them even when dining in nightclubs and fancy restaurants. Early in his career he frowned on mixing meats in frankfurters and developed an all-beef frankfurter. Of the skinless frankfurter, he said, 'It has no use.' 'All the use leaks out.' He worried about maintaining the quality of his frankfurters and often made incognito visits to the local stands to check upon them."
Life Magagine, 27 Aug. 1956, had an advertisement for Hygrade Food Products Corp., including Hygrade's All Beef Frankfurters.
------------------------------------------------------------------------------------------------------------------------------
A photograph dated 1932 by Percy Loomis Sperr (1890-1964) in the New York Public Library's digital collections shows this wall when there was only one sign, reading "Frank Avignone / Prescrption Pharmacy" (click for image).
Copyright © 2009 Walter Grutchfield