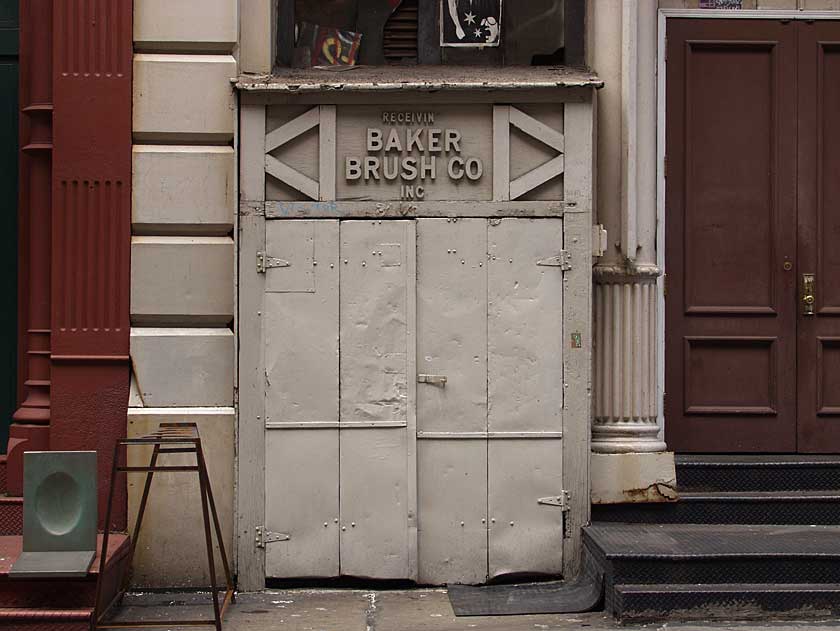 Receivin
Baker
Brush Co
Inc
This is the receiving entrance to a building located on the southwest corner of Grand St. and Greene St., New York City. Baker Brush Co. were located here at 83 Grand St. from 1915 to 1975. In 1923 the New York Times (17 Jan. 1923, p. 33) reported, "A. H. Mathews & Co. sold for the United States Trust Company, as trustee under the will of Joseph Fisher, the five-story and basement building, 75 by 100, at 83, 85 and 87 Grand Street, the southwest corner of Green [sic] Street, to the Baker Brush Company, which occupies space in the building. The property was held at $125,000."
The Baker Brush Co. were manufacturers and importers of a wide variety of paint brushes including artist brushes. In 1918 Alfred Baker spoke at a conference held by the United States Tariff Commission, when "he confined his statement to the artist brush industry, in which field his company holds a leading place in the country," Brooms, Brushes & Handles Vol. XX, No. 7, May 1918, p. 29. Trademarks registered by Baker Brush Co. included Brushes by Baker, Flex-Tip, Bak-O-Plast, Feather-Tip Brand, and this workman painting an elegant B. A Brushes by Baker ad is shown at everystockphoto.com.
The founder of Baker Brush Co. was Alfred Baker (1868-1921) who began as a brush manufacturer in 1908 at 96 Fulton St. When the business moved to 83 Grand St. in 1915, Alfred Baker was president, his older brother, George Baker, was secretary, John C. Scheid was treasurer, and Harry G. Shulman was bookkeeper.
John C. Scheid (1865-?) appeared in the 1900 U. S. Census, age 35, when his occupation was brush maker, and he can be traced through the succeeding 3 census reports through 1930, always described as a brush maker. His connection with the Baker Brush Co., however, seemed to stop around 1917.
Harry G. Shulman (1896-1952) registered for the World War I draft in 1918 when he was bookkeeper at Baker Brush Co., 83 Grand St. He was born in Brooklyn, 22 Feb. 1896, and had a close relationship with Max Lent (1876-1938), who was listed as president of Baker Brush Co. in city directories from 1922 to 1933. Max Lent was an immigrant from Russia and was recorded in the New York State Census of 1915 as a butcher living at 47 Norfolk St., Manhattan. In later census reports both he and Harry Shulman lived at 2113 83rd St., Brooklyn. In the 1940 U. S. Census Harry Shulman still lived at this address. He became president of Baker Brush Co., but then died, age 55, crushed to death under his own automobile, in New Castle, NY, in 1952 (click for story).
Harry Shulman's son, Stuart Shulman (1925-2012) later became president of the company. The following appeared in the Palm Beach, Florida, Daily News, 30 June 2012, "Stuart Shulman of Palm Beach, who served on town commissions, died Monday, June 25, 2012, in New York. He was 87. Mr. Shulman was born in Brooklyn, N.Y., in 1925. He attended Riverside Military Academy in Georgia and the University of Rhode Island. He was drafted in the U. S. Army in 1943 and served in the European theater, earning a bronze star and two Purple Hearts. He was president of Baker Brush Co. and a member of the Friar's Club and the New York Racing Association. ..."
Copyright © 2013 Walter Grutchfield