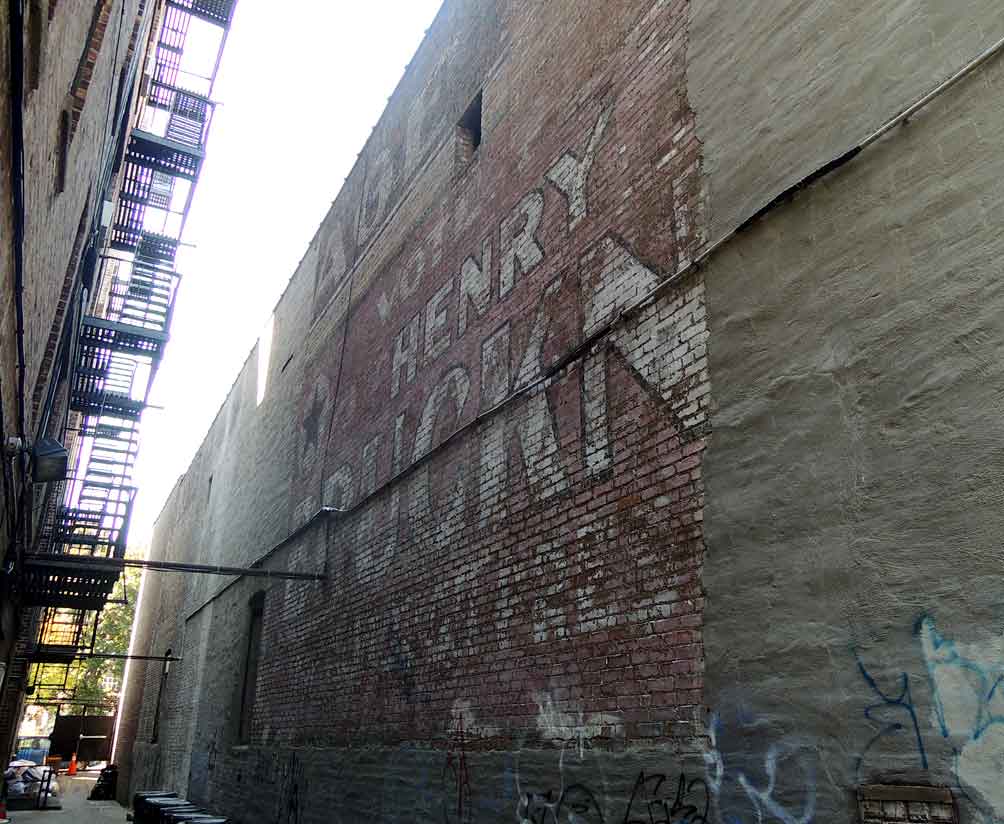 Vote Henry Bruckner, 390-392 East Mosholu Parkway South, Bronx, NY, 2016

Vote
Henry
Bruckner
Borough President
This sign must date from 1917 when Henry Bruckner (1871-1942) ran for the office of Borough President of the Bronx. Now (in 2017) a hundred years later, its view is blocked by an apartment building on the southwest corner of Mosholu Parkway and Webster Avenue. But Mr. Bruckner won the election and was borough president in the Bronx from 1918 to 1933. He is now remembered by all who drive in the Bronx for the Bruckner Expressway which was named for him when it was constructed in the 1970s.
Prior to his election to borough president, Bruckner was a member of the U. S. House of Representatives. His biography in the Biographical Directory of the United States Congress, 1774-2005. Washington, D. C.: Government Printing Office, 2005, reads, "Henry Bruckner / Elected Office(s): Representative, President / State: New York / Country: USA / a Representative from New York; born in New York City, June 17, 1871; attended the common and high schools in New York; became engaged in the manufacture of mineral waters in 1892; member of the State assembly in 1901; commissioner of public works for the Borough of the Bronx, New York City, 1902-1905; elected as a Democrat to the Sixty-third, Sixty-fourth, and Sixty-fifth Congresses and served from March 4, 1913, until December 31, 1917, when he resigned; chairman, Committee on Railways and Canals (Sixty-fifth Congress); resumed his former business pursuits in New York City; also interested in banking; president of the Borough of the Bronx 1918-1933; died in New York City on April 14, 1942; interment in Woodlawn Cemetery."
A biographical publication called Builders of Our Nation: Men of 1913, Chicago, IL, USA: Men of Nineteen-Thirteen, 1914, included, "Bruckner, Henry, United States congressman from the twenty-second district of New York, was born June 17, 1871, in New York City. He is president of Bruckner Brothers, manufacturers; and has been commissioner of public works. He was elected to the sixty-third congress for the term 1913-1915; and resides in New York City."
On his death in 1942 a lengthy obituary appeared in the New York Herald Tribune, 15 April 1942, pg. 22, reading, "Henry Bruckner, former Borough President of the Bronx for sixteen years, died yesterday at his home, 958 Grant Avenue, the Bronx, after a long illness. He was seventy years old. Mr. Bruckner was an amiable politician who wept when employees gave him diamond and ruby rings. He made a fortune in soft drinks, served his native Bronx as Borough President, Commissioner of Public Works and Representative to Congress, and enjoyed the ultimate honor that used to fall to the topmost hierarchy of Democratic chieftains when on a bright June day in 1925 his name was bestowed on a Staten Island ferryboat. He was a faithful servant to the Bronx, or the Flynn wing of Tammany Hall. Nevertheless, he went unscathed through the Hofstadter legislative committee's investigation of civic corruption and was able to explain to the apparent satisfaction of Samuel Seabury his practice of keeping $50,000 cash in a safe-deposit vault. Called to the stand in April, 1932, Mr. Bruckner said: "In 1907 I was caught in the crash and I didn't want it to happen again." Asked to explain his income, which Mr. Seabury put at $276,243 in five years, Mr. Bruckner blandly submitted figures of his own to show that Mr. Seabury had understated the facts. The income was $445,000, Mr. Bruckner said. Mr. Seabury lodged charges of incompetence, graft and dishonesty against William J. Flynn, whom Mr. Bruckner had appointed Bronx Commissioner of Public Works. In his final report to the Legislature Mr. Seabury recommended that both Mr. Bruckner and Mr. Flynn be removed from office. When the Democratic ticket was drawn up in the fall of 1933 the names of several stand-bys were overlooked. Chief among them was Mr. Bruckner's. He retired from politics and devoted his time to his soft-drink company. Mr. Bruckner was born June 17, 1871, at 410 East 161st Street, the Bronx, on the spot where the east wing of the Bruckner Brothers' soda water factory now stands. The Bronx was then part of Westchester County. As a young man Mr. Bruckner was a jewelry engraver and designer for a firm in Connecticut, but in 1892 he joined his brother in the soft-drink business, which prospered. After 1921, when his brother retired, Mr. Bruckner became sole owner. He was elected to the Assembly in 1900, and from 1900 to 1905 was Commissioner of Public Works in his home borough, on the appointment of Borough President Louis Haffen. For seven years thereafter he held no office but was active in party politics, and in 1912 was elected to the House of Representatives from the 22d Congress District. Subsequently, he was re-elected twice, his election in 1916 following the largest majority given to any representative east of Mississippi. In 1916 President Wilson offered the Postmastership of New York to Mr. Bruckner, but he declined. Up to then his career in Congress had been uneventful, but in 1917, in the first heat of the war months, he incurred enormous unpopularity by voting for the McLemore resolution, which would have warned American citizens against sailing on Allied vessels to Europe. So bitterly was Mr. Bruckner assailed by a pro-German that he was not renominated for Congress, but instead was put up for Borough President of the Bronx and was elected on the first of his four terms in the balloting which took John F. Flynn into the Mayor's office. He married Helen Goebel, of New York, in 1904. She died in 1930. Surviving are three sons, Henry Bruckner jr., John Bruckner and William A. Bruckner; a sister, Annie Bruckner, and a brother, Frank Bruckner. Funeral services will be held at 10 a. m. Friday at the Roman Catholic Church of St. Angela Merici, Morris Avenue and 163d Street, the Bronx."
Renaming Eastern Boulevard to Bruckner Boulevard. was reported as follows, "A bill to change the name of Eastern Boulevard in the Bronx to Bruckner Boulevard in memory of Mr. Bruckner was introduced in the City Council yesterday by Councilman Louis Cohen, Bronx Democrat" (New York Herald Tribune, 24 April 1942, pg. 21). The much later Bruckner Expressway was built on and over the roadway of Bruckner Boulevard.
Copyright © 2017 Walter Grutchfield