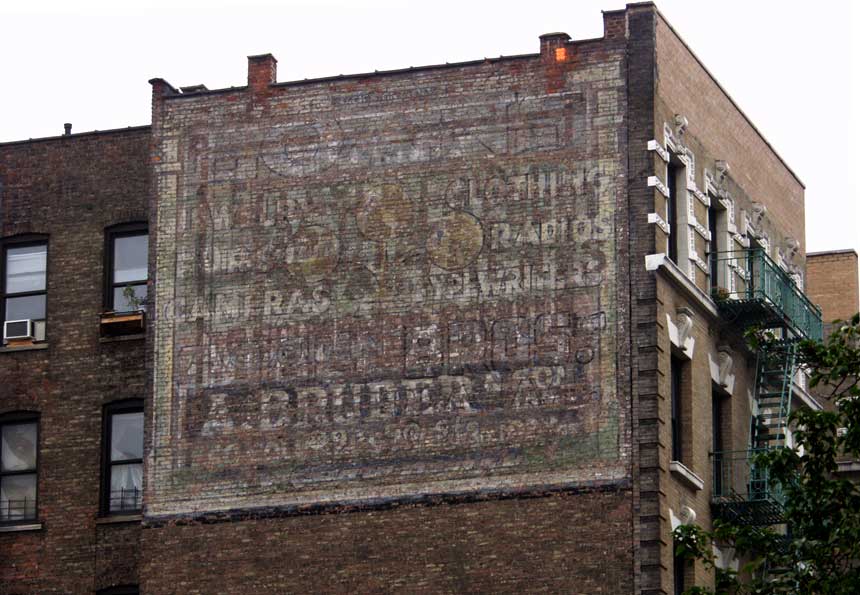 A. Bruder & Son, 205-209 W. 103rd St., New York, 2003

LOANS / JEWELRY CLOTHING / FURS RADIOS / CAMERAS TYPEWRITERS / [something] BROS / A BRUDER & SON
A. Bruder & Son, Pawn Brokers were located two blocks east of this sign, at 860 Columbus Ave. on the northwest corner of 102nd St. For many years the sign overlooked a one-story building at the northeast corner of Broadway and 103rd St. This building was demolished in 2003, and a high rise building rose in its place. The Bruder sign (as of July 2009) is still in place but partially blocked by the high rise so that it now has to be viewed at a sharp angle.
A. Bruder was Abraham Bruder (1870-1943), born Hungary, immigrated in the 1870s. He opened a pawn shop on 8th Ave. approximately 1909, and moved in 1914 to 852-860 Columbus Ave. The shop was in business at that location until 1952.
The son in A. Bruder & Son was Milton Bruder (1895-1943). Milton Bruder was a graduate of the N. Y. U. College of Denistry in 1918 and was styled Dr. Milton Bruder in his death notice. Apparently he worked both as a dentist and as a partner at the pawn shop. The death notices for Milton Bruder and Abraham Bruder appeared in the New York Times fives days apart: 22 July and 27 July 1943.
Copyright © 2009 Walter Grutchfield