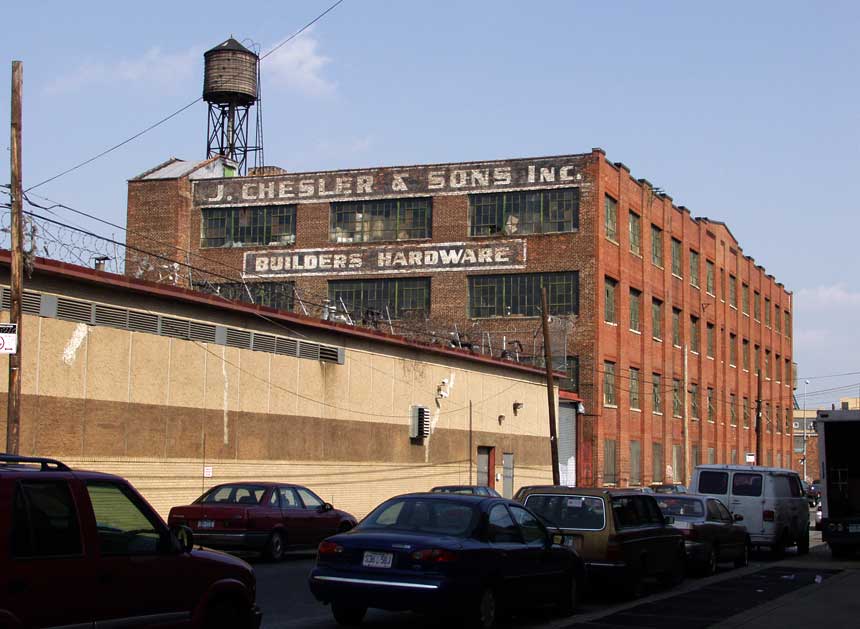 J. Chesler & Sons Inc., 41 Varick Ave. corner of Harrison Pl., Brooklyn, NY, 2002

J. Chesler & Sons were founded in the 1910s in Brooklyn by Jacob Chesler (1867-1946), an immigrant from Russia. By 1920 the business moved to the industrial area just north of Flushing Ave. near the south end of Newtown Creek, and they occupied this building at the corner of Varick Ave. and Harrison Place in 1925. Initially their product seems to have consisted of glass and mirrors. At a later date, they manufactured a wider range of hardware and builders supplies.
This photo of the Chesler factory from 1937 shows Builders Hardware as their product of that time. This photo is taken from a Chesler catalog available on the internet at us.archive.org. Products in the catalog include door knobs, locks, door handles, hinges and bolts.
Jacob Chesler was recorded in the 1910 U. S. Census when he lived at 310 Stanton St., Manhattan. His occupation seems to say "Driver Factory." His family consisted of his wife, Sarah, two daughters, Bertha and Ella, and three sons, Nathan, Rubin and Abraham. All of the Cheslers were recorded as born Russia, and most immigrated in 1906. So they were recent arrivals.
Jacob Chesler's three sons were all listed in Polk's Brooklyn City Directory, 1933-34, as officers in the company. They were Nathan Chesler (1892-1982), Reuben Chesler (1893-1972) and Abraham Elihu Chesler (1897-1971). A fourth officer was Samuel Kalm (1893-1960), a son-in-law to Jacob Chesler (he married Bertha Chesler).
In 1940 Jacob Chesler, age 73, lived with his son-in-law, Samuel Kalm, at 3582 Bedford Ave., Brooklyn. Kalm was 49 years old and gave his occupation as "employer, mirrors." Jacob Chesler's death notice, New York Times, 10 Feb. 1946, read, "Chesler - Jacob, age 80, on Thursday, Feb. 7, 3582 Bedford Ave., Brooklyn."
Samuel Kalm patented a door knob 29 Dec. 1925 (patent number 1,567,954). Kalm was assignor to J. Chesler Sons Co. composed of Nathan Chesler, Samuel Kalm, Reuben Chesler, and Abraham Chesler. The patent is available on the internet at Free Patents Online.
In 1939 J. Chesler & Sons were the subject of a labor dispute, when the National Labor Relations Board "ordered the concern, J. Chesler & Sons Company, mirror and hardware makers, to reinstate one employe with back pay and to bargain on request with the Novelty Mirror Workers Local No. 7 on any understanding reached in a written agreement" (New York Times, 4 June 1939). The case is listed as NLRB Docket Number C-800, Part 13 at http://labor-relations-board.vlex.com/vid/chesler-kalm-39955894.
The publication Industrial Research Laboratories of the United States, compiled by John H. Gribbin and Sue Singer Krogfus (1960), described research at J. Chesler & Sons as, "Research on: Electromedical and mechanical equipment, building materials, electrodeposition of metals, electroplating, electrical and mechanical engineering, forging and stamping, lacquers, locks, automatic glass-working machinery, polishes and polishing, power presses, electric motors, light and lighting equipment, steam and steam power."
Chesler Glass Co., 41 Varick Ave., continued to be listed in the Brooklyn telephone directory through 1979.
Copyright © 2012 Walter Grutchfield