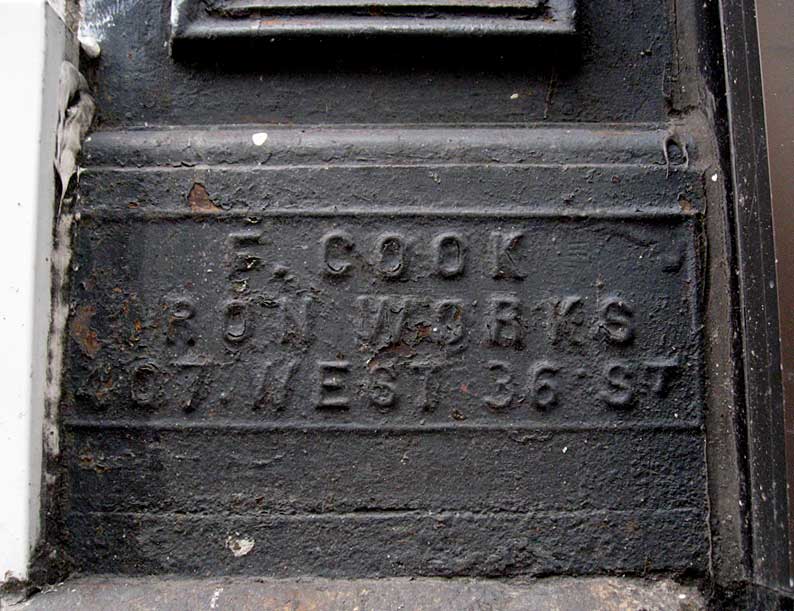 ----------------
F. Cook
Iron Works
407 West 36 St
In 1900 Francis Cook was 70 years old and lived at 153 W. 62nd St., Manhattan. The U. S. Census of that year recorded his occupation as "Architectural Iron Works." At this time Cook was approaching the end of his career in iron work. Ten years later in the 1910 census he still lived at 153 W. 62nd St. but recorded his occupation as "retired."
This advertisement for the J. & F. Cook Iron Works appeared in the Real Estate Record and Builder's Guide, vol. 5, no. 105, 19 March 1870, p. 2. The address was no. 122 W. 35th St., "Near Broadway" - i.e., where Macy's Dept. Store has been since 1902.
Francis M. Cook was a member of a family of Cooks involved in the cast-iron business in the 1850s and after. In 1856 Trow's New York City Directory listed Cook & Co., at 96 W. 35th St., consisting of Joseph Cook and Valentine Cook. Valentine Cook was listed earlier as a blacksmith in Trow's 1852-53 directory. It is possible that Joseph Cook and Valentine Cook were brothers. In 1857 the company was called "Cook & Brother." However, the only information I have been able to find on Joseph Cook is an entry in the 1870 U. S. Census, where he is 54 years old and born in Prussia. Valentine Cook's census records give Bavaria as place of birth. The third Cook at Cook & Brother was Francis M. Cook. He was listed in the 1860 U. S. Census living two dwelling houses away from Valentine Cook. His age was 30 and he was born in Bavaria. He seems a more likely brother to Valentine Cook than Joseph. This combination of Cooks seems to have stayed together in the iron business until the mid-1860s. At that time Valentine Cook became a partner with John B. Radley to form the firm, Cook & Radley. (For more on Cook & Radley see their information at the Cook & Radley / Murray Hill Works page.)
Around 1860 the firm, Joseph Cook & Brothers, was formed, consisting of the three brothers(?), Joseph, Francis, and Valentine Cook. From 1865 to 1871, with the departure of Valentine Cook, Joseph and Francis M. Cook remained in business together. After 1871 there is no further trace of Joseph Cook, and Francis Cook was in business by himself.
| | | | |
| --- | --- | --- | --- |
| The foundries were located at: | 96 W. 35th St. | : | 1856 to 1860 |
| | 144 W. 35th St. | : | 1862 |
| | 122 W. 35th St. | : | 1863 to 1881 |
| | 407 W. 36th St. | : | 1882 to 1906 |
F. Cook Iron Works spanned 1871 to 1906, although J. & F. Cook Iron Works seems to have been the firm name for part of this period.

The 1880 U. S. Census recorded Francis Cook, Iron Railings. The company owned $5500 capital and $21,500 in materials. They employed an average of 16 laborers and paid $8550 total wages in the year. They operated full time 9 months in the year and 3/4 time the other 3 months. Their production for the year June 1879 through May 1880 was valued at $35,500.

Some other F. Cook foundry marks include:

Francis Cook also manufactured coal chute covers. An example is shown on the Francis Cook manholes page.

home | about me | list of images | see what's new

Copyright (c) 2010 Walter Grutchfield