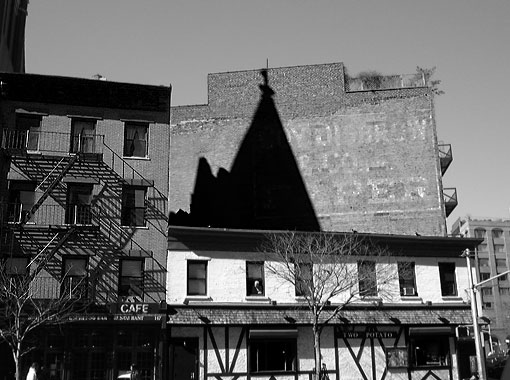 Coy, Disbrow & Co., 686 Greenwich St. at Christopher St., New York, 2001

The sign says "Coy Disbrow & Co. Inc. Paper."
Robert Henry Coy (1877-1942) and Hamilton Thomas Disbrow (1852-1942) were wholesale paper and twine dealers. They had both worked for Coy, Hunt & Co. (another wholesale paper company) from its inception in 1898 until they founded Coy, Disbrow in 1922. The partners both died in the same year, 1942, Coy aged 65 and Disbrow 89. When he died, Disbrow had become known as the "dean of commuters" of the Delaware, Lackawanna & Western Railroad, having traveled almost daily to New York from his home in New Jersey on this line for more than seventy years.
Coy's obituary in the New York Times, 25 May 1942, included the following, "Mr. Coy, who was president and general manager of the paper company, which he founded in 1922, had been in the paper business for forty-four years. He started with the firm of Coy, Hunt & Co. in 1898. He was born at Bethel, Vt., the son of Mr. and Mrs. Charles P. Coy, and started in the paper business at an early age in New York."
Disbrow's obituary, NYT, 26 July 1942, included, "He was born in New York and got his first job as a boy of 12 with Stanfield Wentworth & Co., a dry goods commission house then in Church Street. He later became the head of the office and when the concern went out of business he entered the paper business with his brother, H. Grinell Disbrow, in 1876. Mr. Disbrow later withdrew from the firm of Disbrow Brothers and became a salesman with Wilkinson Brothers & Co. in New York where he remained until the organization of Coy, Hunt & Co. Inc., another paper concern. He was a director and vice president of this company, which he assisted in organizing in 1898. In 1922 he left the concern to assist in the organization of Coy, Disbrow & Co., Inc."
Another founder of Coy-Disbrow was William E. Ebbets (1870-1936). His obituary, NYT, 5 Nov. 1936, stated, "From 1922 until 1932 Mr. Ebbets was manager of Coy Disbrow & Co., a firm dealing in paper goods, which he helped to found. During recent years, Mr. Ebbets was mill representative for the Carolina Fiber Company."
Coy-Disbrow was originally located on Canal Street (click here for ad from 1922/23) and moved to Greenwich St. in 1930.
Lloyd Acker made this beautiful photograph of Coy, Disbrow at its 686 Greenwich St. location during the 1940s(?).
The company became a division of Pohlman Paper Co. in 1959, and then relocated to Lafayette St. in 1968, when it became part of the George W. Millar Co.
The shadow is the steeple of St. Veronica's Catholic church (founded 1887) on Christopher St.
Copyright © 2001 Walter Grutchfield