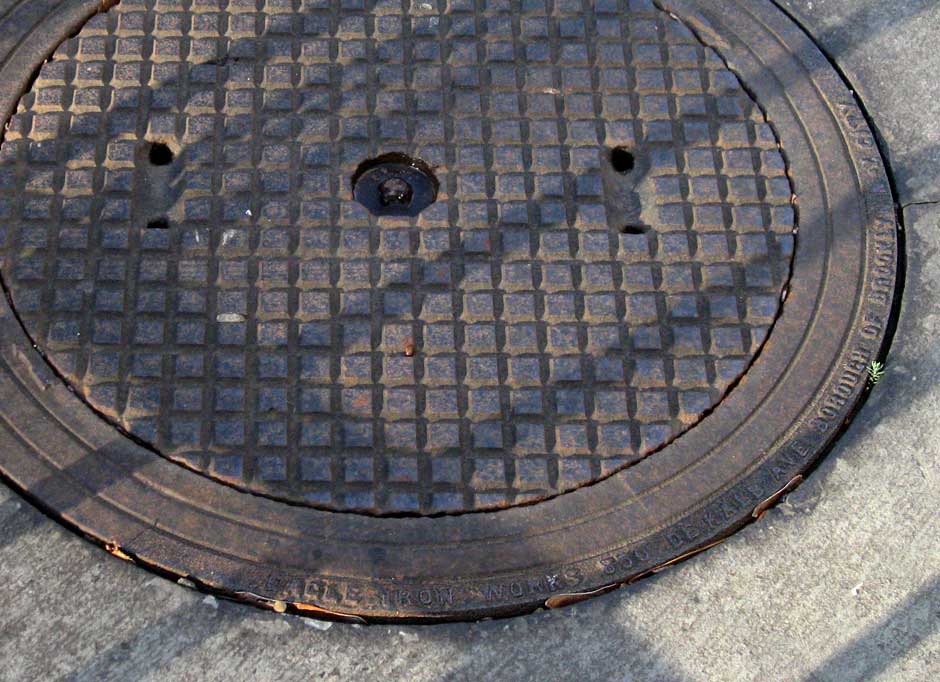 Eagle Iron Works, Carroll St, northeast corner of 6th Ave., Brooklyn, 2010

----------------
Eagle Iron Works
850 DeKalb Ave
Borough of Brooklyn
N. Y. City
The Eagle Iron Works were located at 850 DeKalb Ave., Brooklyn, from 1883 to 1937. The founder was Jacob May (1847-1915). Jacob May's obituary in the New York Times, 13 Jan. 1915, read as follows, "Jacob May, President and founder of the Eagle Iron Works, of Brooklyn, died suddenly yesterday morning from heart disease at his home at 909 Lafayette avenue, Brooklyn. Born and educated in Germany, Mr. May came to America in 1868 and for several years was employed by the Singer Sewing Machine Company. He rose to the position of superintendent of one of the departments and left the company in 1871, when he established the Eagle Iron Works in the basement of a small building in Brooklyn. The plant is now one of the largest in this section of the country. Mr. May was interested in charities and civic affairs, and took a large part in having the city open up several small parks in Brooklyn. He was a Republican, and the nomination for Mayor of the old city of Brooklyn was twice tendered him. He was a member of St. Peter's Evangelical Lutheran Church, of Lessing Lodge No. 608, of the Masonic Order, and of the Union League Club. He is survived by four sons and three daughters."
Eugene L. Armbruster's Brooklyn's Eastern District (completed 1928), p. 145, mentions, "Jacob May, maker of iron railings, was located at No. 850 [DeKalb Avenue]."
The Directory of Directors in the City of New York, 1917-18, listed the following as directors at the Eagle Iron Works, Charles H. May, Edmund J. May, Frederick F. May, and Jacob G. May. These men were Jacob May's four sons. They appear with their father in the 1900 U. S. Census when all lived at 909 Lafayette Ave., Brooklyn.
The following obituary (NY Times, 8 May 1938) for Charles H. May (1872-1938) described the life of his oldest son, "Captain Charles Henry May, former president of the Kings County Grand Jurors Association, died on Friday of a cerebral hemorrhage in his home at 41-88 Forly Street, Elmhurst. His age was 65. Captain May was a charter member of old Troop C, Brooklyn, and for many years an officer of the old Forty-seventh Regiment. He had been connected with the Eagle Iron Works of Brooklyn, founded by his father, Jacob May. He was a member of De Witt Clinton Council 419, Royal Arcanum, and the Forty-seventh Regiment Veterans Association. Surviving are his widow, Mrs. M. Augusta Thompson May; two brothers, Jack G. and Frederick W., and three sisters, the Misses Antonie C. and Elizabeth May and Mrs. Edward Gash."
Edmund J. May (1877-1935) also received an obituary note in the NY Times, 26 March 1935, reading, "Edmund J. May, vice president of the Eagle Iron Works in Brooklyn and well known in Masonic circles, died yesterday at his home 1,274 Pacific Street, Brooklyn. He was born in Brooklyn and was a member of Brooklyn Lodge of Elks, Crystal Lodge, F. and A. M. and Kismet Temple, A. A. O. N. M. S. He leaves three sisters, Mrs. Edward Gash, the Misses Antoine C. and Elizabeth May, and three brothers, Captain Charles H., Jack G. and Frederick W. May."
The other brothers were Jacob G. May (or Jack G. May) (1881-?) and Frederick W. May (1883-1970).
This ad for the Eagle Iron Works appeared in Lain's Brooklyn Directory for 1883. A very similar ad appear two years later, in 1885. By 1891 the ad specified the location of foundries at 79-85 Bedford Ave.
Copyright (c) 2011 Walter Grutchfield