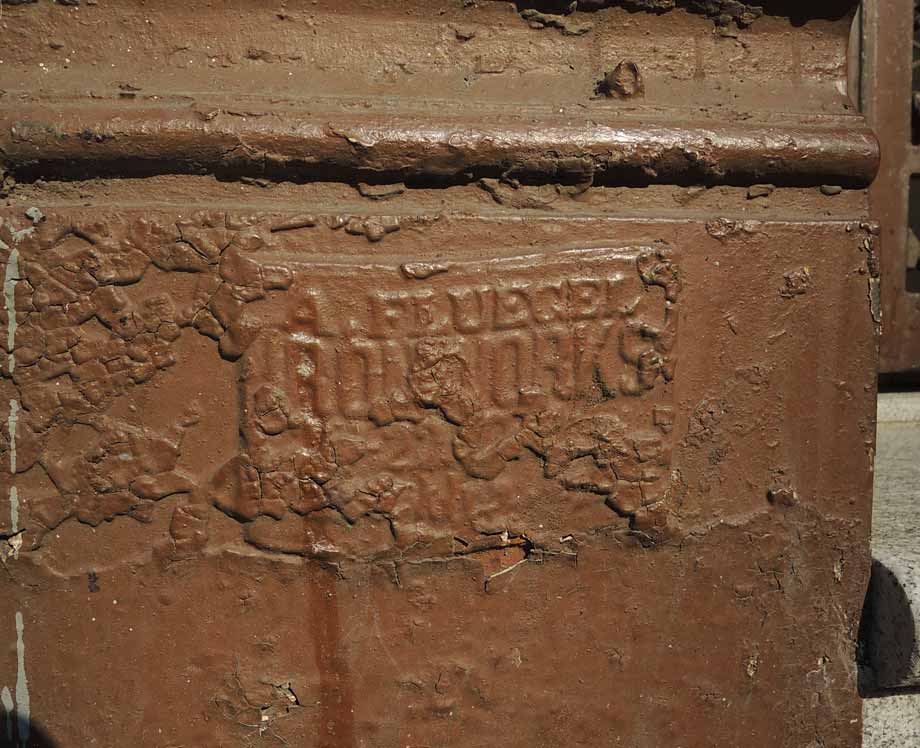 A. Fluegel, 189 Irving Ave. at Stanhope St., Brooklyn, NY, 2016

A. Fluegel
Iron Works
According to his passport application dated 2 June 1890 Anton Fluegel (1842-1902) was born in Medernberg, Bavaria, Germany, 13 July 1842, emigrated on the SS Hausa from Bremen 18 April 1867 and became a naturalized U. S. citizen 21 August 1872. (Medernberg is near the border of the Czech Republic, approximately 172 kilometers southeast of Nürnberg, and 155 kilometers northeast of Múnchen.) He appears in Brooklyn city directories in 1884 as "ironworks" at 73 Ten Eyck St., Brooklyn. In 1887 this address changed to 219 Cook St., where the business continued through 1934. He appears in the 1900 U. S. Census living at 219 Cook St., age 55, born July 1844. He died in 1902, and the business was carried on by four sons, John Fluegel (ca.1869-1941), Anton Fluegel Jr. (ca.1871-?), Adam Edward Fluegel (1874-?), and Frank C. Fluegel (1879-1913).
John Fluegel was 7 years old in 1875 when he lived with his family in Brooklyn. In 1900 he was a "railmaker" and now had his own wife and children when he lived at 350 Stagg St., Brooklyn. He died in 1941 when the following notice appeared in the Brooklyn Daily Eagle, 31 May 1941, pg. 7, "Fluegel - John, May 29, 1941, at his home, 257 Weirfield St., beloved husband of Katherine (nee Ebert), father of Carolyn, Walter, Marie Grams. Funeral on Monday, 9:30 a.m., St. Martin of Tours R. C. Church. Interment St. John's Cemetery. Direction Louis F. Hatch."
Anton Fluegel Jr. was 5 years old in 1875 when he lived with his family in Brooklyn. On his father's death he seems to have taken over as the primary owner of the business. An incorporation notice was published in the Brooklyn Daily Eagle, 30 December 1912, pg. 22, reading, "A certificate of incorporation has been filed with the Secretary of State by the corporation styled, "Anton Fluegel" of Brooklyn, which proposes to deal in ornamental iron work, etc., with a capital of $10,000, and the following as directors: Maria Fluegel, Anton Fluegel and John Fluegel of Brooklyn." Maria Fluegel was his mother, and John Fluegel his brother. The business was known by his name until it closed in the mid-1930s. The last entry for Anton Fluegel in the Brooklyn telephone directory came in 1953, when he lived at 916 Putnam Avenue, Brooklyn. It's possible he died around this time.
Adam E. Fluegel was 7 months old in 1875 when he lived with the family in Brooklyn. He registered for the World War I draft in 1918 as Adam Edward Fluegel, age 43, born 2 November 1874. His occupation was "Structural Iron Manufacturer, 211-221 Cook St., Bklyn, NY." By 1940 Adam Fluegel was out of the iron business. He appears in the 1940 U. S. Census, living at 336 Cornelia St., Brooklyn, when his occupation was recorded as "Stationary Engineer, Oil Refinery."
Frank C. Fluegel died in 1913 when the following notice appeared in the Brooklyn Daily Eagle, 5 May 1913, pg. 3, "Frank C. Fluegel, director of Anton Fluegel, Inc., of this borough and who lived at 144 Hallock avenue, Ridgewood, died on Saturday from Pneumonia, in St. Catherine's Hospital. He was born in the Eastern District 23 years ago, and was a son of Anton Fluegel. He leaves his mother, Mary; his widow, Margaret; two daughters, Annie and Emily, and three brothers, John, Anton and Edward." (His brother Edward referred to here was Adam Edward Fluegel.)
Judging from reports issued by the New York State Dept. of Labor in 1897 and 1913, Anton Fluegel Iron Works was a modest enterprise. In 1897 the average number of employees was 10, of whom 2 were under the age of 18. In 1913 there were 19 men in the shop with 2 additional employees in the office.
This Fluegel coal chute cover located at 1107 Lorimer St., Brooklyn, is incribed A Fluegel / 219 & 221 Cook St.
Copyright © 2017 Walter Grutchfield