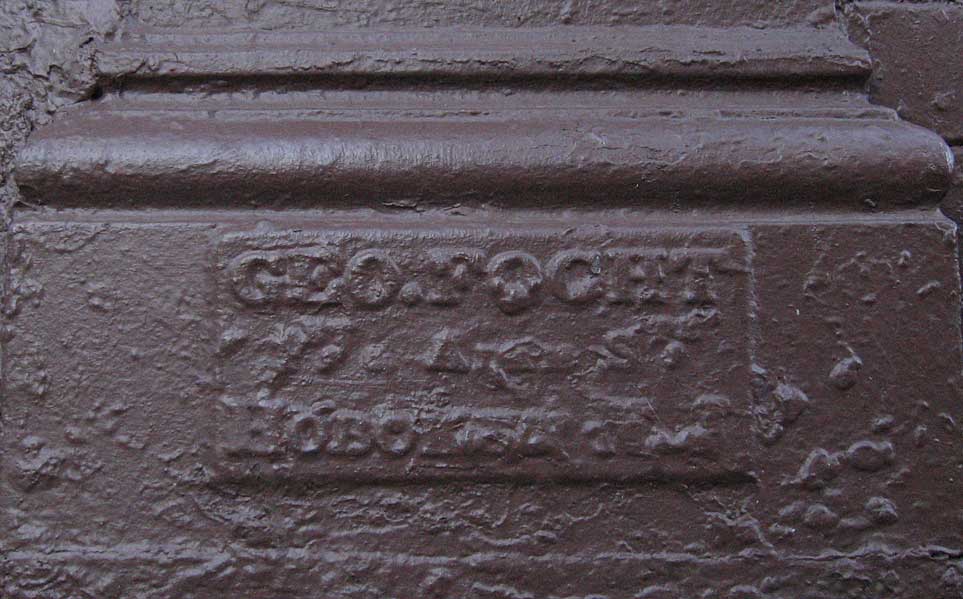 ----------------
Geo. Focht
... Adams St.
Hoboken NJ
In the Death List of a Day (New York Times, 21 June 1898, p.7): "George Focht, head of the George Focht Iron Works Company of Hoboken, died at his home, 102 Adams Street, Sunday night. He was born in Eisenach, Germany, March 13, 1823. He came to this country in 1849, and settled in Reading, Penn. While there he invented the Focht self-dumping coal tub. This made him wealthy, and he removed to Hoboken, intending to live in retirement; but he soon tired of inactivity and established the Focht Iron Works, now one of the largest establishments of its kind in New Jersey. His wife died in 1892. He is survived by two sons and three daughters."
George Focht (1823-1898) obtained two patents for his self-dumping coal tub in 1857. The first, patent no. 17,034, dated 14 April 1857, contained this illustration of his invention. The second, illustrated here, dated 3 Nov. 1857, changed the dumping mechanism considerably. Specifically a lever used to release the bucket for dumping has been moved from the front of the bucket to the back. As Focht wrote in the later patent application, "Much inconvenience has been experienced by locking the handle at the front edge of the bucket, especially when coal or any substance in large lumps, is to be raised; I therefore use the catch lever locking to the back edge and thereby secure all the advantages of the other arrangement without its inconveniences."
George Focht's life is included in Schlegel's German-American Families in the United States (1918), by Carl Wilhelm Schlegel. Focht, with two of his sons, George Focht Jr. and Charles H. Focht, are shown in handsome photographs on page 250 of the google book edition of this work. (Click for image.)
Schlegel writes, "George Vogt (Focht), third child and son of Daniel and Dorothea (Hebig) Vogt, was born at the family home in the city of Eisenach, in the principality of Eisenach, Grand Duchy of Saxe-Weimar, Germany, March 13, 1823... [He] was placed under the guidance and tuition of a master mechanic, and he was accordingly apprenticed to learn the locksmith trade... [He] .. pursued his trade ... up to 1849, in which year he decided to emigrate to the United States... and accordingly set sail for the harbor of Philadelphia, Pennsylvania, where he arrived August 8th, 1849.
"Soon after setting foot upon American soil, the young German mechanic worked at his trade in the city of Philadelphia for one year, and next made his way to the city of Reading, Berks county, Pennsylvania, where in the course of time, as a result of his industry and frugality, George Vogt, purchased his first house and lot in the city of Reading. This was coincident with the changing of the spelling of his family name. The deeds for the house and lot, having been written and prepared by a local justice of the peace, who, not being strictly familiar with the spelling of the family name of Vogt, assumed that it was spelled Focht, conforming to the spelling of the name of a family of Focht who had settled in Berks county prior to the Revolution. The deed and warrant for the purchase of the house and lot having been recorded with the name George Focht, the purchaser, George Vogt, decided to adopt the new spelling of the name...
"Soon after taking up his abode in the city of Reading, the young German mechanic found employment as an engineer and machinist in his newly adopted home. He had not, however, been long engaged at his chosen work before he found ample opportunity to apply his genius and inventive powers towards improving a number of mechanical devices with which his work had brought him into immediate contact. Among the first of his inventions was an automatic self-dumping coal bucket, a device which is now universally used throughout the civilized world. This invention, along with a number of other useful and practical appliances along mechanical and scientific lines, were finally perfected by the young German machinist...
"In 1866, Mr. Focht having acquired an ample competence as a result of his industry and thrift as an inventor, he disposed of his interests in the city of Reading, Pennsylvania. He did not, however, remain idle a long time, when he decided to again engage himself in his chosen line of work, and he accordingly came to Hoboken, Hudson county, New Jersey, where he sought a suitable location, and finally purchased four building lots on the corner of First and Adam [sic] streets, in the city of Hoboken, Hudson county, New Jersey, whereon he erected a modern building equipped with modern machinery and all facilities necessary for the successful manufacturing of his specialties...
"The present buildings comprising the foundry department, along with the pattern making department and lofts in connection with the offices and drafting department of the establishment, now occupy the space of fourteen city lots... The George Focht's Sons Iron Works and Machine Shop have become an important enterprise in Hoboken... George Focht died at his home in the city of Hoboken, Hudson county, New Jersey, June 20, 1898."
This advertisement for George Focht Sons Iron Works appeared in History of Hoboken, 1907, Hoboken, N. J.: Issued by the Hoboken Board of Trade, 1983.
This advertisement for Geo. Focht Sons appeared in the New York Central Railroad's Industrial Directory and Shippers' Guide, 1921. Their address was still 105-123 Adams Street.
The Focht foundry in Hoboken was continued under his sons, George Focht, Jr. (1856-d. bet 1920 & 1925) and Charles H. Focht (1862-1935). Charles H. Focht's obituary notice in the New York Times, 7 Feb. 1935, with the dateline Palisades, N. J., Feb. 6, read, "Charles H. Focht of 96 Bluff Road, president of George Focht & Sons, iron manufacturers, of Hoboken, died this morning in the Englewood Hospital of cirrhosis of the liver, after a ten-day illness, at the age of 72. Since 1907 he had been president of the Jefferson Trust Company of Hoboken. There survive a widow, Annette Tasto Focht; two sons, Edgar and George, and three daughters, Mrs. Nettie Schmidt, Mrs. Emily Weisenborn and Mrs. Edna Moser."
In 1942 two of George Focht's grandsons registered for the World War II draft. These were George Aloyius Focht (born 25 June 1881), the son of George Focht Jr., and George Lewis Focht (born 7 May 1890), son of Charles H. Focht. George Aloyius Focht lived at 117 Adams St., Hoboken, and was unemployed. George Lewis Focht lived in Union City, New Jersey, and was employed by the American Can Co. in New York City.
According to Corporations of New Jersey at the New Jersey State Library, Geo. Focht Sons Iron Works, 119 Adams St., Hoboken, were incorporated 15 May 1905.
Hoboken, New Jersey, is home to several surviving instances of Focht cast iron including this foundry mark at 497 Newark St. reading "Geo. Focht Founders Hoboken N J." There is also a Geo. Focht Sons coal chute cover on Washington St. reading "Geo Focht Sons First & Adams Sts. Hoboken N.J.."
Copyright (c) 2010 Walter Grutchfield