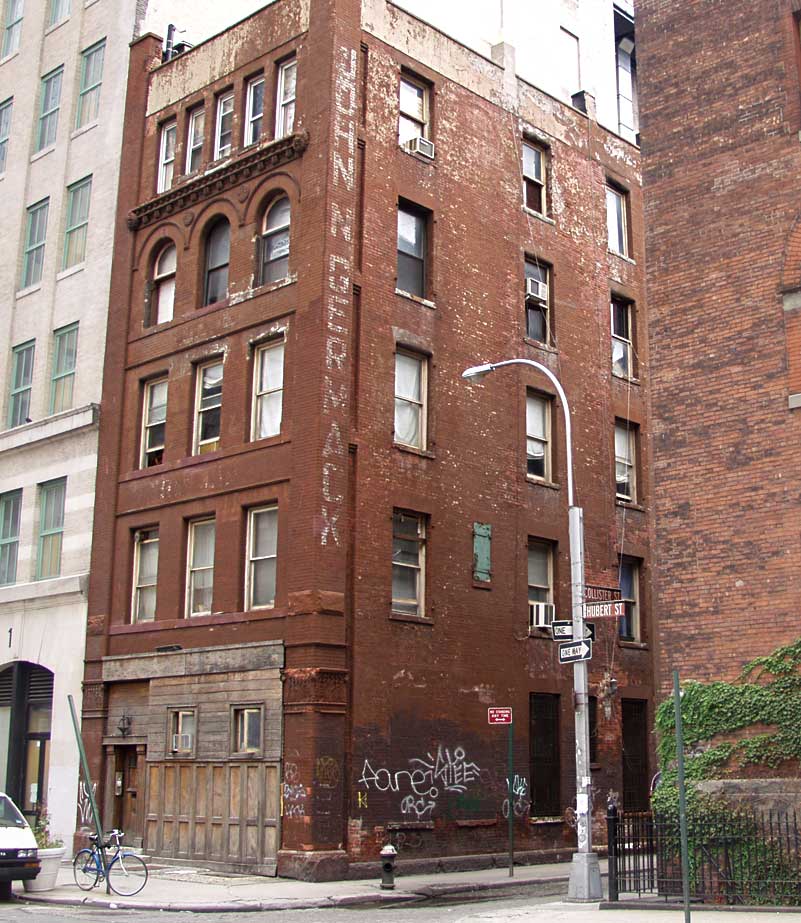 John N. Germack, 10 Hubert St., corner Collister St., New York, 2002

John N. Germack was in the nuts business.
This from the eConsumersearch website regarding Zenobia Nuts: "Zenobia Company was founded in 1926 by Joseph A. Zaloom. He emigrated to the United States from Syria and named the company for a Roman queen -- Zenobia -- a well-known historical figure to Middle Eastern people, then the major consumers of pistachio nuts.
"During the 1930s, Zaloom sold the company to John Germack. Over the next decades, Zenobia came to dominate the pistachio business in the U.S. During World War II, Germack arranged for Liberty ships to ferry his cargo across the Atlantic Ocean, avoiding enemy submarines. His gamble gave Zenobia the only wartime supply of pistachios in the United States.
"In 1971, Germack sold the company to the Agress and Bobker families, who had been in the pistachio business for many years and were also the longtime processors of the classic Indian brand pumpkin and sunflower seeds."
Zenobia Co. is listed in the Manhattan telephone directory at 165 Hudson St. from 1928 to 1972. Germack is not listed as an officer in Polk's New York City Directory in 1933/34. Instead, Salim F. Zaloom is president, and Joseph Zaloom is secretary. Presumably Germack bought the company after this date.
Currently (Feb. 2009) Zenobia Nuts is located on Moshulu Ave. in the Bronx, NY, and their website is called NutsonTheNet. Unfortunately, the site contains very little about the history of the company.
Like Zaloom, John N. Germack (1900-1978) was an immigrant from Syria (in 1912). His World War I registration says that in 1918 he worked for his brother as a traveling salesman. His brother, Elias Germack, owned a wholesale grocery business called the Armenian Importing Co., located at 67 Washington St. In 1920 John Germack lived with his brother, Elias, in Brooklyn. Then in 1930 he seems to be the John Germack recorded in the U. S. Census of that year, living in Detroit, Michigan. His occupation is "salesman imported groceries." His residence has a long list of lodgers, and is probably a hotel.
His own business (presumably the one he bought from Joseph Zaloom) began in 1936 at 10 Hubert St., then moved in 1943 to 165 Hudson St., where he stayed in business until 1971/72. At the time of his death the following notice appeared in the New York Times (6 Aug. 1978, p. 28): "Germack - John. We mourn the passing of our dear friend, John Germack, and extend our deepest sympathy to his loving wife, Hooda, and family. [signed] Ira S. Agress / Arlene and Jack Bobker / Grace Burrows."
The Germack Pistachio Co. was founded by Frank Germack (1904-1981) in Detroit, Mich. in 1924. As of Feb. 2009 they are still in business, and you can visit their website at http://germack.com. Frank Germack was the younger brother of John & Elias Germack, and lived with them in Brooklyn at the time of the 1920 U. S. Census.
Copyright © 2009 Walter Grutchfield