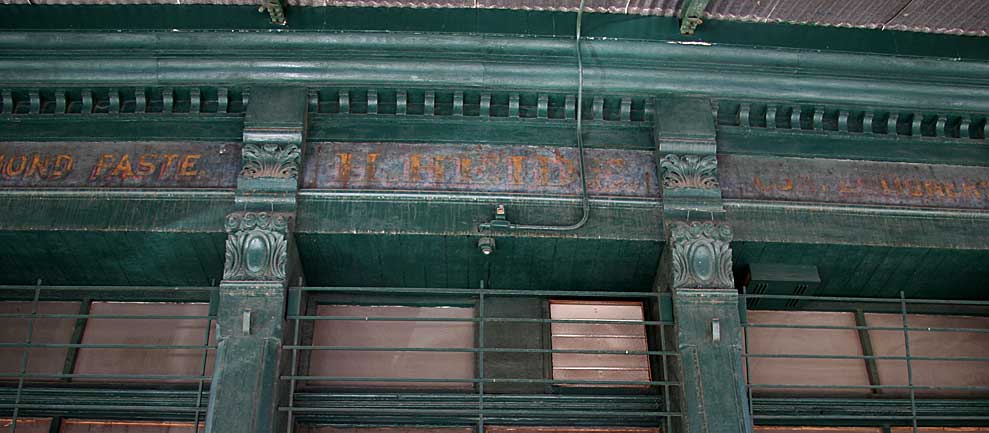 H. Heide, 14-16 Harrison St., New York, 2009

Across the cast-iron shop front at 14-16 Harrison St.: 16 / Almond Paste / H. Heide / Confectionery / 14. Click for detail on name.
Quoting from Henry Heide's obituary in the New York Times, 14 Dec. 1931, p. 19, "Henry Heide, sometimes called the dean of American candy manufacturers, died yesterday at his residence, 27 West Sixty-ninth Street, of ailments incident to his age, 85 years... A native of Germany, of Dutch ancestry, Mr. Heide came to this country in 1866. After two years with a retail grocery store in Pittsburgh, he moved to this city and in 1869 started to manufacture candy in the basement of 175 Spring Street. The enterprise prospered, and in 1872 he moved to somewhat larger quarters at 58 West Broadway. Still later he took still larger quarters, at 15 Harrison Street, and in 1885 crossed the street to 14-16 Harrison Street. His fortunes was [sic] by this time so firmly established that he was able, in 1891, to erect a building at 181-83 Franklin Street. The business kept on growing, however, and at a faster pace than its owner had anticipated, and in 1895 he constructed the first quarter of the present large building at Hudson and Van Dam Streets. In 1903 the capacity and floor space of the building were doubled, and in 1911 Mr. Heide built another addition, again doubling the floor space. At his death Mr. Heide was still president of the firm known as Henry Heide, Inc., which has agencies throughout the world."
Henry Heide (1846-1931) is first listed in New York city directories in 1871 at 855 Third Ave. The Spring St. address mentioned in the obituary is dated the following year, 1872. The business at 58 West Broadway was Heide & Blumensaat, the partner being Herman Blumensaat. This partnership lasted about 2 years. Then Heide took a new partner, Charles Wirtz. Heide & Wirtz moved to 15 Harrison St. around 1875/76. Within 2 years, Heide had his own independent business at this address. Then around 1883/84 Heide moved across the street to 14-16 Harrison St. This is slightly earlier than the account given in his obituary. The new building at 179-183 Franklin St. is first mentioned in Trow's New York City Directory dated 1890. The company is listed in the New York telephone directory in 1890: "Heide Henry Confectionery, Almond Paste ... 179 Franklin st ... Cort'dt 1981."
The sign at 14-16 Harrison, then, with a date range 1884 to 1890 ranks as one of the oldest painted signs still in place in Manhattan. The S. Oppenheimer sign at 170 Eldridge St. dates earlier (1875-1879). (For the Oppenheimer sign see the Oppenheimer page.) The Coogan Furniture sign at 123 Bowery also probably dates a little earlier (1879-1892). (For more on the Coogan Bros. see the bottom of the Holtz page on www.14to42.net.)
In 1875 Henry Heide and Charles Wirtz obtained a patent for a "new and improved preserve composition for maccaroons" (patent 170,368, dated 23 Nov. 1875). The composition consisted of almonds, albumen egg, sugar and water. The almonds were first grated, the albumen dissolved (without the sugar) in the water, then the grated almonds and the dry sugar were added. This mixture was then further grated and placed in jars or cans. The baker using the mixture would add more water, shape and bake. In the 1890s Heide obtained two patents for an apparatus used to heat and cool liquid sugar.
Heide's passport application, 4 June 1908, states that he was born in Obermarsberg, Westphalia (Germany) 24 Oct. 1846, that he emigrated on the steamer, City of Paris, from Liverpool, England, 1 June 1866, and that he became a naturalized citizen of the U. S. 23 Oct. 1884. Several earlier passport applications (1895, 1900, & 1901) give the date of naturalization as 25 Oct. 1876. His naturalization petition dated 25 Oct. 1876 lists his address at that time as 277 Hudson St., NYC, and his occupation as confectioner.
Henry Heide's younger brother, Frederick William Heide (1850-1929) worked with him. F. William Heide was often listed as a superintendent at Henry Heide, Inc. His passport application dated 6 May 1902, states that he was born 21 Sept. 1850 at Obermarsberg, Prussia, Germany, that he emigrated on the Cimbria from Hamburg 15 March 1872, and that he became a naturalized U. S. citizen 27 March 1880. His brief obituary in the New York Times, 16 Dec. 1929, p. 27, says that he was a brother of Henry Heide and that "with his brother he had been making candies here for forty-five years."
This portrait of Henry Heide appeared in Moses King's Notable New Yorkers of 1896-1899 (1899).
This ad for Heide's almond paste and other products dates from 1922. The address, 84 Vandam St., is the Vandam side of the building at Vandam and Hudson St.
An advertisement for Jujyfruits candy, a Heide product, available at graphic-design.tjs-labs.com shows the Henry Heide address at 313 Hudson. St., New York 13, N. Y. The ad dates from 1958. There are several more Heide ads on this web site.
Henry Heide, Inc., is listed in the New York telephone directory at 313 Hudson St. from 1916 to 1962. A story in the New York Times, 15 Nov. 1895, cites Henry Heide as the purchaser of property sold by the Corporation of Trinity Church consisting of four lots at the southwest corner of Hudson and Vandam Streets and an additional four lots adjoining on Vandam St. The property at the southwest corner of Hudson St. and Vandam St. was expanded in 1904 to designs by the architectural firm of De Lemos & Cordes. The new building permits database at www.metrohistory.com describes this building as a 9-story brick and stone factory.
Then the New York Times, 29 March 1911, reported a new Heide acquisition at the northwest corner of Hudson St. and Spring St., "Plans have been filed for the erection of a ten-story fireproof candy factory on the northwest corner of Spring and Hudson Streets, for Henry Heide, at a cost of $350,000. The building will have a frontage of 175.5 feet on Spring Street by 107.4 feet on Hudson Street, with a fašade of limestone, brick and terra cotta. The property was acquired a short time ago by Mr. Heide from the Trinity Corporation. The new factory will adjoin the present Heide factory on the northern half of the block." The building permits database describes this building as a 10-story brick, stone and terra cotta factory. Architects were Maynicke & Franke. This was 313 Hudson St. A decorative shield near the top of the building bears the initials HH. This photo taken from West St. looking east along Vandam St. shows a sign with the words ALMOND PASTE. Possibly this is a sign for Heide on the older building at Vandam St.
In 1961 the New York Times, 19 Aug. 1961, p. 27, reported, "After ninty-two [sic] years in downtown Manhattan, Henry Heide, Inc., one of the country's oldest and largest candy manufacturers, will move to a building to be constructed to its specifications in New Brunswick, N. J.
"Heide occupies a group of buildings at Hudson and Vandam Streets. Some of the structures, two of which are connected by a bridge over Vandam Street, have been occupied by the company for sixty-five years. Before moving to Hudson Street, Heide occupied other downtown buildings, including one on Franklin Street.
"The business was founded in 1869 by Henry Heide, a young immigrant from Westphalia in Germany. He later organized and headed the National Confectioners' Association. Herman L. Heide, his only surviving son, is chairman of the board of Henry Heide, Inc. Andrew H. Heide, a grandson of the founder, is president and chief executive officer.
"Two other third generation members of the family in the business are Vincent H. Heide, executive vice president, and Victor H. Heide, vice president and secretary. The fourth generation is represented by Philip E. Heide, great-grandson of the founder and son of Andrew H. Heide."
Henry Heide is buried in Calvary Cemetery, Queens, NY, Section 46, Vault 28 (findagrave.com).
According to Wikipedia Henry Heide, Inc., was sold to Hershey Foods Corp. in 1995. Then Farley's & Sathers Candy Co. acquired the Heide brand products, including Jujyfruits, in 2002.
home | about me | list of images | see what's new
Copyright © 2009 Walter Grutchfield