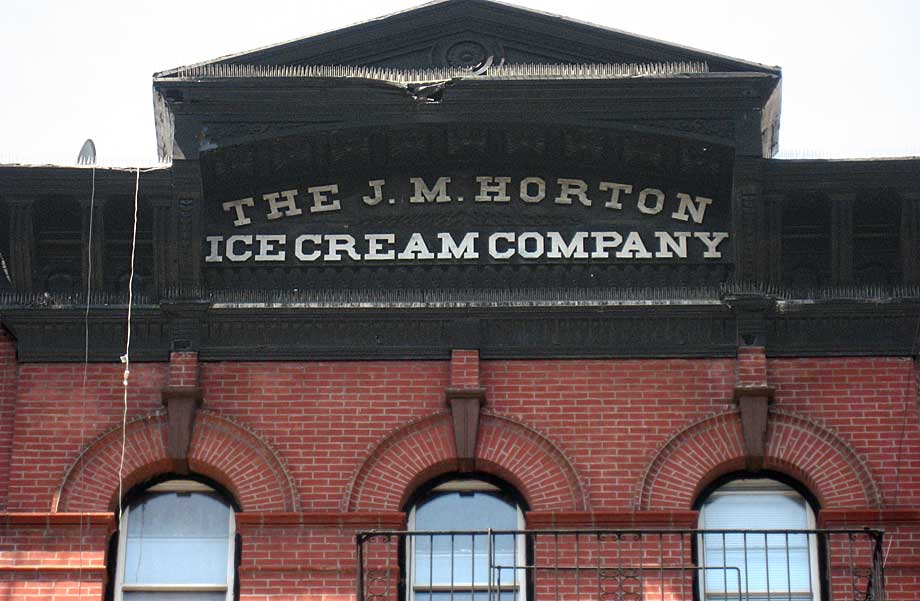 The J. M. Horton Ice Cream Company, 302 Columbus Ave. New York, 2009

The J. M. Horton
Ice Cream Company
In 1860 James M. Horton was listed in Trow's New York City Directory as an agent for the Orange County Milk Association.
In the 1861 New York city directory this ad for the Orange County Milk Association listed James M. Horton as president of the company. It also says that the company was organized in 1842 and incorporated 1 May 1860.
By 1873 James M. Horton was listed at 305 Fourth Ave., 1264 Broadway and 77 Chatham St., New York City. These, apparently, were the earliest locations of the J. M. Horton Ice Cream Co.
305 Fourth Ave.and 1264 Broadway are on this Horton's Ice Cream ad from 1877.
305 Fourth Ave. and 75 Chatham St. are also on this Horton's Ice Cream ad from 1879. 305 Fourth Ave. remained a Horton address from 1873 through 1914.
302 Columbus Ave. first appeared in directories in 1892 and remained a Horton location through 1922.
An F.Y.I. article in the New York Times, 19 March 2000, by Daniel B. Schneider, had this to say regarding 302 Columbus Ave., "At the turn of the 19th century, when the building at 302 Columbus was erected, the Horton company was supplying over half of New York City's ice cream, but like other small local producers it was ultimately unable to compete with larger, more mechanized operations and by 1930 was absorbed by the Pioneer Ice Cream Division of Borden. Most building construction on Columbus Avenue followed the arrival of the Ninth Avenue el in 1881, and the fancy pediments on many former factory buildings were originally intended as rooftop advertisements, to be seen by riders on the trains passing overhead but all but invisible from the sidewalk below."
The founder of the J. M. Horton Ice Cream Company was James Madison Horton (1835-1914). His obituary in the New York Times, 27 June 1914, read, "James Madison Horton, the well-known ice cream manufacturer, died yesterday at his home, 112 West 126th Street, at the age of 79. Mr. Horton was born on a farm near Middletown, N. Y., and in 1853 came to this city with his brother to engage in the milk business. From 1858 to 1869 he was President of the Orange County Milk Association and in 1870 first started in the ice cream business. He bought out a small business and reorganized it under the name of J. M. Horton & Co. In 1873 the firm was again reorganized, this time becoming the J. M. Horton Ice Cream Company, with a nominal capital of $40,000, and Mr. Horton became its President and chief stockholder. From this later start the business grew until today there are six stores and distributing centres in this city and several in Brooklyn. Mr. Horton was largely interested in real estate. In 1912 he transferred eleven pieces of property to his children, James M. Horton and Mrs. Mary Hope Lewis. Mr. Horton was a Director of the Mount Morris Bank."
An extensive article on James M. Horton appeared in Historic Homes and Institutions and Genealogical and Family History of New York, by William S. Pelletreau, Volume II, The Lewis Publishing Company, New York, Chicago, 1907. This included, "[Horton's] first employment was with his brother Timothy at farm work, for which he received for the first year twenty dollars and a new overcoat. After being thus employed for about two years he concluded to look for better opportunities for making a start in business, and accordingly came to New York City. With a small capital, a portion of which he borrowed from friends, he entered into partnership with his brother, Timothy W. Horton, and brother-in-law, Chauncey Horton, in New York, in the milk distributing business, and this partnership continued for some time. Recognizing the future possibilities of the milk trade in New York City, James M. Horton purchased the interests of the other members of the firm, and conducted the enterprise alone for a number of years, during which time he established a profitable and extensive trade which he subsequently sold with all its appurtenances to his nephew, Ira C. Horton. During the period of time that Mr. Horton was engaged in the milk distributing business he did much by his thorough and methodical management to bring the standard of his supply of milk to a high grade of perfection. He was instrumental in the organization of the Orange County Milk Association, and served as president of the same for some time. In 1869 Mr. Horton purchased an interest in the Fussell Ice Cream Company, and the following year became actively engaged with the firm in the manufacture of ice cream. The same year (1870) the firm was reorganzied under the name Dunnington & Emigh, Mr. Horton taking an active part in the directing and management thereof, and continued thus engaged up to 1873. In the meantime, Mr. Dunnington and Mr. Emigh died, and Mr. Horton was instrumental in organizing and having incorporated the J. M. Horton Ice Cream Company, of which he is the president, John F. French secretary, and Joseph A. Cozzino treasurer."
The following entry appeared in the 1909 Who's Who in New York City and State; a Biographical Dictionary of Contemporaries, edited by John W. Leonard, "Horton, James Madison: Manufacturer; b. Richville, N. Y., Aug. 3, 1835. Spent some years on a farm; in 1853 came with his brother to N. Y. City to engage in milk trade; pres. Orange County Milk Ass'n, 1858-69; in 1870 began a small ice cream business, which has grown greatly. Pres. and director J. M. Horton Ice Cream Co.; has 6 stores in N. Y. and 2 in Brooklyn. Director Mt. Morris Bank. Is a real estate owner. Residence: 112 W. 126th St. Address: 213 E. 24th St., N. Y. City."
In 1916 this ad proclaimed J. M. Horton the largest manufacturers of ice cream in the world! On the same page of this city directory was a smaller ad for Fussell Ice Cream. Fussell has the same address and telephone number as Horton. Apparently Horton retained the Fussell name for some of its products.
Copyright © 2013 Walter Grutchfield