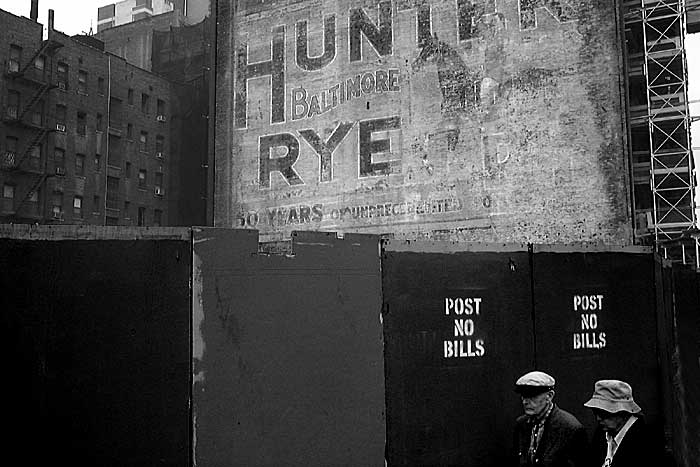 In April 2002 when demolition began on a building at Broadway and 64th St. Hunter Baltimore Rye suddenly re-appeared after being buried 95 years.
According to the New York Times (Sunday, May 12th, 2002, CY, 6), this sign was visible only between 1902 (the year the warehouse was constructed on which it is painted) and 1907 (the year an adjacent building was constructed blocking this wall). Hunter Baltimore Rye was (again, quoting the Times article): "a blended Maryland whiskey made by William Lanahan & Son, beginning in 1860."
The line at the bottom claims "50 YEARS OF UNPRECEDENTED POPULARITY."
In late June workmen began punching holes (windows, doors, what are they?) in this beautiful sign. Click here for sign as of 6/28/2002.
A week later there were four rows of holes on the left and another large one at the upper right. Click here for sign as of 7/4/2002.
But then things got worse: in July the builders covered the sign with a plastic advertisement for their new condominium. All you can see now (July 2002) is the 50 YEARS OF UNPRECEDENTED POPULARITY at the bottom. Where is landmarks preservation when you need them?!
This ad for Hunter Baltimore Rye appeared in American Druggist and Pharmaceutical Record, Vol. XXXVII, No. 12, 10 Dec. 1900, p. 28. Were pharmacists drinking (selling?) this stuff?
Copyright © 2002 Walter Grutchfield