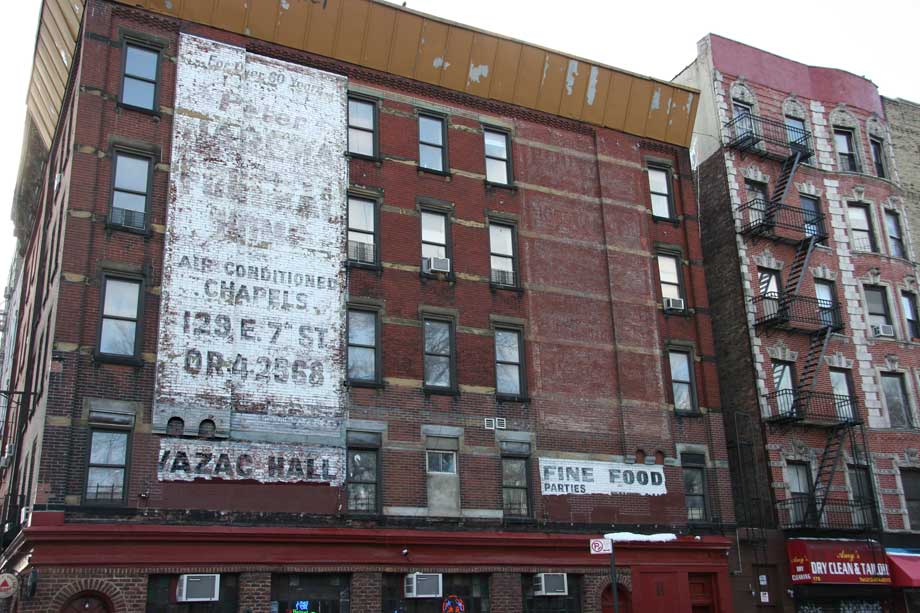 Peter Jarema Funeral Home, 108 Ave. B southwest corner of 7th St., New York, 2010

For Over 60 Years
Peter
Jarema
Funeral
Home
Air Conditioned
Chapels
129 E. 7th St.
OR 4-2568
In 1909 Pietro Jarema filed a petition for naturalization where he said that he was born 18 February 1872 in Mikulince, Austria, that he emigrated from Bremen 17 May 1893 on the vessel Weisser, and that he arrived in the port of New York 4 June 1893. This petition filed 6 June 1909 recorded Jarema's residence at that time as 127 E. 7th St., New York, NY. This was the location of the original Peter Jarema Funeral Home. They had several other locations in the intervening years, then moved into the building next door, 129 E. 7th St., in 1922, where they remain in business at present (Sept. 2013). You can visit their website at http://jaremafuneralhome.com. Their ABOUT page gives the information "Peter Jarema Funeral Home, Inc. has been in existence since 1906. We are a family owned and operated funeral home that has served many families of all faiths at affordable costs. The current owners are Robert Buzzetta and his son Daniel. Robert has been an owner since 1987."
Peter Jarema's Mikolince, Austria, in 1872 is today's (2013) Mykulyntsi in western Ukraine. In the Directory of Directors in the City of New York, 1917-18, Peter Jarema was listed as a director of the American Ukrainian Exchange.
The Jarema website cites 1906 as the year of their founding. So the sign above claiming over 60 years in business would have been painted in the late 1960s or early 1970s. Telephone directory listings starting in 1922 record Peter Jarema, undertaker, at 129 E. 7th St., with the telephone number ORChard-2568. But this phone number dates even earlier, beginning in 1910 when the funeral home was located at 115 Ave. A. This phone number took the form ORchard 4-2568 in 1930 and then in 1980 the form 674-2568. This means that they have not only been in business 107 years, but also that they have now retained the same telephone number 103 years! Is this a record?
The founder, Peter Jarema, seems to have died in the early 1920s. The New York State Census of 1925 recorded his wife, Julia Jarema (1883-1948), as head of household at 129 E. 7th St. Her occupation was "undertaker," and her son, Pavel (Paul) Jarema (1902-1987), age 22, was also an undertaker. Essentially the same information was recorded five and fifteen years later in the U. S. Census reports of 1930 and 1940. Robert Buzzetta became owner of the Jarema Funeral Home in 1987 on the death of Paul Jarema.
Copyright © 2013 Walter Grutchfield