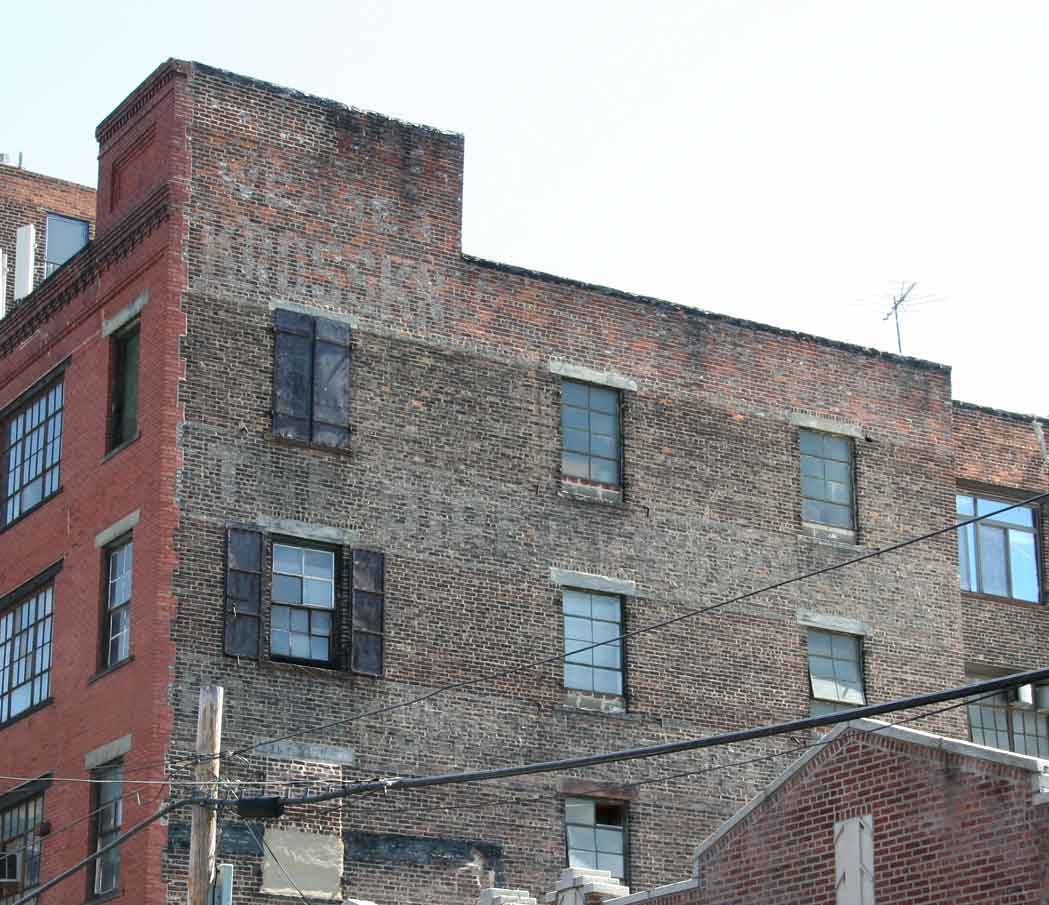 Krossknit Direct Mills, 388 Canal Place, Bronx, New York, 2012

The Krossknit Direct Mills were located here on Canal Place in the Bronx from 1912 to 1924.
The founder was Samuel A. Kross (1863/64-1932), whose life ended tragically, as recounted in the New York Times, 10 June 1932, pg. 10, "Ten years ago Samuel A. Kross, 68 years old, retired as a manufacturer of knit goods, confident he had saved enough to keep him in comfort for the rest of his days. Yesterday he was found dead in his room in the Hotel Pennsylvania with a self-inflicted bullet wound in his heart. He had lost all his money in the stock market. Before ending his life, Mr. Kross wrote to Senator Peter Norbeck, chairman of the Senate Banking and Currency Committee, denouncing Wall Street. The letter, together with three copies for newspapers, was found by a hotel employe who entered Mr. Kross's room with a pass key after being unable to get him to answer his telephone. When Mr. Kross had engaged the room on Tuesday he left a call for 8 A.M. The letter said, in part: 'I have seen a lot of the world, and there is no greater land than this beautiful country of ours. I am just as sure as man can be that one curse we are all suffering from is caused by the bankers and brokers of Wall Street - selling stock short (against the box or otherwise) is one of the greatest crimes every perpetrated on the people of this country and allowed by law. Racketeering, kidnapping, hold-ups, horse racing are all mild in comparison.' . . . Mr. Kross was interested in the Krossknit Hosiery Company, 142d Street and Rider Avenue, the Bronx, until his retirement ten years ago. Not accustomed to idleness, he found employment for a short while as a superintendent of the Aeolian Company's factory in Garwood, N.J. Mr. Kross was born in Germany and came here in his youth. He was a bachelor and lived with friends at 10 West 122d Street. He was a past master in the Alma Lodge, F. and A. M., and a past grand lodge officer of the Fifth Masonic District in Manhattan. He is survived by a brother, Adolph Kross, who he asked to be notified, and a sister."
This Krossknit classified ad from 1919 gives the address as Rider Ave. at 142nd St. 388 Canal Place runs through the block to 387 Rider Ave. Directory listings usually gave the Rider Ave. address for Krossknit.
This story from Women's Wear, Tuesday, 24 March 1925, traced the origins of Krossknit to 1888, "The Krossknit-Direct Mills, Inc., sellers of hosiery, underwear, sweaters and other lines of knitted wear, direct from the manufacturer to the consumer, has increased its capital, it is announced. The company proposes to expand its sales force and establish branch offices throughout the country. The organization was incorporated here in 1913 as a consolidation of the businesses of the Direct Supply Co. and the Krossknit Mfg. Co. Under different names the company has been in existence since 1888. The officers consist of Robert D. Ferris, president, and A. L. Brady, treasurer, both of whom have been affiliated with the organization since its inception. The company was started and developed by Mrs. A. L. Brady, who is still active in the management of its affairs."
The first listing for a Krossknit company was in 1909, when the Krossknit Manufacturing Co., Hosiery, appeared in the New York telephone directory at 176 East 127th Street, Manhattan. This was the company that moved to 387 Rider Ave. in 1912. Krossknit's 1925 expansion plans, however, never materialized. The company filed for bankruptcy protection later in the year, and went out of business shortly after.
Mrs. A. L. Brady was Alice L. Brady (1861?-?). She was born Alice Emma Leonard, and married William H. Brady in 1911. They were divorced in 1926. Alice L. Brady was listed as an officer at Krossknit Direct Mills from 1913 through 1925. Alice E. Leonard was recorded in the 1900 U. S. Census, age 38, born August 1861, New York, Manager F." This birthdate, however, conflicts with her age given in other sources. In 1905 she was 36. In 1910 she was 38. In 1915 she was 43. In 1920 she was 50. She appeared in the 1910 U. S. Census living with her sister, Annie E. Leonard, at 8 E. 128th St., Manhattan. Alice E. Leonard was 38 years old, and her occupation was "Manager, Hosiery Mfg. Co." Probably the hosiery manufacturing company was Krossknit Mfg. Co.
President of Krossknit Direct Mills in 1925 was Robert D. Ferris (1871-?). Ferris was a family friend of Alice Brady. He was born in Missouri and appeared in the 1900 U. S. Census as a boarder in the household of Charles Leonard, Alice L. Brady's father. Robert Ferris was probably associated with Krossknit when it was the Krossknit Mfg. Co. In the 1910 U. S. Census he was a boarder in the household of Annie E. Leonard, Alice L. Brady's sister, when his occupation was recorded as "Manufacturer, Underwear." Alice E. Leonard was present in both of these households.
Alice L. Brady's husband, William H. Brady (1868-1929), was a lawyer, who was also an officer at Krossknit Direct Mills. He was listed as president of the company from 1915 to 1922.
Another lawyer who was an officer at Krossknit was Richard T. Greene (1867-1949). He was listed as secretary of the company from 1915 to 1922.
Copyright © 2015 Walter Grutchfield