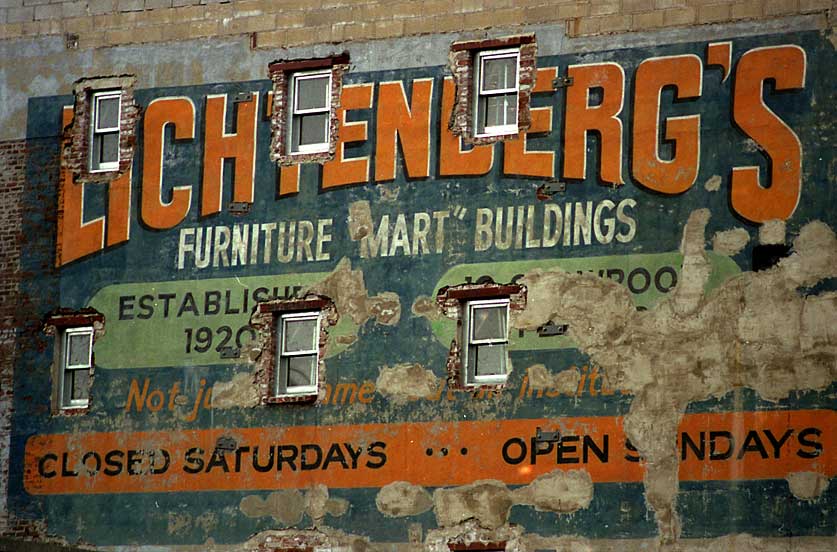 Lichtenberg's, 48-50 Ave. A, near E. 4th St., New York, 1986

Lichtenberg's furniture market was in business in New York from around 1920 to 1986. The business was listed in the Manhattan telephone directory from 1926 to 1986, always in the form "Lichtenberg J furn." The founder was Joseph Lichtenberg, an immigrant from Poland ca. 1910. His business was located in this building on Ave. A from approximately 1933 to 1985.
Joseph Lichtenberg registered for the World War II draft in 1942 when he declared that he was 63 years old and born 25 Nov. 1897. Either his age or his birth date is incorrect. It is likely the last two digits of the year were transposed, and that he was born in 1879. At the time Lichtenberg lived at 66 Avenue A, and said that he was born in Galicia.
Lichtenberg can be found in the 1930 U. S. Census living at 210 Rivington St. downtown on the East Side. The name was incorrectly recorded as "Richtenberg." He was described as 52 years old, born Poland, immigrated 1910, "Owner, Furniture Store." He lived with his wife, Annie, age 48, and son, Jacob, 24. All were born in Poland. Jacob's occupation was "Salesman, Furniture." Likely he worked in the family business, which at that time was located on E. Houston St.
Copyright © 2011 Walter Grutchfield