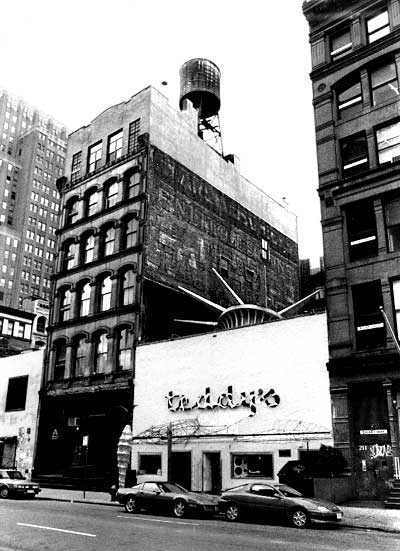 E. N. Little's Sons, 217 West Broadway between Franklin and White Streets, New York, 1993

E. N. Little's Sons derives from the painting business opened by Edward N. Little (born England, Dec. 1832, immigrated 1846, died West Hoboken, N. J., Oct. 1900) at 62 West Broadway in New York City in 1872. Little's moved into 217 West Broadway in 1896. By this time the business had been taken over by his sons: John N. Little (born New York, Sep. 1858), George F. Little (born New York, Dec. 1859), and Edward H. Little (born West Hoboken, NJ, Oct. 1861).
Edward N. Little was described as follows in History of masonry in North America from 1730 to 1800, together with a history of the several lodges F. & A. M. of Hudson county, N. J., by Henry Whittemore, New York, Autotype Print. and Pub. Co., 1888, "Bro. Little is a native of Manchester, England, where he was born December 5th, 1832. He came to this country in 1846, and settled in New York city, where he learned the business of decorative painting. After working for a number of years as journeyman, he started on his own account in New York city in 1870, which he has continued to increase annually. In 1857 he married Miss Eliza Varian Ehrhardt, of New York city. They have eight children, viz., John N. George Frederick, Edward, Edward Henry, Eliza C., Emma Louise, Laura and Florence. He became a resident of Hoboken in 1860, where he was continued for over twenty-seven years, though still carrying on business in New York. During this time he has been prominently identified with various benevolent orders. He is a member of Cyrus Chapter No. 32, R. A. M., where he served as R. A. C. and King. He is also a member of Hugh de Payens Commandery No. 1, of Jersey City, and has taken all the degrees in the Scottish Rite up to the 32d."
As early as 1885 Little had called himself "E. N. Little, the big painter." From approximately 1880 to 1895 Little's maintained offices at 105 W. Broadway and at 3-5 Hudson St. This ad from 1892 shows these addresses.
The 1880 U. S. Census (non-population schedules) recorded E. N. Little, Painting, with $1000 capital and raw materials valued at $2500. They employed as many as 15 and an average of 5 workmen, and paid annual wages of $2500. Skilled workers were paid $2.50 a day and ordinary laborers $1.00. They worked full time about half the year and half time the other six months. Earnings in the past year totaled $6000.
Edward N. Little's obituary note in the New York Times, 16 Oct. 1900, read, "Edward N. Little died suddenly at his home, at 268 Palisade Avenue, West Hoboken, yesterday from heart disease. He was born in New York in 1833, where he embarked in the painting business, his trade mark being "Little the Big Painter." He retired ten years ago. He took an active part in the affairs of West Hoboken, and was a member of the Town Council, and was also at one time Chief of Police. He is survived by three sons." The information about place and date of birth is probably wrong.
The Little's Sons billed themselves as "The big painters & sign makers, paperhanging, kalsomining, etc. engraved silver & brass signs." (Kalsomine is a white or tinted wash that consists of glue, whiting or zinc white and that is used especially on plastering surfaces.)
The sign above mentions brass and bronze signs. (Click here for clearer image of sign.)
The last entry in the New York telephone directory for the Little's appeared in the Summer 1935 issue: "Little E N Sons pntrs & sign makers 217 W Bway WAlkr 5-4122." Presumably they went out of business later that year. The sign, then, could date from as early as 1896 or as late as the 1930's, and very likely was painted by the Littles themselves.
Copyright © 2002 Walter Grutchfield