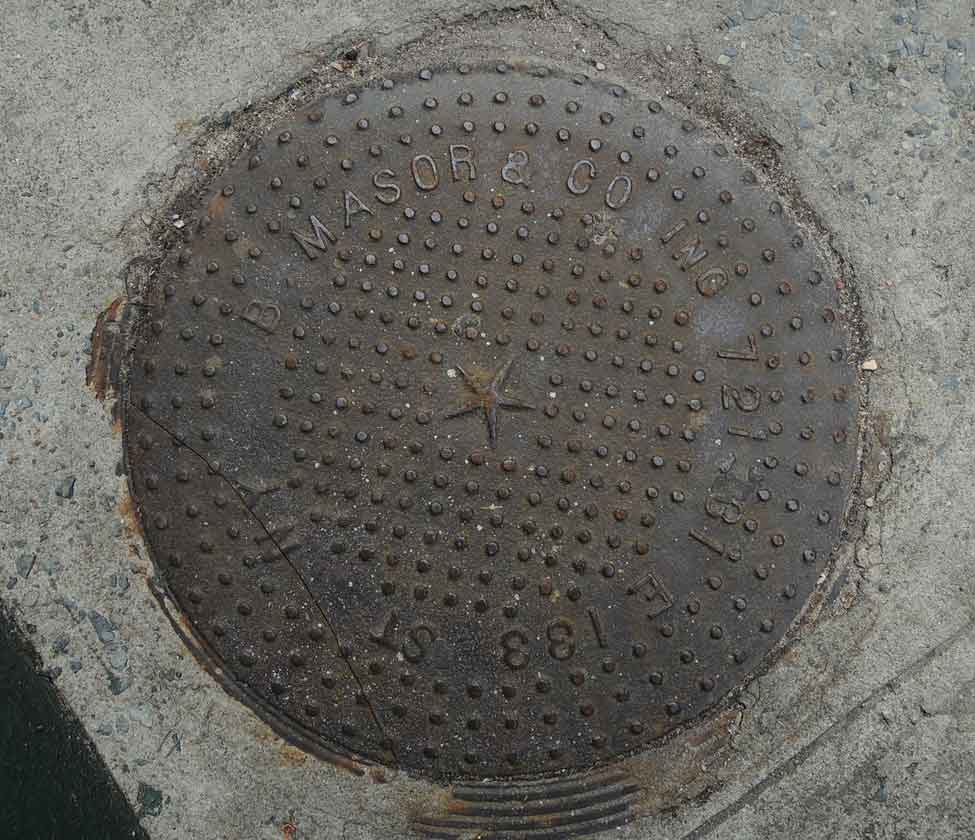 B. Masor & Co., Inc., 2006 Morris Ave. near 179th St., Bronx, NY, 2016

----------------
B. Masor & Co Inc
721-31 E 133 St N Y
B. Masor was Barnet Masor (1868-1940). His first name was sometimes spelled Bernhard or Bernard or Barnett. An immigrant from Russia, his naturalization petition dated 28 June 1895 recorded his name as Barnet Masor. On it he declared that he was born 14 Sept. 1868 and that he arrived at the port of New York 6 May 1885. Masor's sequence through the U. S. census reports from 1900 to 1930 indicate that he was born in Russia ca. 1866 and that he immigrated to the U. S. in the 1880s. Bernhard Masor went into business for himself as B. Masor & Co. in 1898. His company seems to have survived until around 1914/15. The business started downtown on Cherry St. and was located from 1902 to 1907 at 1395 Avenue A. (This address was what is now York Avenue in the East 70s.) In 1906 they were also listed at Willow Ave. and 137th St., Bronx, and then in 1908 at 721 E. 133rd St. They were in business at this location through 1914/15. In June 1913 The Waist Trade Journal vol. XV, no. 7, pg 7, reported, "A petition in bankruptcy has been filed against B. Masor & Co., Inc., iron works, 721 E. 133rd street, New York."
In Trow 1914, Masor's son, Daniel C. Masor (1896-1972), was also part of the business. Daniel Masor was 4 years old at the time of the 1900 U. S. Census and 14 in 1910. He registered for the World War I draft in 1917 when he declared that he was born 1 Jan. 1896, and gave he occupation as "Steel Merchant, Dealing in material used in ammunition manufacturing." This information was probably intended to impress the draft board with the importance of keeping him in civilian life rather than in the military.
Daniel Masor's steel business was called Victor Iron Supply Co. Polk's New York City Directory of 1925 lists not only Daniel Masor at Victor Iron Supply, but also Barnett Masor and Anton Masor. Anton Masor (1900-1972) was a younger brother of Daniel Masor. The three Masors lived together at 2685 Grand Concourse, the Bronx, at the time of the 1930 U. S. Census.
In the mid-1930s Victor Iron Supply at 1175 Leggett Ave., the Bronx, became Victor Steel Products Corp. They were in business at this address until approximately 1973. Polk's 1940 copartnership directory for New York City listed Daniel and Anton Masor at Victor Steel Products Corp., 1175 Leggett Ave., the Bronx.
In 1913 the journal, Mill Supplies, vol. III, no. 8, August, 1913, pg 483, announced, "The American Expansion Bolt Co., New York, N. Y., has been organized to manufacture and deal in expansion shields, bolts, etc., with a capital stock of $5,000, by P. M. Gomberg, G. Gomberg and I. Joseph." Around 1915 this company seems to have been taken over by Daniel Masor, and it was listed along with Victor Iron Supply Co. at 4077 Park Ave., and later at 1743 Webster Ave., the Bronx, from 1916 through 1926.
In 1936 Barnet Masor was awarded patent no. 2,031,612 for a form for making concrete roads.
Late in life Daniel Masor gave up and changed his last name to the more common Mason. He registered for the World War II draft in 1942 under this name. He was 46 years old, born New York City, 1 January 1896, and employed at Victor Steel Products Corp. 1175 Leggett Avenue.
Before his own business, Barnet Masor was a partner at Fritz, Goldstein & Masor, along with Jacob Fritz and Frank Goldstein. More on these gentlemen can be found on the Fritz & Perelberg page.
Copyright (c) 2016 Walter Grutchfield