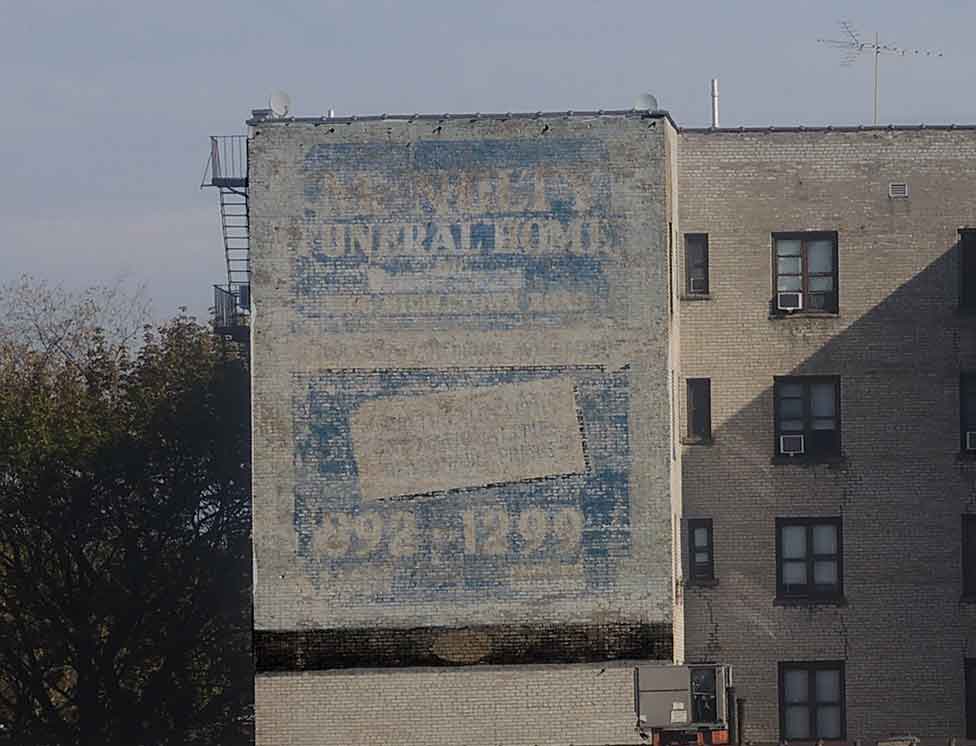 McNulty Funeral Home, 3063-3073 Buhre Ave. near Westchester Ave., Bronx, NY, 2017

The McNulty Funeral Home is not located in this building near the elevated subway stop at Buhre Ave. and Westchester Ave., the Bronx. Rather, the funeral home is several blocks to the south on Middletown Road (specifically 3006 Middletown Rd. near Crosby Ave.).
The story of McNulty Funeral Home (still an active business in August 2018) is told at their website, www.mcnultyfuneralhome.com: "McNulty Funeral Home, Inc. is a family owned and operated funeral home, still ran [sic] by the McNulty family. From its humble beginning in 1964, we have been serving families in the Pelham Bay, Country Club, Throggs Neck, Morris Park, City Island, and Co-op City communities for nearly fifty years. Founder and owner Patrick J. McNulty Sr. began his funeral service career in several funeral homes before establishing McNulty Funeral Home, Inc. Born and raised in the Bronx, Pat Sr. has been helping grieving families for more than forty - five years. A staple in the community, Mr. McNulty is a very active member in numerous organizations. His charitable donations to many organizations have made him a well-known and respected member of our wonderful community. After completing high school at Iona Preparatory School, Mr. McNulty's son, Patrick Thomas McNulty, entered The American Academy McAllister Institute of Funeral Service. He began his career in 1981, and continued the honorable tradition that his father had begun. Serving the North East Bronx for more than four decades, a third generation McNulty came into the business. Patrick Thomas's son, Patrick Joseph, obtained his funeral service license in 2005, from the American Academy McAllister Institute of Funeral Service. Learning and following in the footsteps of his family, Patrick Joseph plans to carry out the long history and "McNulty tradition" that has been handed down to him.   A welcomed new addition to the McNulty Family of Funeral Director's is Daniel John McNulty who graduated from The American Academy McAllister Institute of Funeral Service in 2014.  The generations of McNulty's that serve the Bronx, past, present and future do so with Pride, Dignity and Respect. Funeral service has changed over the years to reflect upon the life and legacy of the deceased. A personal creativity is now able to be included in the funeral services of the deceased. Any type of funeral service that is desired by a family will be conducted in the utmost professional and dignified manor [sic] by the McNulty family."
Copyright © 2018 Walter Grutchfield