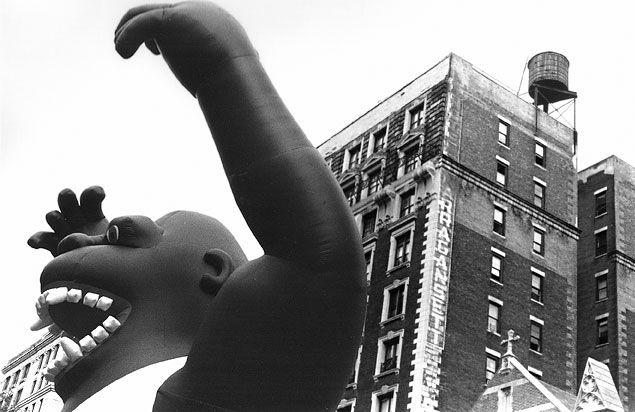 Hotel Narragansett, 2508 Broadway, New York, 1991

The Hotel Narragansett opened ca. 1902 at this location on Broadway between 93rd and 94th Streets. 1913-14 advertisements in the New York Herald referred to the Hotel as the Bonta-Narragansett (Arthur Knox Bonta, 1861?-1919, proprietor): "Handsomely Furnished Suites of One or More Rooms, with Bath." (Click for ad in 1914.)
Arthur Bonta was described as follows in American Biography: a New Cyclopedia, vol. 10, 1922, edited by William Richard Cutter: "In 1904, after a long, eventful and successful career in connection with municipal electric plants and public utilities corporations, Arthur Knox Bonta retired from active life. But to a man of his vigorous nature and disposition, whose business had been of a type that brought him constant change and fresh problems [retirement was] impossible, and in 1908 he re-entered business as a hotel proprietor of Manhattan, New York City, owning and operating the Bonta-Narragansett. In this field Mr. Bonta contained until his death, Christmas Day, 1919, and as he had won material independence and distinction during nineteen years with the General Electric Company and service with the predecessors of that organization, so did he become known in his new business as an able and successful hotel man, the proprietor of an establishment of high repute... Arthur Knox Bonta was born in Kansas City, Missouri, July 16, 1861, and died in New York City, December 25, 1919...
"In 1904 Mr. Bonta decided to retire from business, and he returned to Hoboken, New Jersey. He was induced by his fellow Republicans to become the candidate of the party for mayor of the city, and in a remarkably close election he was defeated by thirteen votes. He came to chafe under his inactivity and the loss of subjects of importance to occupy his vigorous mind, and began to plan to re-enter business. Mrs. Bonta, whose council and co-operation had been a dependable factor throughout his busy life, suggested the hotel business, to which he acquiesced. In looking over the opportunities they found the Severance Hotel, at 94th street and Broadway, New York City, was for sale, and on the morning of February 2, 1908, Mr. and Mrs. Bonta took an option on the property. On March 1, of the same year, business began under their management, and six years afterward the Narragansett Hotel, adjoining, was purchased, the two coming under the Bonta ownership as the Bonta-Narragansett Hotel" There is a great deal more on Arthur Bonta, including a photograph at American Biography (a google book).
The story of the Bonta-Narragansett was summarized in a story from the New York Times, 29 June 1914, p. 9, "The Bonta-Narragansett is a combination of two hotels. The Bonta, originally the Severance, is a seven-story building at the southeast corner of Ninety-fourth Street and Broadway. It was built with its entrance on the Ninety-fourth Street side, because the hotel then had a liquor license, and the law required its entrance to be 200 feet removed from the nearest house of worship, the Church of the Advent, English Lutheran, Broadway and Ninety-third Street. The Bonta was bought by its present proprietor in 1907, at a Sheriff's sale, only a short time after he was defeated for Mayor of Hoboken on the Republican ticket. Immediately after acquiring the hotel Mr. Bonta gave it his own name, relinquished his saloon license, and started a hotel for temperance people. It was a success, and three years later he acquired the Narragansett, a twelve-story building at the northeast corner of Broadway and Ninety-third Street, separated from the Bonta by a narrow areaway. This gap has been filled with an annex, joining the two hotels."
The U. S. Census in 1910 recorded Arthur K. Bonta living at the Bonta Hotel, 216 W. 94th St., Manhattan. With him were his wife, Mary S., 45, born Pennsylvania, an Assistant Bookkeeper, a Stewardess, a Pantry Girl, 8 Servants, and 92 Guests.
Plans filed with the New York City Dept. of Buildings in 1902 described the Narragansett as a 12-story brick and stone hotel, 53.2 x 90 feet. The owner was James Byrnes, 350 W. 56th St., and the architect was George Hill, 100 Broadway. Similar plans filed in 1900 described the Bonta as 7-story bachelor apartments, 146 x 83.3 feet. The owner was A. E. and M. A. Bingham, 4 E. 116th St., and architects were Neville & Bagge, 217 W. 125th St. (Office for Metropolitan History, "Manhattan NB Database 1900-1986," (14 March 2010), http://www.MetroHistory.com).
As of May 2009 Emporis.com listed 32 New York City buildings designed by Neville & Bagge, dating from 1902 to 1921. Many were apartment buildings on West End Avenue. The West End Preservation Society listed 13 Neville & Bagge buildings on West End Avenue. Another Neville & Bagge design was the Cornwall Apartments located at 255 W. 90th St. on the northwest corner of Broadway.
This advertisement for the Bonta-Narragansett ran in the New York Tribune, 31 Dec. 1910.
This advertisement for the Bonta-Narragansett ran in the Fall River Line Journal, vol. 34, No. 13, June 24, 1912.
This one is from the Hotel Red Book, 1920. No rates are specified. Owner, A. K. Bonta, is gone. Frank A. Peteler was probably a manager.
The Bonta-Narragansett was listed in Rider's New York City: A Guide-Book for Travelers, compiled and edited by Fremont Rider, 1916, as, "Bonta Narragansett. Broadway and 94th st, (250 R. [rooms], 250 B. [baths])." The rates were $2 for single with bath, $3 for double with bath.
In 1922 the Real Estate Record and Builders' Guide reported, "Lawrence Blake & Jewell placed for the Bonta Narragansett Realty Corporation, Joseph G. Abramson, president, a first mortgage of $465,000, at 5 1/2 per cent per annum, for 5 years on the southeast corner of 94th st. and Broadway, 7 and 12-sty apartment hotels, on a plot 146.5x146x irregular. The property is assessed by the city at $1,000,000." Abramson was Joseph George Abramson (1883-1973), a lawyer and real estate dealer. His obituary in the New York Times, 11 June 1973, refers to him as "a dean of real-estate law," but does not mention the Bonta-Narragansett.
The name Bonta appeared in the Manhattan telephone directory only between the years 1908 to 1929. 11 Sept. 1929 the New York Times reported, "The Hotel Bonta-Narragansett at the southeast corner of Broadway and Ninety-fourth Street has been purchased by Frederick Brown from Richard B. Morrell of Atlantic City, it was announced yesterday. The plot contains 17,250 feet, fronting 146 feet on Broadway and 146 feet on the street. Operated at present as a hotel, the property consists of a twelve-story and a seven-story building containing 250 rooms. The ground floor has a restaurant, tea room and six stores..." Apparently the same Frederick Brown bought the Bonta-Narragansett on two occasions, the first was reported in the Times 23 Jan. 1920. A follow-up story the next day reported that Brown had resold the property to "a client of Joseph G. Abramson." In the case of the 1929 purchase Brown resold it the same year.
In 1941 the Bonta-Narragansett was sold in foreclosure. The New York Times, 29 May 1941, reported, "The Mutual Life Insurance Company of New York bought in for $5,000 the seven and twelve-story Hotel Bonta Narragansett, on the southeast corner of Broadway and Ninety-fourth Street, in an auction sale conducted by Ralph W. Long in the Vesey Street rooms yesterday. The Mutual Life was plaintiff in foreclosure proceedings against the Alchar Realty Corporation and others, against which it held a judgment of $867,389..."
By 1942 the Bonta portion of the hotel was converted to apartments. It is currently (2002) called the Van Gogh apartments.
The Narragansett continued as a hotel, but like many of New York's smaller hotels of an earlier era, converted its operations to accommodate tenants supported by welfare in the 1950/60's. The hotel continues to operate today (2002) in that capacity.
Copyright © 2002 Walter Grutchfield