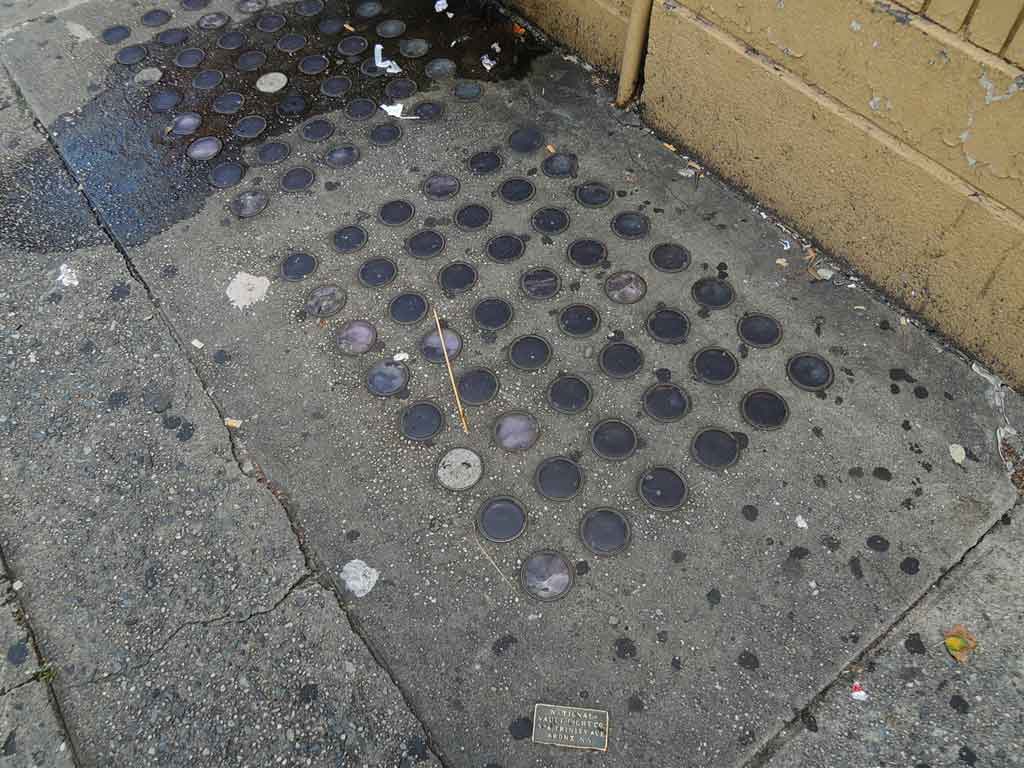 National Vault Light Co., Marion Ave. at Fordham Road, Bronx, NY, 2016

The accompanying sidewalk plaque for the National Vault Light Co. reads
National
Vault Light Co.
534 Trinity Ave
Bronx N.Y.
The National Vault Light Co. dates from 1914, when they were listed at 339 East 133rd St., the Bronx, in the New York telephone directory. Their location at 534 Trinity Avenue came 20 years later in 1934. In the interim they were on Jackson Avenue, the Bronx, primarily number 537, near East 149th St. 534 Trinity Avenue was nearby, a block west on the edge of St. Mary's Park. From 1943 through 1959 the business was listed in the Bronx telephone directory at 1324 Crosby Avenue, in the East Bronx.
The founder of National Vault Light was Paul Uvacek (1874-1933). (The name is sometimes spelled Uvachek.) He was an iron worker born in Slovakia who immigrated to the U. S. approximately 1900. He is found in the 1925 New York State Census living at 537 Jackson Avenue, the Bronx, with his family consisting of wife, Amelia, and children, Fred, Edward and Pauline. He died age 59 on 6 August 1933.
All this seems reasonably clear. Afterwards, things are a bit murky. In the 1925 census Paul Uvacek had three children, Fred age 21 whose occupation is vault lights, Edward age 19 in college, and Pauline age 18 also in college. I have been unable to locate any of the Uvaceks in the 1930 U. S. Census. In the 1940 census Paul's widow, Amelia, lived at 534 Trinity Avenue with her daughter, who is now Mrs. Pauline Knight. Paul's son, Edward, died in 1954 when the following notice appeared in the New York Times, 28 Sept. 1954, pg. 29, "Uvacek - Edward, of 111 Polk St., Newark, beloved husband of Julia (Lukasik), father of Edward Uvacek Jr., brother of Frederick Drake and Polly Knight. Services at the Broemel Funeral Home, 347 Lafayette St., Newark, Tuesday, at 8 P. M. Interment Fairmount Cemetery, Wednesday, 10 A. M."
This notice makes no mention of a brother, Frederick, except Frederick Drake. Frederick Drake appears in the 1940 U. S. Census living at 534 Trinity Ave. In fact, his entry is back-to-back with Amelia Uvacek and daughter Pauline at this address. This person is Frederick U. Drake (1904-1988). His death notice in the Asbury Park Press, New Jersey, Wednesday, 24 February 1988, pg. 14, says, "He was a self-employed mason, and owner of the National Vault Light Co., Bronx, for 50 years." This could hardly be factual. If the business closed in 1962, that would make him the owner as far back as 1912 when he was 8 years old! Polk's Copartnership Directory in 1940 does list him as owner, and his 1940 census entry gives his occupation as "Contractor Vault Lights." So it seems he was owner (if not for 50 years) after the death of Paul Uvacek in 1933. But what was his relationship to the Uvaceks? Possibly a nephew? I have not been able to establish any clear relationship. Murky, yes, murky.
The vault light website, Glassian.org, shows information about National Vault Light Co. from the Sweet's Catalog of 1932.
Copyright © 2017 Walter Grutchfield