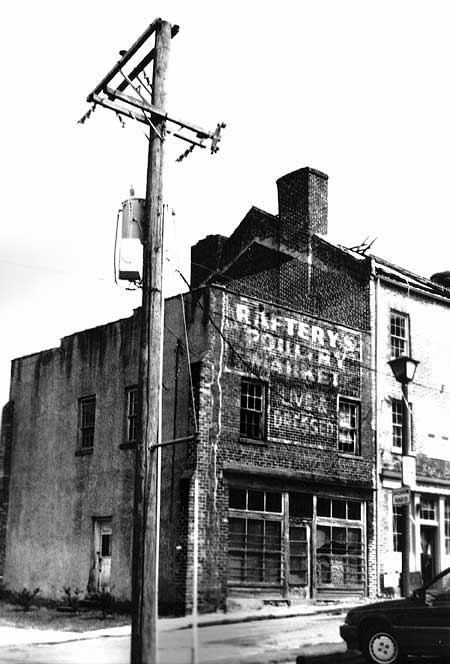 Raftery's Poultry Market, Cockade Alley near Old St., Petersburg, Virginia, 1989

Raftery's Poultry Market opened in 1935 at 22-24 Old St., Petersburg, Va. It was managed by Mrs. Nellie S. Raftery with her husband, William H. Raftery, and son, William H. Jr. William H. Sr. had been clerk in his father's business, Patrick Raftery, Commission Merchants and Wholesale Produce, at 7 Old St. in 1901 (click for ad) and at 1 E. Old St. in 1915.
Patrick Raftery died in 1922. By 1927 the business moved to 22-24 E. Old St. (click for 1927 ad). Nellie S. Raftery was bookkeeper.
They advertised as "Commission Merchants, Produce, Poultry, Hides, Calves, Lambs, Hogs, Etc." By 1933 this changed to just "Poultry and Eggs."
This sign remains today (Sep. 2001) much as it was 12 years ago on Cockade Alley at the eastern end of Old St.
Copyright © 2002 Walter Grutchfield