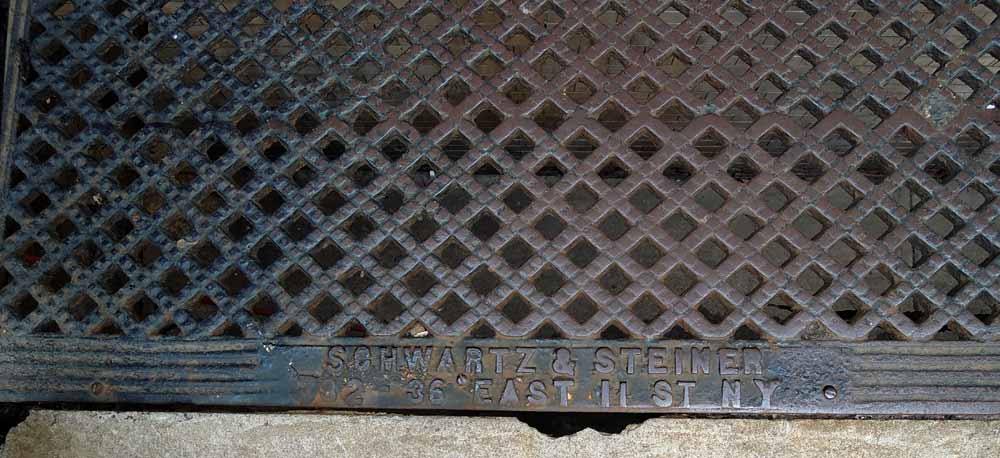 ----------------
Schwartz & Steiner
732-36 East 11 St N Y
The partners were Adolf Schwartz (1865-1915) and Simon Steiner, (1870-1925), and the business was listed in city directories on East 11th St. only during the ten year span, 1905 to 1914.
Adolf Schwartz was Simon Steiner's brother-in-law. He married Simon's sister, Tini Steiner (1870-1937). All three were born in "Austria" and immigrated in the early 1890s. In 1900 Adolf Schwartz lived on Attorney St., downtown on the East Side of Manhattan, with Tini, their three children, and her mother, Mathilde Steiner (1850-1919). The household also included Schwartz's brother-in-law, Morris Rutha (Roth?), a dry goods pedlar. Adolf Schwartz's occupation was "Tinsmith."
Simon Steiner also lived downtown on the East Side in 1900. He lived at 354 E. 3rd St., with his wife, Sarah, and his occupation was "Iron Worker."
In the 1910 U. S. Census Steiner and Schwartz both lived at 7 W. 111th St., in Harlem. Simon Steiner now had a daughter, Minnie, age 6. His occupation was recorded as "Iron Worker, Factory." Adolf Schwartz still had three children, and his mother-in-law, Matilda Steiner, still lived with the family. His occupation was "Proprietor, Iron Factory."
home | about me | list of images | see what's new
Copyright (c) 2015 Walter Grutchfield