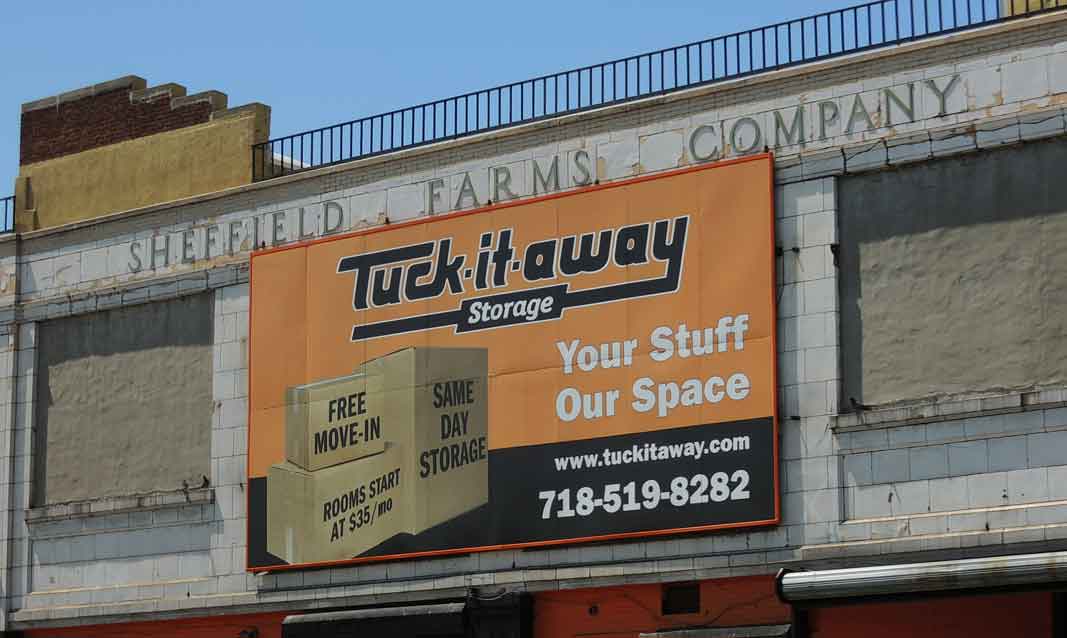 Sheffield Farms Company, 1045 Webster Ave., Bronx, NY, 2015

Above Tuck-it-away the inscription on this building reads Sheffield Farms Company.
The Library of Congress image website describes the Sheffield Farms building in these terms: "Sheffield Farms Milk Plant, 1075 Webster Avenue (southwest corner of 166th Street), Bronx, Bronx County, NY The Sheffield Farms Milk Plant, built in 1914, was one of only two Class I gravity milk plants in the country. As a class I gravity milk plant, it was one of the most expensive and elaborate milk plants built with one of the largest processing capacities (if not the largest). It is the largest remaining building by New York City architect Frank A. Rooke who pioneered the design of large scale milk plants for the Sheffield Farms Company. The Sheffield Farms-Slawson-Decker Company was at the forefront of the dairy business: they built the first large scale pasteurization plant in 1907, and installed the first continuous holding system of pasteurization there in the country. They pioneered tuberculin testing for dairy herds, the production of certified milk, and the application of milk-by-products to other industries, revolutionized the dairy industry by being the first company to use stainless steel dairy equipment in 1925, and introduced the first paper-packaged milk container in the world in 1930. For 60 years they remained one of the most successful corporations in the country." (The LC website shows no less than 55 images of the Sheffield Milk Plant, both exterior and interior.)
The origins of Sheffield Farms are described in a Wikipedia article as follows: "L. B. Halsey, a lawyer who married Sarah Frances Sheffield, (daughter of the late John H and Anne Maria Sheffield) became interested in the dairy business when called upon to help deliver his widowed mother-in-law's butter. Through careful selection and breeding the Sheffield herd of Mahwah, New Jersey, produced superior milk, which in turn made fine butter. He began marketing the butter in his spare time in the city and by 1880 had given up the law to devote himself to the dairy trade. His first innovation was to design a covered milk wagon that protected fluid milk from dust. Halsey trained other farmers to improve the quality of their milk and bought milk only from the best herds. In 1892, he installed the first pasteurizing machine in the United States, imported from Germany, at Sheffield Farms' Bloomville, New York, plant."
L. B. Halsey was Louis Benjamin Halsey (1840-1911). Some of the early history of Halsey's Sheffield Farms was included in an article on New York milk distribution in the New York Times, 29 Sept. 1895, pg. 17, "Milk prepared according to physicians' prescriptions is one of the specialties of the Sheffield Farms Company. Pure milk is easily assimilated by the normal digestion, but there are thousands of invalids and babies daily enduring unnecessary torments by dieting with milk as it comes from the cow. It is for these that the very perfect laboratory equipment is maintained by the company at its main office, 1,026 Sixth Avenue, near Fifty-eighth Street. There scores of prescriptions are handed in during each week, calling for "modified" milk. In this the constituent parts, such as fat, sugar, casein, are diminished or increased in quantity to accommodate the special constitutional or digestive peculiarities of the patient. This is exact work, demanding special skill outside the sphere of ordinary milk-trade experts. Prof. James Cheesman, the well-known English agricultural chemist, was engaged to fit up and start the laboratory in operation. His scientific work will soon be taken up by Miss Annie S. Halsey, a student of chemistry and bacteriology, and graduate of Holyoke College. She is a daughter of L. B. Halsey, President of the company, long known among milk producers as an expert in all matters pertaining to dairying. Thus Miss Halsey has had special advantages for the pursuit of this scientific work. The milk used in the laboratory comes from the private dairy of Mr. Halsey at North Paterson, N. J. ..."
The same article mentioned T. W. Decker & Sons, "Of the firms extensively engaged in the retail milk business T. W. Decker & Sons is probably the oldest established. Away back in the year 1841 T. W. Decker commenced the sale of pure milk. From a comparatively insignificant business then the output of the firm has grown to very great dimensions, necessitating the constant, personal supervision not only of Mr. Decker and his three sons, but a large trained force. Vast changes have taken place in those fifty-odd years in the collection and distribution of the city milk supply. From what are now the northern sections of the city the dairies have been pushed out countryward, till now the firm draws its main supply from Pawling, in Dutchess County."
Thompson W. Decker "milkman" was listed in Doggett's New York City Directory in 1848-49 at 330 Third Avenue. This became Thompson W. Decker "milk" at 155 E. 27th St. in Rode 1852-53, and then at 309 E. 27th St. in Trow 1868. Thompson W. Decker, himself, lived at 311 E. 27th St. in the 1880 U. S. Census. Thompson W. Decker & Sons opened plants at 1013 Fourth Ave. near 84th St. (later 1077 Fourth Ave. at 88th St.) and at 763 Fifth Ave. in the mid-1880s. 1077 Fourth Ave. became 1077 Park Ave. around 1888. Another plant opened at 583-585 Park Ave. near 63rd St. around 1889, and late in the 1890s there were locations at 269 Columbus Ave. (72nd St.) and 558 Columbus Ave. (87th St.) on Manhattan's West Side. A much later location was 524 W. 57th St., also on the West Side.
In 1902 T. W. Decker & Sons, along with Slawson Brothers, merged with Sheffield to form Sheffield Farms-Slawson-Decker Co. Subsequently this company was renamed Sheffield Farms Company.
Slawson Brothers was established in New York in the late 1860s, the brothers consisting of Andrew A., Daniel S. and John C. Slawson. Andrew Albertson Slawson (1844-1916) was born 6 June 1844 and died 17 June 1916 in Waverly, NY. He is buried with other family members in Forest Home Cemetery, Waverly, Tioga County, NY. He appears in the 1870 U. S. Census, age 26, a milkman, living in New York City. Living with him are Daniel S. Slawson, age 32, also a milkman, and John C. Slawson, age 29, again, a milkman. Andrew A. Slawson's death was noted in the New York Times, 20 June 1916, pg. 11, as follows: "Andrew A. Slawson, a member of the Sheffield-Slawson-Decker Company, milk dealers, died yesterday at his home in Waverly, N. Y., in his seventy-third year." John Cresswell Slawson (1842-1877) was born September 1842 in Orange County, NY, and died October 1877. The eldest of the brothers was Daniel Sayre Slawson (1838-1901). He was born 16 September 1838 in Orange County, NY, and died 24 July 1901 in New York City. A brief death notice appeared in the New York Times, 26 July 1901, pg. 7, reading, "Slawson - Daniel S., suddenly, Tuesday, July 24. Funeral Services at his late residence, 355 Lexington Av., Friday, at 8 P. M." His son, Loton Horton Slawson (1874-1924) was also a member of Slawson Brothers, although he is remembered primarily for his later career in real estate.
The founder of T. W. Decker & Sons was Thompson Willis Decker (1820-1902). He was born 4 September 1820 in Elizabeth, New Jersey, and died 8 April 1902 in New York City. An obituary notice appeared in the New York Times, 9 April 1902, reading, "Thompson W. Decker, an old-time New York merchant, died yesterday in this city at his home, 838 Lexington Avenue. He was born in Elizabeth, N. J., on Sept. 4, 1820. He came to New York and went into the retail milk business in 1841, and had continued in that business ever since, taking in his sons as partners from time to time. Mr. Decker leaves a wife, three sons, two daughters, and two grandchildren. The funeral will take place at his home to-morrow evening, and the interment will be at Woodlawn on Friday morning."
The sons of the original T. W. Decker were Thompson Willis Decker, Jr. (1850-1911), Henry E. Decker (1851-1906) and George Crandell Decker (1855-1904). According to a notice in the New York Times, 21 Oct. 1911, pg. 13, the second Thompson Willis Decker died 20 October 1911 in New York City: "Decker - Suddenly, on Friday, Oct. 20, 1911, Thompson W. Decker, son of the late Thompson W. and Maria Decker. Funeral services at his residence, 319 West 88th St., on Monday, Oct. 23, at 1:30 P. M. Interment at convenience of family." Henry E. Decker died 29 December 1906. As reported in the New York Times, 2 January 1907, pg. 7, "Decker - Suddenly, on Dec. 29, Henry E. Decker, son of the late Thompson W. and Maria Decker. Friends and relatives are invited to attend funeral services from his late residence, 171 East 64th St., on Wednesday, Jan 2, at 1 o'clock." George C. Decker was born 7 April 1855 and died 29 December 1904.
A third generation Decker at T. W. Decker & Sons and later at Sheffield Farms was Thompson Willis Decker (1878-1935). His obituary in the New York Times, 24 June 1935, pg. 17, read, "Thompson W. Decker, former treasurer of the Sheffield Farms Company, for many years prominent in the milk distributing business, died unexpectedly of heart disease late Saturday afternoon at his home, 585 West End Avenue. He was 57 years old. Born in New York City, Mr. Decker attended public schools here and was graduated from Packard Business College. Later he entered T. W. Decker & Sons, a milk distributing firm founded by his grandfather. Subsequently, when this company merged with two others and became the Sheffield Farms Slawson-Decker Company, Mr. Decker became treasurer. He held this office in the present Sheffield Farms Company until his retirement five years ago. He was a member of Charity Lodge 727, F. and A. M.; the Columbia Commandery, New York Rotary Club, New York Athletic Club, Army Athletic Association and National Democratic Club. For ten years he was a member of the Seventh Regiment. Surviving Mr. Decker, a bachelor, are two sisters, Mrs. Isabelle Decker Fountain of this city and Mrs. Josephine Decker Orr of Bay Shore, L. I. Funeral services will be held at 2:30 P.M. tomorrow at the Fourth Presbyterian Church, West End Avenue and Ninety-first Street. The Rev. Dr. Benjamin Farber, the pastor, will officiate. Burial will be in Woodlawn Cemetery."
Directories list Sheffield Farms at 1055 Webster Avenue from 1914 through 1969. The Bronx telephone directory for 1970 listed 1055 Webster Avenue as Sealtest Foods, Division of Kraftco Corp. - Milk Service.
An ad from The Orthodox Union, 1933 appears on google books in New York's Jewish Jews: The Orthodox Community in the Interwar Years, 1990, by Jenna Weissman Joselit.
A view of a T. W. Decker & Sons creamery near Grand Gorge in Delaware County, NY, appears on google books in Around Roxbury, 2013, by Anthony Liberatore and Lynette Hinkley Liberatore.
A nice postcard of the Sheffield Farms - Slawson Decker Co., creamery at Hobart, NY, is found on the Delaware County NY Genealogy and History website.
Copyright © 2016 Walter Grutchfield