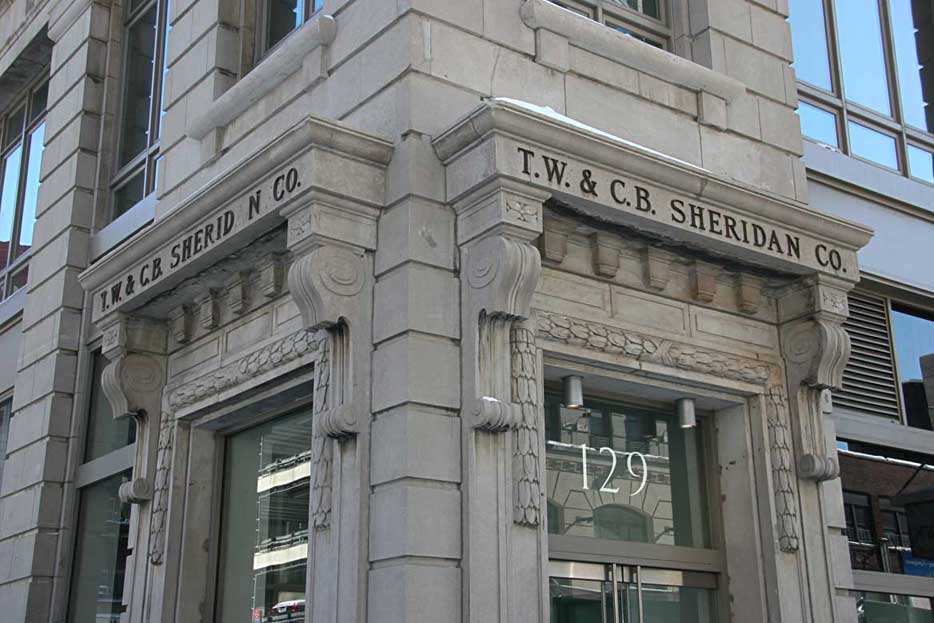 T. W. & C. B. Sheridan Co., 129-135 Lafayette St. at Howard St., New York, 2006

T. W. & C. B. Sheridan were bookbinders and manufacturers of bookbinding machinery. T. W. Sheridan was Theodore W. Sheridan (1835-1914) and C. B. Sheridan was Charles Bernard Sheridan (1844-1931). But before there was a T. W. & C. B. Sheridan, there was E. R. & T. W. Sheridan, the E. R. Sheridan being Edwin R. Sheridan (1830/31-1887/88). And before there was E. R. & T. W. Sheridan there was Bernard Sheridan (1803-1884).
Bernard Sheridan is described as follows in the American Dictionary of Printing and Bookmaking (1894): "Sheridan, Bernard, manufacturer of bookbinders' machinery, was born in Aquackenonck (now Passaic), N. J., on April 17, 1803. In 1830 he entered the employment of R. Hoe & Co., in New York, as pattern-maker, and remained with them until 1835, when he went into business for himself in Gold street in that city, manufacturing letter copying-presses and embossing-presses. He shortly after added cutting-machines in competition with F. J. Austin, who was then the only person in that line of business in New York. He afterwards removed to No. 45 Ann street, continuing there until 1856, when he was succeeded by his sons E. R. & T. W. Sheridan. In 1860 they bought out Mr. Austin and removed to his place, in Reade street, where the present firm of T. W. & C. B. Sheridan is located. The line of manufacture now is very extensive."
Edwin R. Sheridan, Theodore W. Sheridan, and Charles B. Sheridan were all sons of Bernard Sheridan. The family is found in the U. S. Censes of 1850 living in Brooklyn when Edwin was 20, Theodore 18 and Charles 6. Their mother was Grace King Sheridan of Paterson, N. J., whom Bernard Sheridan married in 1826.
For about 30 years (approx. 1863 to 1892) T. W. & C. B. Sheridan were located at 25 Centre St. (click for ad from 1880).
The 1880 U. S. Census (non-population schedules) recorded T. W. & C. B. Sheridan, Machinery with $40,000 capital and raw materials valued at $18,000. They employed an average of 23 men, and paid annual wages of $13,500. Skilled workers were paid $3.00 a day and ordinary laborers $1.75. The factory was in operation fulltime 12 months of the year, and annual production in the past year was valued at $65,000.
These ads appeared in The Printer and Bookmaker, vol. 29, no. 1, Sept. 1899: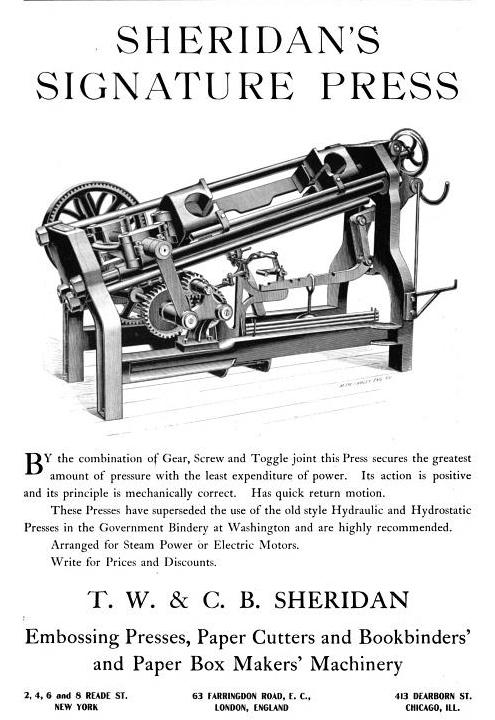 In 1899 Sheridan's New York address was 2-8 Reade St. Their London office is shown in this image from the New England Stationer and Printer, Nov. 1899.
The company was located in the Lafayette St. building with the two doors on each side of the corner from 1929 to 1956. They also had offices in Chicago and London, England. Charles B. Sheridan's passport application in 1919 shows an attachment with an earlier address of the company: 434-438 Broadway (click for image.)
Theodore Sheridan's death notice in the New York Times (31 March 1914) reads, "Theodore W. Sheridan, President of the T. W. & C. B. Sheridan Company, one of the oldest bookbinding firms in the country, died Sunday at his home, 294 Adelphi Street, Brooklyn, in his eighty-second year. Mr. Sheridan invented several appliances now generally used in bookbinding, and was recognized as an authority in the business. He was one of the founders and Commodore since its organization of the Sea Cliff Yacht Club, a charter member of the Atlantic Yacht Club, and a member of Arkwright Club."
Charles B. Sheridan's obituary in the Times (12 June 1931) carried the headline C. B. Sheridan Dies on 91st Trip Abroad. With dateline "Maplewood, N. J., June 11" the obituary reads in part, "Charles Bernard Sheridan of 47 Mountain Avenue, Maplewood, died yesterday of pneumonia in London, while on his ninety-first trip to Europe. He was 86 years old. Mr. Sheridan had been active to the last as vice president of T. W. & C. B. Sheridan of New York, dealers in bookbinders' machinery. He had sailed for London in April on business and was expected to arrive home next month. Several of his ninety-one trips across the Atlantic were made since he became an octogenarian. Born in Brooklyn, Mr. Sheridan had been a resident of Maplewood for nineteen years."
A photograph by Percy Loomis Sperr dated 1930 on the New York Public Library's Digital Collections shows a sign for T. W. & C. B. Sheridan on what is probably the south wall of 129-135 Lafayette St. The location is identified as "Lafayette Street - Canal Street."
Copyright © 2002 Walter Grutchfield