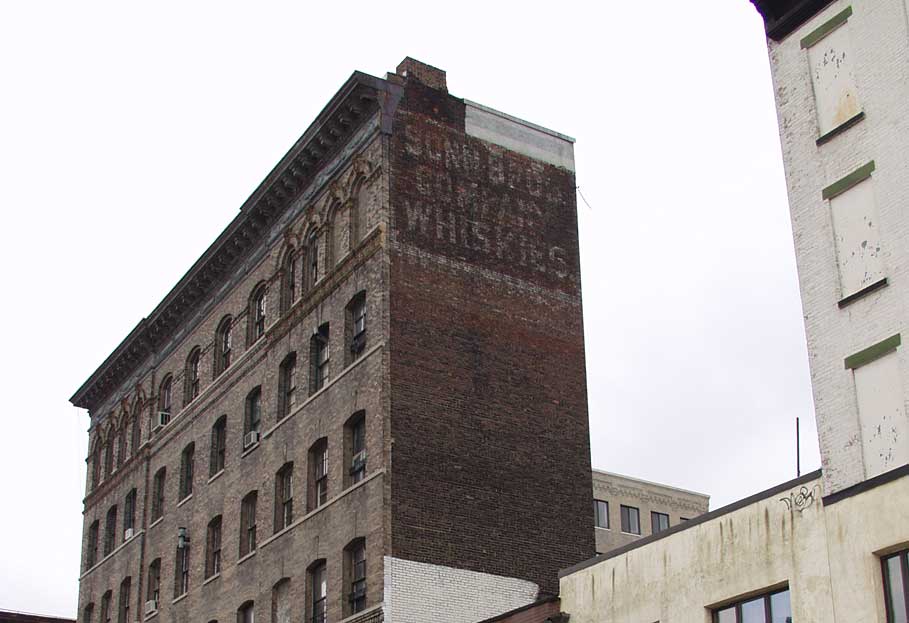 This advertisement for the Sonn Brothers, Import & Export Co. appeared in the journal, Commercial America, vol. 19, Philadelphia, July, 1922, p. 22. The ad says "Founded 1873." Actually, the first entry I found for Sonn Brothers in New York city directories was an 1875 entry reading, "Sonn Brothers, fish, 119 Warren." The brothers were Henry Sonn and Hyman Sonn, both living at 547 2nd St. Shortly after this, in Goulding's New York City Directory, 1876-77, the Sonn brothers were grocers, located at 181 Reade St., and then in Trow, 1878, they were grocers located at 83 North Moore St.
Subsequent directory listing have them as wholesale grocers until 1895, when the designation became "wholesale grocers and liquor dealers." In 1895 they were located at 386 Washington St. which was only a couple of blocks south of Desbrosses St. In 1900 the business was described as "wholesale liquor dealers," and the move to 440 Washington St. came in 1901. 440 Washington St. is the same as 31 Desbrosses, the building being at the southwest corner of Washington and Desbrosses. However, a new business involvement emerged for the Sonn Brothers around this same time - i.e., real estate. Eventually it would be the real estate side of their business that would become their primary activity. But from 1901 to 1912 they were wholesale liquor dealers here at 440 Washington / 31 Desbrosses. Then in 1912 they moved the business another block up Washington St. to 465 Washington. Here they remained liquor dealers until approximately 1920/21.
The 1921 Manhattan telephone directory no longer lists them as liquor dealers, but rather as "Sonn Bros. Import & Export Co." In the Exporters' Encyclopaedia, 17th Annual Edition, 1922, they are described as, "Sonn Brothers Import & Export Co.: 465 Washington Street, New York. / Foreign Markets: Africa, South and Central America, Far East. / Goods specialised in: Machinery, chemicals, paper, textiles, general merchandise." The Sonn Bros. import/export business stayed at 465 Washington St. until approximately 1925. After 1925 they seemed to have been engaged exclusively in real estate.
The Sonn brothers were Hyman Sonn (1851-1929) and Henry Sonn (1854or1855-1940). They were the sons of Hess Sonn, an immigrant from Germany, whose occupation is recorded as "pedlar" in the U. S. Census reports for 1860 and 1870. Hyman Sonn appears in the 1860 census as "Herman," 9 years old, born Germany. Henry Sonn appears under "Henry," 6 years old, born New York. By 1880 they were in their partnership as wholesale grocers, and they lived with a brother-in-law, Levi Lippman, on East 30th St. Hyman (called Herman in the census) Sonn was 29 years old, born Bavaria, and Henry Sonn was 26 years old, born New York.
In July 1888 the New York Times reported that Henry Sonn, "a wholesale grocer, living at 163 West Sixtieth-street," had been arraigned in court on a charge of reckless riding. "A policeman said he saw the prisoner and another man, both on horseback, going down Seventh-avenue at a furious gallop, and that he caught the accused, but could not catch the other man." Sonn, age 34, said he was just learning to ride and that the other man was his teacher. "'The horse became unmanageable and the teacher was trying to keep up with me,' said the accused. He produced his lesson card to show how few lessons he had taken, and Justice Murray discharged him."
In 1900 the Sonn brothers lived in adjacent townhouses on West 74th St. The census taker, however, made a mess of his report. Henry Sonn, living at number 134 W. 74th, was called Albert Sonn, and Hyman Sonn, living at number 136 W. 74th, was called Henry Sonn! Henry Sonn's occupation was recorded as "Real Estate," but Hyman's was left blank.
Hyman Sonn applied for a passport in 1901 when he declared that he was born in Bavaria, 3 Feb. 1851. He declared that he emigrated 1853, and that he became a naturalized citizen in New York City 23 Oct. 1872. He lived at 136 W. 74th St. and asked that the passport be sent to Sonn Brothers, 440 Washington St., New York City. Hyman Sonn's obituary, New York Times, 28 Dec. 1929, p. 9, read, "Hyman Sonn, real estate operator and developer, president of H. & S. Sonn, Inc., and vice president of the Sonn Bros.' Holding Company, died yesterday of heart disease at his home, 40 West Eighty-Sixth Street, in his seventy-ninth year. He left a son, Sidney, treasurer and lately active head of H. & S. Sonn, Inc.; a brother, Henry, and a daughter, Mrs. Sidney H. Rhodes, wife of the treasurer of Weber & Heilbroner, Inc. ... The Sonn realty developments were chiefly in Washington Heights, the Bronx and Westchester, including the Sunny Ridge and Glen Oaks properties at Harrison and Rye. The Keith theatre at White Plains was built by H. & S. Sonn, Inc."
Henry Sonn received a somewhat shorter notice (New York Times, 7 Aug. 1940, p. 19), reading, "New London, Conn., Aug. 6 - Henry Sonn, president of Henry Sonn & Co., New York and Westchester real estate operators, died suddenly of a heart attack at the Hotel Griswold on Eastern Point today. He was 86 years old. A son, Herbert H. Sonn, and two daughters, Mrs. Leo I. Meinhard and Mrs. Walter W. Hess, all of New York, survive."
Over the years the New York Times published hundreds of articles about the Sonn Brothers as real estate dealers, but I never found anything related to their wholesale whiskey / liquor business. A few Sonn liquor related items can be found on ebay and such. I am hoping this shot glass at pre-pro.com will stay around for a while. Pre-pro's address timeline (410 Washington, 1902-1904; 145 Washington, 1906; 465 Washington, 1915-1918) seems slightly inaccurate. Directory listings indicate: 400 Washington, 1900-1901; 440 Washington, 1901-1912; 465 Washington, 1912-1925. Pre-pro's notes include: "They had offices in both Chicago and Philadelphia. Brand names used by this company include: 'Buckingham', 'Old Cabinet', and 'Old Cabinet Pure Rye.'"
Copyright © 2009 Walter Grutchfield