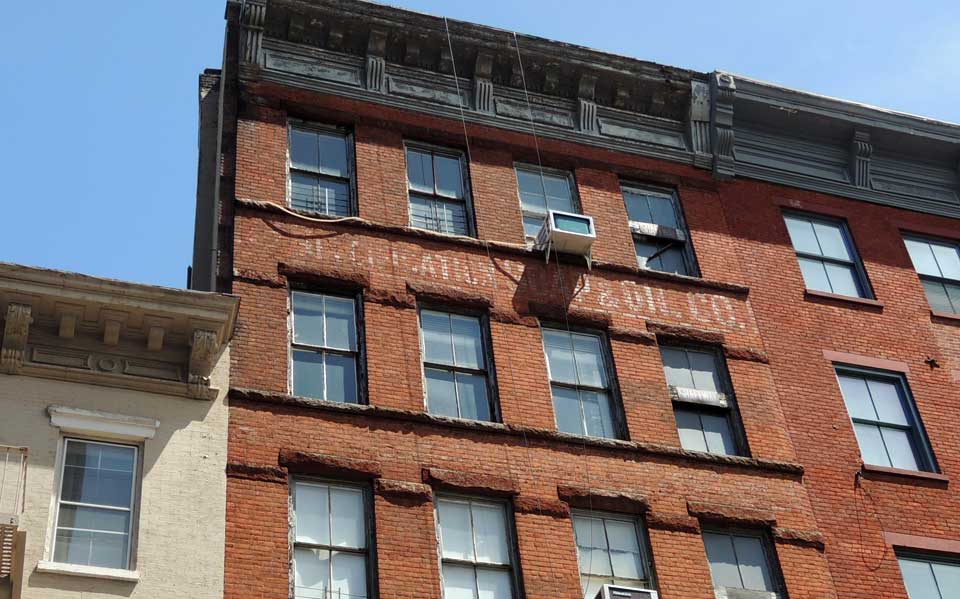 Specification Soap & Oil Co., 801 Greenwich St., New York, 2013

In 1913 the American Machinist, 11 Sept. 1913, page 79, noted the Specification Soap & Oil Co. as a new incorporation, giving Lucius H. Stewart, J. William Ryder, and Robert Maion, all of New York City, as the original incorporators. This company was located here at 801 Greenwich St. only in its first two years, 1913 to 1914. In 1914 they moved a few short blocks away to 427 W. 13th St., then in 1920/21 to Brooklyn, at 57 Richards St. Listings show them at that address until 1923. In 1924 Specification moved across the street to 54 Richards St. where they merged with the Kranich Chemical Co. to form Kranich & Specification Soap Co. Kranich & Specification Soap Co. was listed in the Brooklyn telephone directory from 1924 to 1927, after which the name changed to Kranich Soap Co. (For more on Kranich see the Kranich Soap Co. page.)
Specification Soap & Oil Co. was founded by James William Ryder (ca.1875-1930?). Ryder was recorded in the 1910 U. S. Census, age 35, born Vermont, living in Brooklyn. In 1917 James W. Ryder, as assignor to Specification Soap & Oil Co., Inc., New York, N. Y., was granted a patent for a process of making soft transparent sodium oil-soaps (patent 1,212,818, filed 12 July 1915, granted 23 January 1917), available on the internet on google patents.
Later in life James W. Ryder was reported in the Brooklyn Daily Eagle, 1 July 1923, in a legal dispute with his common-law wife, Catherine Ryder: "James W. Ryder, president of the Specification Soap Co. and part owner of the Kennebec Navigation Co., in an effort to sidestep alimony asked by Mrs. Catherine M. Ryder of 1414 President st., his common-law wife for 15 years, wrote himself down as a gay Lothario and said he had yielded for several years to 'blackmail' and extortion, by way of accounting for a will he made in favor of 'My wife, Catherine,' in 1917. Ryder is now the husband of Mrs. Edith Ryder and says he must support her and that his income is only $75 a week, or so. Mrs. Catherine Ryder dates her common-law marriage, however, from the date of the final decree, July 28, 1911. Ryder declared he showered some $40,000 on her 'in blackmail' when she threatened him. After Justice Strong read Mrs. Catherine Ryder's plea and Ryder's strange story, he directed him to pay $25 a week alimony and $350 counsel fee."
Also connected with Specification Soap & Oil was Troylis Graham Grimes (1884-1941). Grimes had his own soap company, T. G. Grimes Co., which in 1913 had offices at 277 Broadway and its factory at 801 Greenwich St. In 1914 Troilus Grimes was listed as an officer at Specification Soap & Oil Co. In 1914 the T. G. Grimes Co. factory moved with Specification Soap & Oil to 427 W. 13th St. T. G. Grimes "soap" and "chemicals" continued with offices at 277 Broadway and later 344-350 Broadway through 1920.
According to information posted on ancestry.com Troylis Graham Grimes was born 12 Dec. 1884 in Portsmouth, Ohio, and died 6 Feb. 1941 in Brimfield, Mass. His brother, Frederick William Grimes (1871-1946), was recorded as an officer at Specification Soap & Oil Co. in 1914. A year later Frederick Grimes appeared as the president of Borough Builders, Inc., a construction company.
Copyright © 2009 Walter Grutchfield