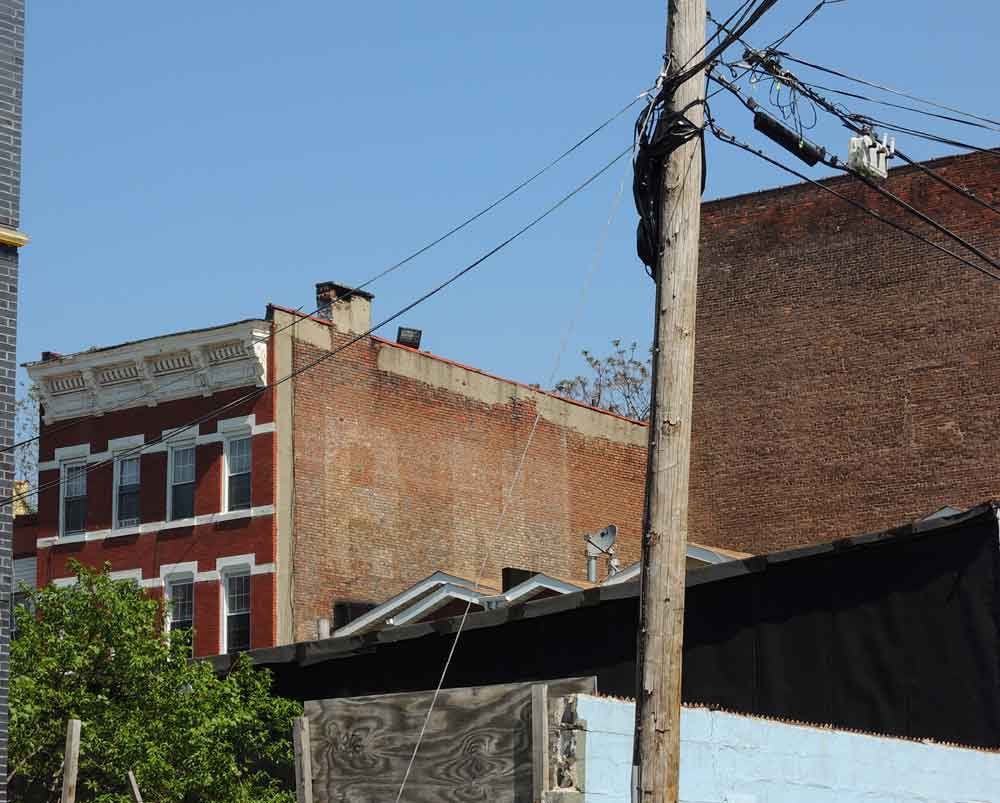 P N Corsets, 431 E. 154th St., Bronx, New York, 2015

Indistinct and only partially viewable, this is a sign for P N Corsets. This exhibition notice from 1890 summarizes some of the early history of P N Corsets, "The P.N. Corsets. Messrs. J. Newman & Sons, of 405 Broadway, New York, manufacturers of the celebrated P. N. Corsets, make a beautiful display in the main building at the Industrial Fair this year of their world-wide known goods. The exhibit is attracting the attention of the crowds of visitors daily. These corsets are sold to every first-class dry goods house in the United States and Canada, and are warranted to fit or no sale. The corsets on exhibition are beautifully made of rich silk and satin materials of various colors and shades, and this certainly is one of the finest displays of the kind in the main building. The factory is situated in New Haven, Conn., U. S." (This notice is referring to an exhibit at a trade show in Toronto, Canada, September, 1890.) There is an error here, however. The manufacturer of P N Corsets was I. Newman and Sons, not J. Newman.
I. Newman and Sons seems to have been founded in 1872 or 1873 in Connecticut and moved to New Haven, Connecticut, somewhat later as I. Newman & Co. This ad for I. Newman & Co. appeared in a New Haven city directory dated 1879. I. Newman & Co. was a partnership between Isaac Newman (1823-1906) and Frank H. Thomas. The partnership with Frank Thomas dissolved in the early-1880s, and the firm name changed to I. Newman & Sons in the mid-1880s when Isaac Newman brought into the company two sons, Abraham L. Newman (1855-1933) and Jacob J. Newman (1857-1937).
Isaac Newman died March, 1906, when the following appeared in the New York Times, "I. Newman, 84 years old, founder of the firm of I. Newman & Sons of New York and New Haven, died at his home in New Haven Wednesday. He came to this country when 30 years of age, and in his early life was identified with business interests in Newburg and Rondout, N. Y. He afterward moved to Birmingham, Conn., where he started the manufacture of corsets in 1873. The plant was later moved to New Haven. His wife, whom he married fifty-three years ago, was Miss Pauline Simon. She survives him, as do two sons, A. L. Newman of New York and J. J. Newman of New Haven, and one daughter, Mrs. Henry J. Adams of Boston."
Isaac Newman's wife, Pauline Newman, seems to be the source for the brand name P N Corsets.
This ad for I. Newman & Sons dates from August, 1921, and appeared in The Corset and Underwear Review. Apparently extensive advertising was underway for a Newman product known as the P. N. Practical Front Corsets. An article from The Corset and Underwear Review April, 1921, explained, "New feature of P. N. Corsets. - In the latest development of P. N. Practical Front Corsets, the 'Perfection Top,' the problem of the 'riding up' corset, as everybody knows, who wears or sells them invariably rise or 'ride' up the figure - the more closely they fit, the more quickly the 'ride,' but it is believed that new 'Perfection Top' successfully meets this difficulty. ..." In 1936 a Chicago newspaper had this ad for P N Corsets with the Practical Front.
Abraham L. Newman died in 1933, age 78. This obituary appeared in Women's Wear Daily, 19 Dec. 1933, pg. 31, "Abraham L. Newman, philanthropist and retired corset manufacturer, who has been ailing for a long time, died in his home at 755 Park avenue, yesterday. Vice-president of the Hebrew Orphan Asylum, member of the Masonic Order and of the Harmonie Club, much of his time and efforts were directed toward charity. Mr. Newman was 78 years old, and had come from his birthplace, New Haven, Conn., to New York, at an early age, and entered the corset business. With his father and a brother, Jacob J. Newman, who survives him, he later formed the I. Newman & Co., in which company he was active until his retirement in 1923. Besides his brother, Mr. Newman is also survived by his wife, Rose Hecht, and his daughter, Marion N. Hess. Funeral services will be conducted tomorrow at 10 a.m. at the Chapel of Temple Emanu-El, 65th street and Fifth avenue."
Abraham Newman's brother, Jacob J. Newman, died age 80 in 1937. Another Newman involved in the company was Jacob Newman's son, Samuel Johnson Newman (1890-1923). He registered for the World War I draft in 1917 when he was "supervising head (member of firm) I. Newman & Sons, New Haven."
Also prominent in the company's history was Daniel Weir Northup (1886-1961). Daniel W. Northup was president of The Henry G. Thompson & Son Co., manufacturers of band saws in New Haven, Connecticut, as well as I. Newman & Sons. His obituary, New York Times, 14 April 1961, pg. 29, read as follows, "Daniel Weir Northrup of Guilford, board chairman of the Henry G. Thompson & Son Company of this city [New Haven], manufacturers of saw machines and blades, died on Tuesday in Wallingford. His age was 75. He was president of the company for thirty-four years until his recent election as chairman. Until recently president of Sarong, Inc. (formerly I. Newman & Sons), corset manufacturers here, Mr. Northup also devoted much time to the study of ways and means of aiding industrial distributors. He was the recipient of a special plaque donated by an industrial distributors' group. He leaves his wife, Beatrice; two daughters, Mrs. Jean Miles and Mrs. Hope R. Anschutz; a sister, Mrs. Amigh Jeandheur, and five grandchildren."
A girdle manufactured by I. Newman & Co. was given the brand name, Sarong. Somewhere around the mid-1950s the company name was changed from I. Newman to Sarong Inc. Offices of Sarong Inc. were listed in the Manhattan telephone directory through 1973. This ad for the Sarong Girdle appeared in Women's Wear Daily, June 1950. A 1958 ad for the new Sarong Two featured a Sarong bra as well as the girdle. Sarong Inc. continued the P N Practical Front corset, and a separate listing for P N Practical Front appeared in the Manhattan telephone directory from 1948 through 1968.
This narrow projecting wall on 1st Avenue between 10th and 11th Streets has another, rather small, P N Corsets sign.
Copyright © 2016 Walter Grutchfield