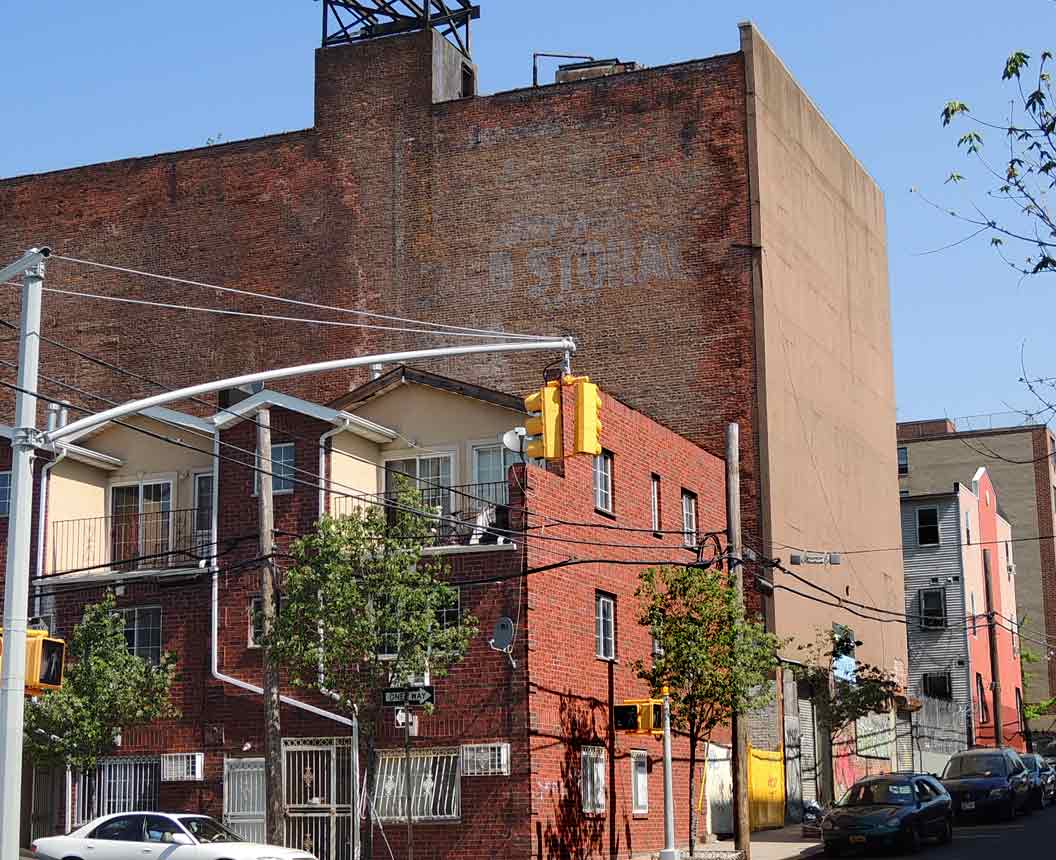 Ash's Cold Storage, 701 Elton Ave., Bronx, New York, 2015

Not much can be read on this sign on Elton Ave. near East 154th St., the Bronx, other than the words Cold Storage at the bottom, but this was the site of Ash's Cold Storage, a state-of-art cold storage facility for furs opened in 1949. As described in Women's Wear Daily, Friday, 1 April 1949, p. 38, "Ash's, New York retail furrier with stores at 2 West 14th street and Third Avenue at 153d street, will open its new dry cold storage building at 701 Elton avenue, the Bronx, on Tuesday, April 5, with a preview party to be held from 3 to 5 p.m. ... Considered one of the safest and most modern cold storage plants in the country, the five story building was designed and equipped to Ash's specifications, and has a capacity of 125,000 to 130,000 garments. ... Founded in 1917 by Jacob Ash, now president of the concern, Ash's considers its advertising as an important factor in its growth."
The original Ash's seems to have been a retail fur outlet at 2971 Third Ave. at East 153rd St. It is listed as Ash's Coats & Furs at this address from 1937 to 1959. Then from 1945 to 1957 there was a similar location in Manhattan at 2 West 14th St. on the corner of Fifth Avenue. Fur storage was a service offered at both locations. This ad for Certified Cold Storage appeared in the Manhattan telephone directory in 1945.
Five years later with the new storage facility on Elton Ave. this ad appeared in Women's Wear Daily, Monday, 16 Jan. 1950, pg. 14.
The founder, Jacob Ash (1894-1970), was an immigrant from Poland. He appears in the 1930 U. S. Census, age 34, living at 1823 Belmont Ave., the Bronx. In the 1940 Census he was 45 years old, "Proprietor Cloaks & Suits Ladies Retail," living at 2166 Bronx Park East, the Bronx. His 1942 draft registration said that he was 47 years old, born 25 June 1894, Katno, Poland, and that he was employed "Ash's, 2971 3rd Avenue, NY Bx NY."
Copyright © 2016 Walter Grutchfield