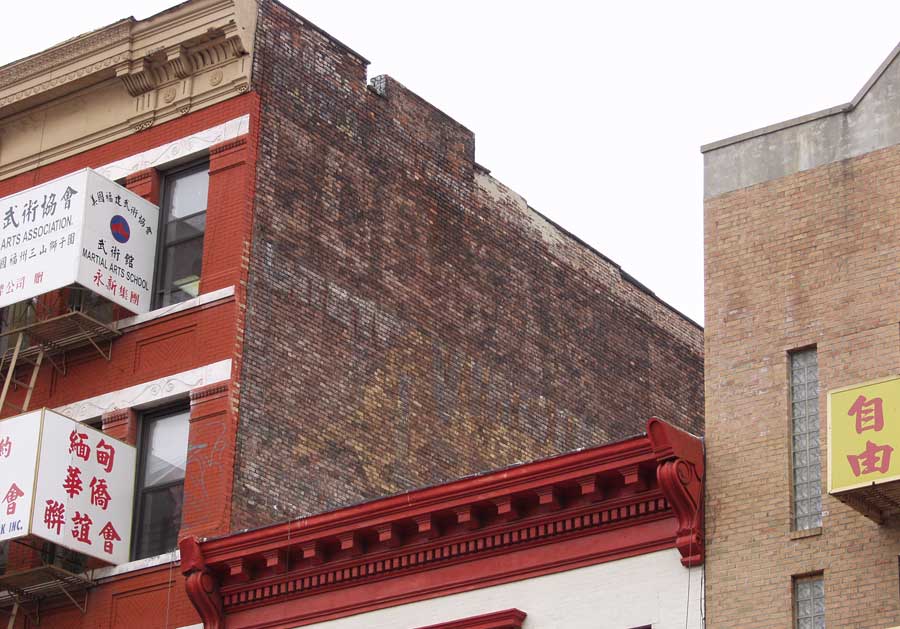 Coogan Bros., 123 Bowery, New York, 2005

James Jay Coogan (1845-1915) was elected Manhattan Borough President in 1898 and served one 2-year term.
Prior to his career in politics, James J. Coogan was in business as James J. Coogan & Brother, "The most prominent furniture store among the many in the Bowery ... at the corner of Grand-street" (New York Times, 7 June 1885, p. 4). At a later time the business was known as Coogan Bros. It was recorded under this name in the 1880 U. S. census, non-population schedules, when they employed 21 workmen, at total annual wages amounting to $14,050. Skilled "mechanics" were paid $2.50 for a 10-hour day, and ordinary laborers $2.00. The value of the prior year's products was $67,440. The census recorded the nature of the business as "upholstering," but probably furniture manufacture of a more general kind was also done.
The Coogan furniture store was located at 121-123-125 Bowery from 1879 through 1892. The building at 123 Bowery still stands and as of Oct. 2012 still displays a sign for Coogan Bros. This sign is one of the oldest painted wall signs in New York City. A vintage photograph dated 1888 shows the Coogan sign on the Bowery at that time. (This photo appears in New York Then and Now, by Edward B. Watson and Edmund V. Gillon, Jr. (Dover Publications, 1976).)
On his death in 1915 James Coogan's obituary appeared in the New York Times, 25 Oct. 1915, reading as follows, "James Jay Coogan, owner of much real estate here, including property near the Polo Grounds known as 'Coogan's Bluff,' and many years ago a prominent merchant here, died yesterday of heart disease in his apartments in the Netherland Hotel, Fifth Avenue and Fifty-ninth Street, in his seventieth year. He was born in this city and was a graduate of the New York University Law School.
"In 1888, Mr. Coogan was nominated for Mayor on the Union Labor Party ticket. He married Miss Harriet Gertrude Lynch, a daughter of the late William L. Lynch, one of the largest realty owners in this city, thirty years ago, and she inherited from her father large properties near the Polo Grounds and also valuable business parcels. This estate came from that of John Lyon Gardiner, the great-grandfather of Mrs. Coogan, and through her came into the possession of the Coogan family. Mr. Coogan is survived by his widow, daughter, and three sons."
Coogan appears in both the 1900 and 1910 U. S. Census reports living at 599 5th Avenue (between 48th and 49th Streets). In 1900 he was 50 years old, and his occupation was recorded as "Borough President, New York." His household consisted of his wife, Harriet, age 33, and four children: his daughter, Jessie S., 13, and sons, Jay, Gordon, and Gardiner, ages 12, 10, and 6 respectively. Also in the household were his wife's mother, Sarah Lynch, age 74, and a niece, Caroline Purdy, 23. There were also five live-in servants.
In the 1910 census Coogan was 62 years old, and his occupation was "own income." The household was much as it had been ten years earlier, except that Sarah Lynch and Caroline Purdy were no longer present. Coogan's son, Gordon, was also absent.
Coogan's funeral took place 27 Oct. 1915 at St. Patrick's Cathedral. The New York Times reported that "Cardinal Farley presided and Mgr. Mooney celebrated the mass." Honorary pallbearers consisted of United States Senator James A. O'Gorman, Justice Victor A. Dowling, J. Sergeant Cram, Henry B. Anderson, Public Service Commissioner Edward E. McCall, Justice Luke D. Stapleton, former Justice Morgan J. O'Brien, and Joseph B. Martindale.
Copyright © 2012 Walter Grutchfield