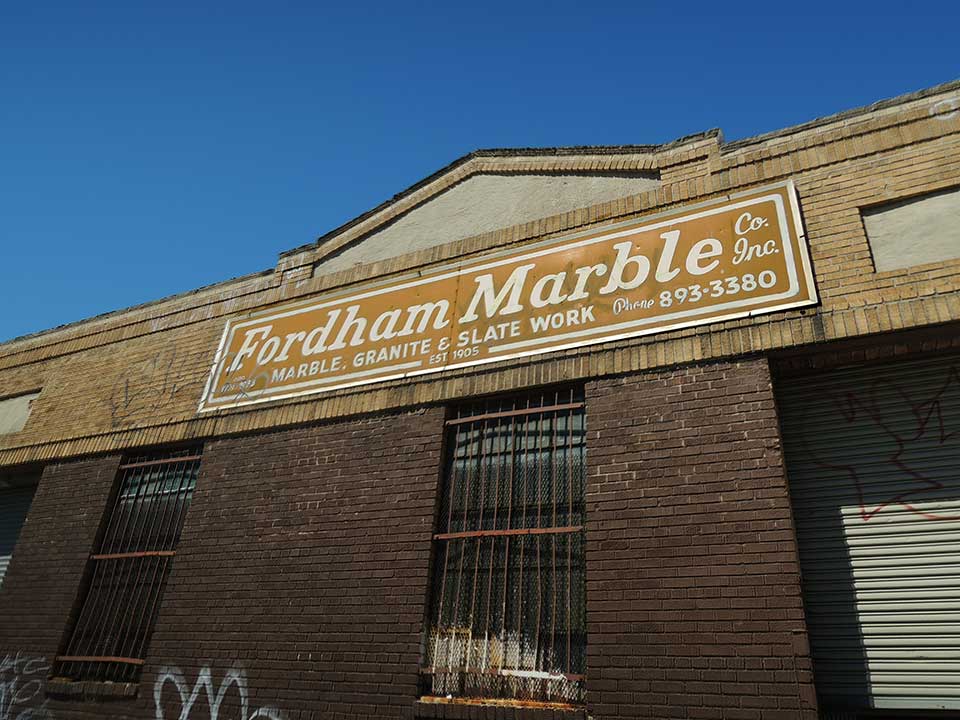 Fordham Marble Co. Inc., 1931-1933 West Farms Rd., Bronx, NY, 2016

Fordham Marble Co. Inc.
Marble, Granite & Slate Work
Phone 893-3380
Add. 1931-1933
Est. 1905
The website http://www.fordhammarble.com/ reads, "Founded in 1905 by Salvatore Sardo, Fordham Marble has stood the test of time. For more than 110 years, and under the guidance of the same family, Fordham Marble has built a rock solid reputation for superior workmanship and innovation one project at a time."
Like many "established" claims, however, 1905 may be a little early for Fordham Marble as a business entity. Fordham Marble Co. Inc. was incorporated in 1931 (New York Times, 30 July 1931, pg. 33). This seems to have come about as a result of the breakup of a predecessor company, Dimartino & Miranti. DiMartino & Miranti were listed in the 1916 Polk Copartnership Directory at 207 East 110th Street in East Harlem, consisting of the partners, Nicholas DiMartino and Laborio Miranti. Over time a third partner was added, Salvatore Migliore. Migliore appears as a partner in Polk's New York City Directory of 1920-21. Salvatore Sardo first appears as part of DiMartino & Miranti in 1926.
Connections between these four men, however, precede the 1920s. For example, in 1915 the New York State Census recorded Salvatore Sardo, age 30, born Italy, living at 19 Melrose St., Brooklyn. In the 1918 New York City Directory Liborio Miranti lived at this same address. Later, Polk's 1925 New York City Directory listed Salvatore Sardo "marble" living at 3965 Monticello Ave., the Bronx. At the same address lived Liborio Miranti, "treasurer, DiMartino & Miranti, Inc."
Of the four, Liborio Miranti (1886-1946) appears earliest in various directory lists, the first being the Brooklyn City Directory of 1912 when the entry "Miranti L marble, 1259 Flushing av" appeared. Earlier Liborio Miranti applied for a passport in 1908 where he said that he was born 26 May 1886 in Polizzi, Sicily, that he emigrated to the US on board the Ernst from Naples 10 August 1894, and that his father was naturalized March 1905 in Jersey City, New Jersey. In the 1910 US Census Miranti was recorded age 23, born Italy, a laborer, marble works, living at 250 Hamburg Ave., Brooklyn. He registered for the 1918 World War I draft age 32, born 26 May 1886, citizen by father's naturalization, a marble worker employed at De Martini [sic] & Miranti, 207 E. 110 St., New York, NY. In the 1925 New York State Census Miranti lived at 2116 Strang Ave., Bronx, where his entry immediately follows that of Salvatore Sardo at the same address. Miranti and Sardo continued to live at this address in the 1930 and 1940 US Census. In 1930 Miranti was "proprietor, marble factory." In 1940 he had no occupation. In 1942 Liborio Miranti, age 54, registered for the World War II draft when he still lived at 2116 Strang Ave. and, again, was not employed. The New York Death Index, 1880-1956 on ancestry.com records a Liborio Miranti who died age 60 on 1 June 1946 in East Fishkill, NY (certificate 34091).
After Miranti the next partner was Nicolo DiMartino (1874-1963). He was a partner with Liborio Miranti at DiMartino & Miranti, marble works, which was listed in Polk's Copartnership Directory and the New York telephone directory at 207 E. 110th St. in East Harlem in 1916. DiMartino & Miranti were in business at this address from 1916 to 1930. Nicolo DiMartino registered for the World War I draft in 1918, age 43, a tile worker, born 24 December 1874 in Italy. He gave his place of employment as Nicolo DiMartino, 229 East 110 St., New York, and lived at 299 East 106th St. As Nicholas Martino he appears in the 1920 US Census, a marble setter (or cutter?), living at this address, age 47, alien, born Italy, immigrated 1904. By the time of the 1925 NY State Census Nicholas DiMartino had relocated to 1912 Mayflower Ave., the Bronx. He was now 51, still an alien, and a marble worker. Five years later in the 1930 US Census he lived at 1947 Hobart Ave., the Bronx, still an alien, and a stone mason. In the 1940 US Census he was 68 years old, lived at 788 South Oak Drive, the Bronx, and gave no occupation. Find-A-Grave records Nicolo DiMartino, born 25 December 1874 Italy, who died September 1963 New York, NY. He is buried in Old Saint Raymonds Cemetery, the Bronx, Section 9, Plot 45, Grave 10.
A third partner at DiMartino & Miranti was Salvatore Migliore (1887-1954?). Directories first associate him with DiMartino and Miranti in 1919 when S. Migliore, Tiles appears as an alternative name at 207 E. 110th St. These two business names appear in the New York telephone directory through 1925. By 1931 both names were no longer in use. Rather, they were replaced by Empire Marble Works, consisting of N. DiMartino and S. Migliore. The Empire Marble Works was renamed the Empire State Marble Mfg. Corp. in 1934. Polk's 1936-37 Copartnership Directory listed Salvatore Migliore and his son, Salvatore Migliore Jr., as partners at the Empire State Marble Mfg. Corp. at 207 E. 110th St. Salvatore Migliore is found in the 1915 New York State Census, age 27, born Italy, in the U. S. for 10 years, a stone cutter, living at 213 E. 106th St. In 1942 he registered for the World War II draft, age 54, born 23 Dec. 1887, Palermo, Italy, living at 1018 E. 219th St., Bronx. He was employed as "President of Empire State Marble Mfg. Corp., 207 E. 110th St., New York.
Of the four partners at DiMartino & Miranti, Salvatore Sardo (1885-1955) appears last in directory entries. The first is in 1922/23 Polk with the entry DiMartino, Migliore & Sardo Realty Corp. at 207 E. 110th St. Polk's 1930 Copartnership Directory listed Sardo as a partner at DiMartino & Miranti, 207 E. 110th St. The same entry occurs in the 1931 issue of this publication. Sardo himself appears in the 1915 New York State Census, age 30, born Italy, in US 12 years, alien, marble worker, living at 19 Melrose St., Brooklyn. He was 34 years old, born Italy, immigrated 1903, naturalized 1914, marble cutter, living at the same address in the 1920 U. S. Census. In 1924 he applied for a passport where he said that he was 38 years old, born 3 Aug. 1885, Polizzi, Italy, that he emigrated from Palermo 15 March 1904, and became a naturalized U. S. citizen 4 June 1914 in Brooklyn. His entry in the 1930 U. S. Census recorded him age 44 born Italy, "Proprietor, Marble Factory," living at 2116 Strang Ave., Bronx. He and Liborio Miranti both lived at this address in 1930 and 1940. Sardo seems to have founded Fordham Marble Works, 1760 West Farms Road, Bronx, around this time. Its first entry in the Bronx telephone directory came in October 1931. Sardo registered for the World War II draft in 1942, still living at 2116 Strang Ave., Bronx, age 55, born 2 Aug. 1885, Italy. He was employed "Self - Marble 1760 West Farms Rd., Bx, NY." His death notice, New York Times, 16 Feb. 1955, pg. 29, read, "Sardo - Salvatore, of 2116 Strang Ave., beloved husband of Rosaria, devoted father of Myron and Alexander. Reposing East End Funeral Home, 705 Gun Hill Road, until Thursday, at 9 A. M."
Around 1936-37 a new company was formed at 207 E. 110th St., Migliore Bros. Inc., consisting of Salvatore Migliore and Augustine Migliore, who were the sons of the older Salvatore Migliore. This company was still being listed in the New York telephone directory at this address as late as 1967. As of March 2018 numerous internet sites refer to the Empire State Marble Mfg. Corp. at 207 E. 110th St., including MacRae's Bluebook.
Fordham Marble was located at 1760 West Farms Rd. from 1932 to 1953. In 1954 they moved to 1931 West Farms Rd., where they remain in 2018.
The following are quotes from an interview with Mario Sardo, grandson of Salvatore Sardo, from an article published in Stone Business, October, 2002, "Fordham Marble's been on the same Bronx street since before World War II. If founder Salvatore Sardo came back today, though, it's doubtful he'd recognize the company he started in 1905. The family patriarch, who died when grandson Mario Sardo was a child, was a young Sicilian who came to the United States. 'I don't think the family did stone work (in Sicily),' Sardo says. 'I think they were farmers.' Salvatore Sardo founded a company that prospered enough to send his sons – Mario's father (also named Mario) and uncle – to law school.  There was only one problem with that dream: The senior Mario Sardo had no desire to practice law. He wanted to be an architect. Despite his legal education, Mario senior joined Fordham Marble in 1932 and made it his career. His son describes the elder Mario as scrupulously honest, but with a real preference for working in the shop. In 1972, a turning point came for both the young man and Fordham Marble. The person on whom the senior Mario Sardo relied to make his sales calls passed away. 'At that point, my dad was going to close the shop down,' his son relates. 'I told him that I'd go out and sell the jobs and measure them. Well, he said, "Okay, give it a shot and see what you can do."'  Today, Fordham Marble employs more than 40 people at the Bronx shop, with close to a third of them involved in installation. In 1977, the company moved to its current location, which includes 16,000 ft² of factory space and a 16,000-ft yard. In 1990, Fordham also opened a separate 5,000-ft² showroom with five employees in Stamford, Conn." The full article can be read at http://stonebusiness.net/.
Another internet article reads, "Salvatore Sardo settled in the Brooklyn community of New York City. In 1905, he started General Marble Company, which would grow into a major force in the custom marble industry. The company, now known as Fordham Marble Company, is still operating." This is found at http://www.slipperyrockgazette.net/. This is also information provided by Mario Sardo, Salvatore's grandson. Unfortunately, I have not been able to find a General Marble Co. in any directories in the period 1905-1925 for Brooklyn, New York or the Bronx.
The present-day (2018) Mario Sardo is the son of Mario Sardo (called Myron in census reports and directory lists) (1910-1981). His brother, Alexander S. Sardo, (1912-1969) was a lawyer in the Bronx with offices at 4200 (later 3980) White Plains Road from the early 1940s to the late 1960s.
Copyright © 2018 Walter Grutchfield