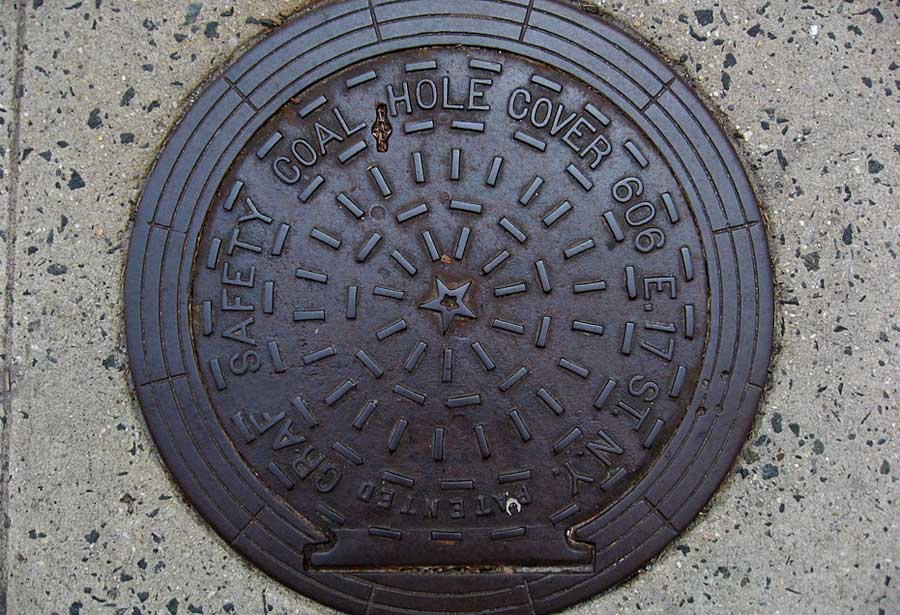 Graf Safety Coal Hole Cover, 233 E. 17th St., New York, 2010

----------------
Graf Safety Coal Hole Cover
606 East 17 St. N. Y.
Max Graf's Reliable Iron Works were located at 606 E. 17th St. in the 1930s. Max Graf (1885-1968), himself, was an immigrant from Austria around 1904/06. He registered for the World War I draft in 1918 when he was 33 years old and in the "iron business for myself" at 602 E. 15th St. This business was called the Reliable Iron Works in Trow's 1917 New York City Directory, where their products were described as "Fire Escapes, Railings, Etc."
In 1942 Max Graf registered for the World War II draft at the age of 54 (he claimed here to have been born 15 March 1888). In 1942 he lived at 1549 Jesup Ave., the Bronx, and said that he was employed at his own business, Graf Iron Works, at 528 E. 17th St. He gave his place of birth as Czernowitz, Austria. According to 1911encyclopedia.org, Czernowitz was "the capital of the Austrian duchy of Bukovina, 420 m. E. of Vienna and 164 m. S.E. of Lemberg by rail. Pop. (1900) 69,619." Czernowitz is the modern (2011) Chernivtsi, Ukraine.
M. Graf Iron Works started out at 215 Ave. C. in 1911. It was being called Reliable Iron Works at this address by 1915. This business moved to 602 E. 15th St. by 1916. Directories list them at 601 E. 14th St. from 1919 to 1929. In 1930 the address became 606 E. 17th St. until 1936. In 1936 the business, now known as Graf Iron Works, Graf Safety Cover Co. and Reliable Iron Works, moved to 528 E. 17th St. This business remained on E. 17th St. until 1946 when they moved to 712 E. 12th St., where they stayed until 1971.
Max Graf, age 25, an iron worker, was recorded in the 1910 U. S. Census living at 111-113 E. 112th St., Manhattan. By the time of the 1920 census he had moved to 1048 Kelly St., the Bronx., where he lived with his wife, Hattie, and son, Nathan, age 7. In 1930 he lived at 1549 Jesup Ave., the Bronx. The Grafs now had two sons, Nathan, age 17, and Irwin, age 9. Max Graf's death notice in the New York Times, 25 Jan. 1968, read, "Graf - Max, devoted husband of the late Hettie. Father of Irving and Nathan. Loving grandfather of Barbara, Nancy and Robert. Dear brother of Louis. Father-in-law of Judith and Geraldine. Services to be held 10 A.M., Friday, Park West Chapel, 115 W. 79 St."
Max Graf's patent for a coalhole-cover (patent 1,312,395; filed 23 Jan. 1919; issued 5 Aug. 1919) is available on Google Patents.
Another Graf Safety Cover (of very different design) is found on Broome St. between Crosby St. and Broadway.
home | about me | list of images | see what's new
Copyright (c) 2010 Walter Grutchfield