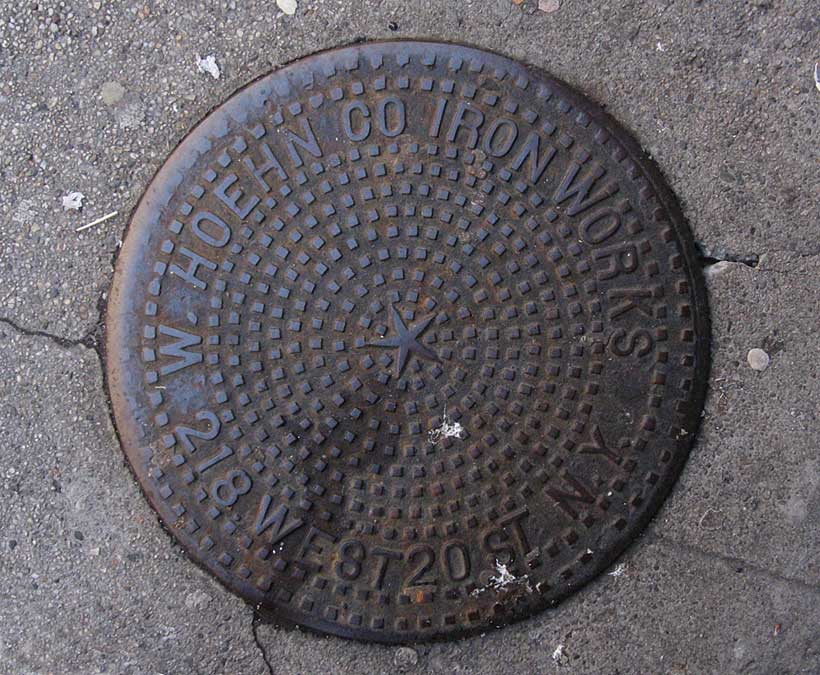 ----------------
W. Hoehn Co Iron Works
218 West 20 St N. Y.
William Hoehn (1840-1921), an immigrant from Prussia ca. 1867/68, established himself as a blacksmith in New York City in the 1870s. He appears in the 1880 U. S. Census as a blacksmith living at 127 8th Ave., Manhattan. He is possibly the same William Hoehn "machinist" who became a naturalized U. S. citizen in 1872 when he lived at 75 Allen St.
This ad for Wm. Hoehn appeared in The Insurance Economist in April, 1901. A very similar ad appeared in The American Federationist (published by the American Federation of Labor, AFL-CIO) in 1903. These ads claim that the company was founded in 1871. In 1901/03 Hoehn & Co. were located at 312 W. 16th St.
In 1905 the New York Times (17 Jan. 1905, p. 14) reported that "Colin M. Eadie has sold for a Mrs. Schmidt 218 West Twentieth Street, front and rear buildings, on lot 25 by 86, to William Hoehn, who will occupy the premises after making alterations." The Manhattan telephone directory indicates that Wm. Hoehn, Iron Works, occupied 218 W. 20th St. from 1905 to 1955.
In 1911 the journal Industrial World, 27 Feb. 1911, included William Hoehn Co. in a list of new corporations, "William Hoehn Company, Manhattan; articles of iron, steel, etc., manufacture fire escapes for buildings; $3,000. William Hoehn, 218 West Twentieth street, Myron A. Horton, 218 West Twentieth street, Charles W. Philiphar, 32 Nassau street, all or New York city."
According to an email (2018 March 21) from Steven Bouwkamp, the 4th great-grandchild of William (Wilhelm) Hoehn, Hoehn died 10 May 1921 at the age of 80. But the business was carried on by two colleagues, Myron A. Horton (ca, 1861-?) and Pius Hillenbrand (1874-?). Myron Horton seems to have begun as bookkeeper (he is so described in the 1910 U. S. Census) and is listed as president of the company in city directories from 1922 to 1933. Pius Hillenbrand was an immigrant from Germany in the early 1890s, and lived for many years on Center St., North Bergen, New Jersey. He lived at that address in 1918 when he registered for the World War I draft. He gave his occupation as "Iron Worker Wm Hoen Co 218 W 20 St NYC."
William Hoehn, of New York, N. Y., secured two patents in the 1870s and 1880s. One was an "Improvement in Painters' Scaffolds," patent no. 175095 dated 21 March 1876, and the other was a "Trunk-Lock," patent 311759 dated 3 Feb. 1885.
Another W. Hoehn Co. coal chute cover is found on Stuyvesant St. near 3rd Ave.
home | about me | list of images | see what's new
Copyright (c) 2011 Walter Grutchfield