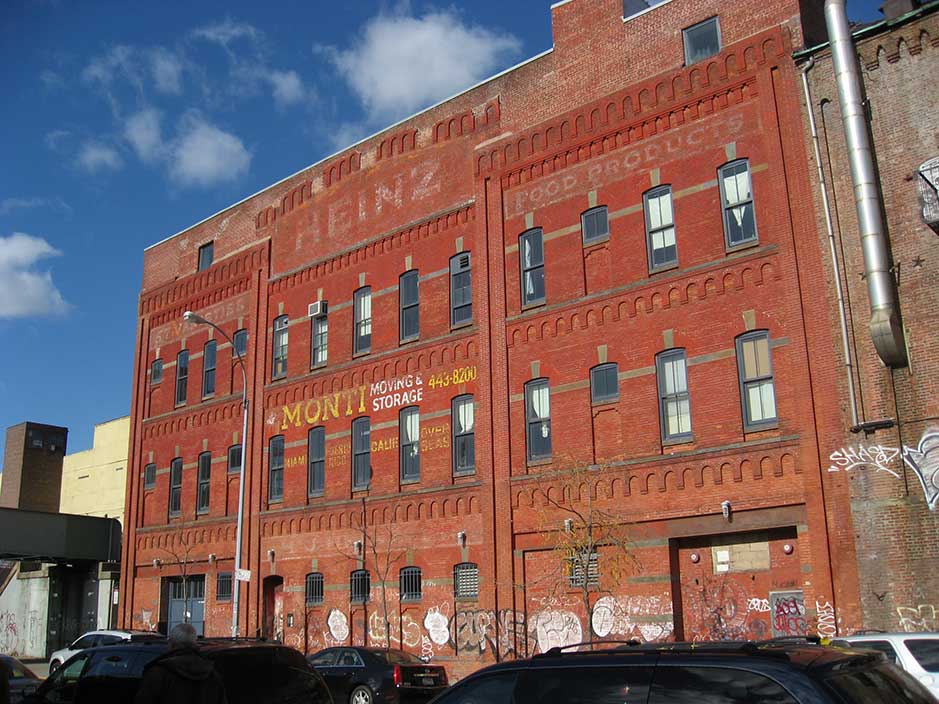 Did they make Heinz ketchup here in Brooklyn? According to ephemeralnewyork "The H.J. Heinz Company moved into this handsome red brick plant around 1920. They purchased it from the Nassau Brewing Company, which had a long beer-making run under various names in a complex of buildings beginning in the 1860s until 1914. "57 Varieties" and "Food Products" can still be read on the facade, a reminder that the laborers in this building produced a lot more than ketchup."
forgotten-ny adds "By 1849, even before much of the street grid had appeared, the Liberger and Walter Brewing company was brewing here, between 1866 and 1883 it was the Bedford Brewery run by Christian Goetz. In 1883, William Brown purchased the brewery, renaming it the Budweiser Brewing Company. After a suit by Anheuser-Busch in St. Louis, Brown changed the name to the Nassau Brewing Co. in 1902, and it continued brewing until 1914. Heinz then purchased the westernmost building and turned it into a factory."
The dates Heinz occupied this building are somewhat obscure. Perhaps as early as 1914. But not more than twenty years until the mid-1930s. I found references to their presence in several sources in 1924, then 1930 and 1931. They are listed in the 1933 Polk Brooklyn City Directory as "H. J. Heinz Co. (Pittsburgh, Pa) J. N. Jeffers, genl mgr, 925 Bergen." Then in 1935 the New York Times, 27 April 1935, pg. 30, reported "The H. J. Heinz Company, food products, of Pittsburgh, ... consolidating its warehousing facilities in the metropolitan area, will abandon warehouses in Garden City, the Bronx and Brooklyn."
The H. J. Heinz Co. was founded in Pittsburgh by Henry John Heinz (1844-1919). A capsule history of the earliest days of the company are provided by blogs.scientificamerican.com: "Henry Heinz was born in 1844 to German immigrant parents near Pittsburgh, Pennsylvania. His father John owned a brickyard in Sharpsburg, and his mother Anna was a homemaker with a talent for gardening.  Heinz took a partner, L. Clarence Noble, a member of a wealthy Sharpsburg family, and the two opened a factory in the basement of a former home of some Heinz family members. They hired two women and a boy to make and pack the product, which was still just bottled horseradish.  The other members of the Heinz product family—celery sauce, mustard, and sweet and sour pickles—were integrated backwards as Heinz and Noble worked to minimize waste and expenditure. In November 1875, Heinz bounced a check, and it was a short step to December from there, when he and his partner filed for bankruptcy. Heinz would struggle for a few years—he didn't even have money for groceries in 1876—but ketchup would save the day. He went to his brother John and cousin Frederick for a loan, and launched another food-processing company. So it was that F&J Heinz was born."
Heinz & Noble Co. are listed in Pittsburgh city directories from 1873 through 1875. The company then became F. & J. Heinz, the partners being his cousin, Frederick Heinz (1842-1922), and his brother, John H. Heinz (1849-1921). In this comapny Henry J. Heinz is listed as manager. They were in business under this name through 1888. The Find-A-Grave entry for Frederick Heinz includes: "Frederick was the son of Georg Freidrich Heinz and Anna Rosina Schroeder. He was born in the village of Kallstadt, in the Rheinland Pfalz of Germany. His father was the brother of H J. Heinz's father. Frederick helped save the Heinz company when it went into its first bankruptcy by forming a temporary company with HJ's mother and brother."
H. J. Heinz Co. first appears in Pittsburgh city directories in 1889 with the listing reading, "Heinz H J Co, Keystone Pickling and Preserving Works, Office 195 First av."
On the death of H. J. Heinz in 1919 he was succeeded by his son, Howard Covode Heinz (1878-1941). Another son, Clifford Stanton Heinz (1883-1935), was also an officer in the company.
A third generation Heinz, Howard Covode Heinz's son, Henry John Heinz 2d (1908-1987), was president from 1941 until 1966.
An ad for the Heinz, Noble & Co. appeared in the Pittsburgh City Directory in 1875.
An ad for the F. & J. Heinz Co. appeared in the Pittsburgh City Directory in 1887.
Copyright © 2021 Walter Grutchfield