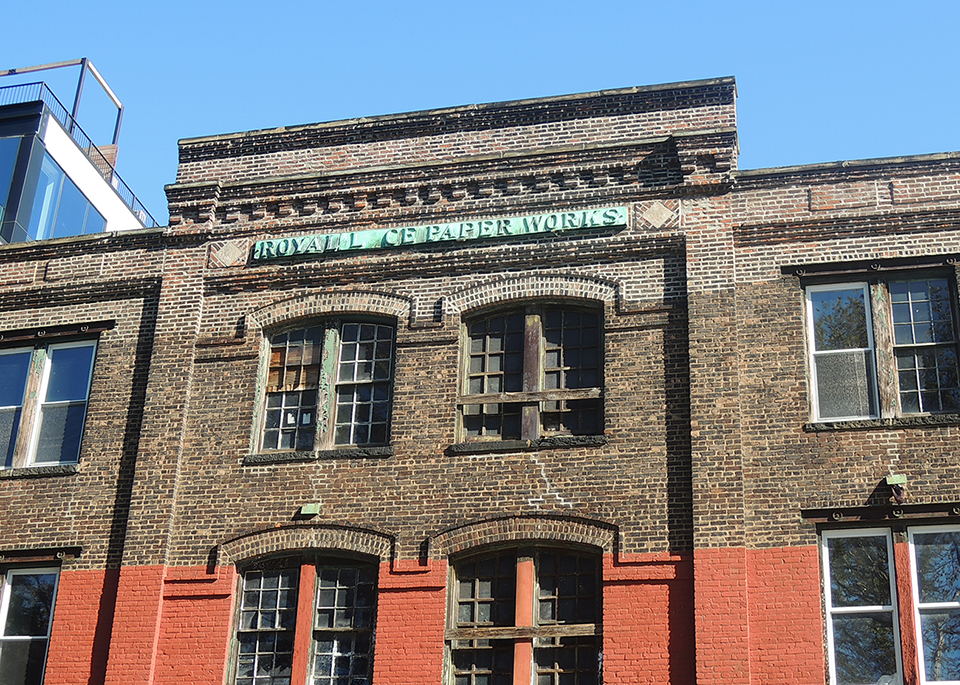 The Royal Lace Paper Works were founded by Benzion Karfiol (1858-1935). Karfiol's naturalization petition dated 11 March 1885, filed in Boston, Mass., states that he arrived in the port of New York 1 April 1874, that his previous citizenship was Franz Joseph, Emperor of Austria, and that he was born 1 Nov. 1858, Glogow, Austria. Glogow is now (Jan. 2020) a town in southwestern Poland (Lower Silesian Voivodeship).
The Royal Lace Paper Works were located on Lorimer St. at least as early as 1899. The Brooklyn Daily Eagle, 27 Oct. 1899, pg. 2, reported "Fire broke out late last evening in the Royal Lace Paper Works, a frame building, at 468 Lorimer street. The damage will amount to about $10,000."
Karfiol appears in the 1900 U. S. Census, age 42, born Feb. 1858, Austria, living at 4 Bedford Ave., Brooklyn. His occupation is "Paper Lace Mfg." In the 1905 New York State Census he lived at 38 Oakland St., Brooklyn. He was still at this address in the 1910 U. S. Census.
Karfiol's obituary in the New York Times, 4 May 1935, pg. 13, read, "Benzion Karfiol of 1,101 East Twenty-third Street, Brooklyn, founder and retired president of the Royal Lace Paper Works of Brooklyn, died last night in the Harkness Pavilion of the Columbia Presbyterian Medical Centre after a brief illness at the age of 85. He is survived by a daughter, Mrs. Jeanette Voltter, and two sons, Bernard Karfiol, well-known painter, who is president of the American Artists League, and Edward Karfiol, present head of the lace paper company. Mr. Karfiol belonged to Greenpoint Lodge, Knights of Pythias; Chasm Sopher Lodge of B'rith Abraham; Temple Beth-El, Greenpoint; Shari Zedek Congregation of Brooklyn and the East Midwood Jewish Centre."
In 1909 the Brooklyn Daily Eagle, reported on an extension to the works on Lorimer St., "The Royal Lace Paper Company, an old Greenpoint firm, which has been established in that section for twenty years, has recently extended its plant on Lorimer street, near Driggs avenue, to twice its original capacity. B. Karfiol, head of the firm, said that he was the originator of the industry in this country. He said he introduced it twenty years ago when he came here from Germany. He brought here with him also several patented machines."
In 1912 there was another disastrous fire at the works, as reported in the Brooklyn Daily Eagle, 5 Nov. 1912, pg. 14, "A three-alarm fire, which swept the factory of the Royal Lace Paper Works, 840-846 Lorimer street, rendering one family of nine homeless and driving the occupants of a ten-family adjoining tenement from their beds... The building was in the shape of an L with a two-story frame structure facing on Driggs avenue, running back a hundred feet and connecting with a brick extension looking out upon Lorimer street... The large quantity of flimsy material used in the manufacture of lace paper furnished excellent fuel for the flames. The company estimates its loss at $75,000," and the New York Times, 6 Nov. 1912, p. 18, "The factory of the Royal Lace Paper Company, 840 to 846 Lorimer Street and 320 Driggs Avenue, Williamsburg, was completely destroyed by fire early yesterday morning. The fire started in a frame annex in Lorimer Street, and fanned by a brisk breeze spread rapidly to the main building, a four-story brick structure. By the time the firemen arrived the frame building at 848 Lorimer Street, occupied by Frederick Milburn, the night watchman in the factory, his wife and several children, had caught fire. The family had a narrow escape, for the roof caved in as they were being helped to the street by police and firemen. The fire also extended to the four-story tenement house at 850 Lorimer Street and several tenants were so overcome by smoke that they had to be carried from the building. Three firemen from Hook and Ladder Company 54 were slightly injured when the roof of 848 Lorimer Street caved in. The fire did about $100,000 damage."
In 1915 Karfiol's daughter Jeanette married Louis Voltter (1893-1989). Louis Voltter registered for the World War I draft in 1917 when he was employed Royal Lace Paper Works 842 Lorimer St. Brooklyn. In the 1920 U. S. Census Louis Voltter lived at the same address on Eastern Parkway, Brooklyn, as Benzion Karfiol. Voltter's occupation was salesman, paper goods. Voltter died in 1989, age 95, when the New York Times death notice (31 May 1989, pg. A20) read, "Voltter - Louis, age 95, on May 30th, 1989, beloved husband of the late Jeanette, dear friend of Ruth Roemer, devoted father of Lois Silberman and the late Ruth Silberman; loving grandfather of five; brother of Essye Haas and Richard Voltter."
In 1937 the Voltters' daughter Ruth married Marvin Julius Silberman (1913-1959). Ruth and Marvin Silberman died in a plane crash in 1959, when the following notice appeared in the New York Herald Tribune, 5 Nov. 1959, pg. 16, "Funeral services for Mr. and Mrs. Marvin J. Silberman, who were killed Friday when a Piedmont Airlines plane crashed near Waynesboro, Va., will be held at 11 a.m. today... He married Mrs. Silberman, the former Ruth Voltter, in 1937 and became associated with the Voltter family in their Royal Lace Paper Works, Inc., Brooklyn. Mr. Silberman was elected a director and vice-president of the firm in 1946 and retired from that position five years later when the Voltter family interests were sold."
Likely, the sale of the Voltter interests in Royal Lace Paper in 1951 marks the date the company was acquired by Standard Packaging Corporation of Ft. Wayne, Indiana. Louis Voltter registered for the World War II draft in 1942, when he was employed at Royal Lace Paper Works, 99 Gold St., Brooklyn. This may have been a downtown office. The company was still located at 846 Lorimer St. in 1954 when a story about them appeared in the Brooklyn Daily Eagle.
An ad for the Royal Lace Paper Works (without address, except Brooklyn, NY) appeared in Commercial America, vol. 11, no. 10, April 1915, pg. 55.
An ad from 1931 used the brand name Roylace. This appeared in Good Housekeeping, vol. 93, issue 4, (Oct. 1931) pg. 238.
The company left Brooklyn in the late 1950s. This ad from 1960 used the brand names Roylies and Roylprint, and they are now located in Ft. Wayne, Indiana, where they were a division of Standard Packaging Corporation.
Copyright © 2001 Walter Grutchfield