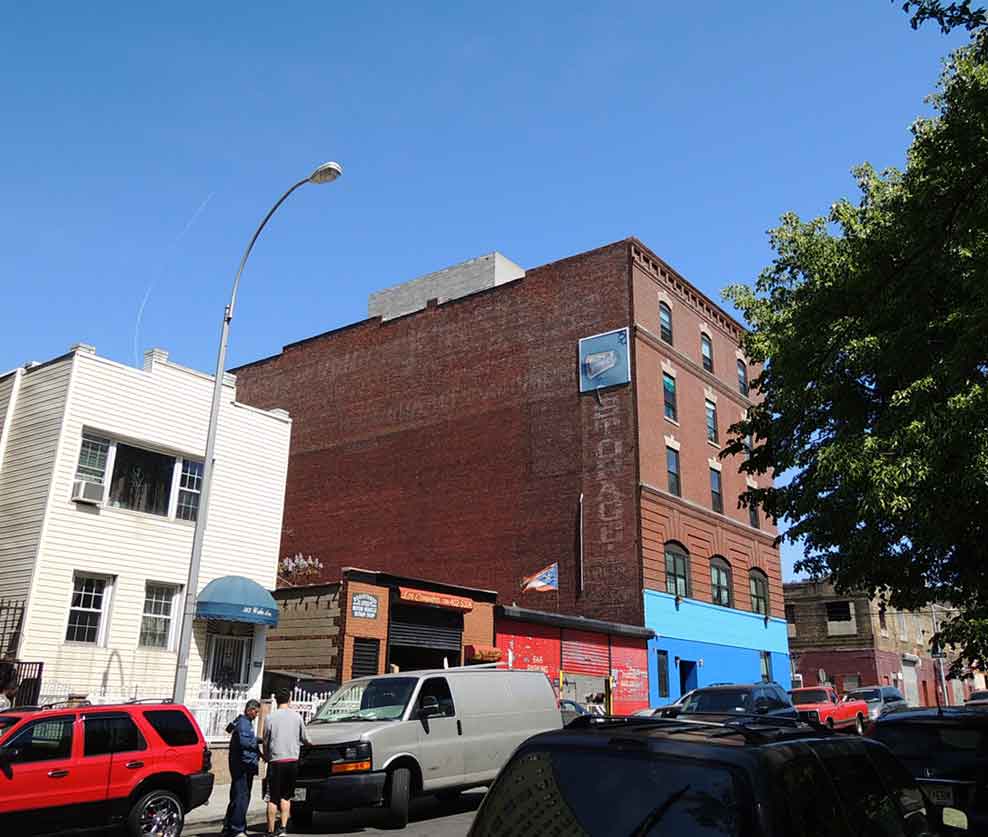 Julius Kindermann & Sons, 585 Wales Ave., southwest corner 150th St., Bronx, New York, 2015

Little can be read on this wall except the word Storage, but here on Wales Avenue was located the moving and storage warehouse business, Julius Kindermann & Sons. They were Julius Kinderman & Son, "express," at 1225 Washington Avenue, the Bronx, in 1898, and then moved in 1901 as Julius Kindermann [now 2 n's] & Sons, "vans," to 3674 Park Avenue. In 1904 they opened a second location at 1349 Brook Avenue. Then in 1906 the Park Avenue location closed and this location at Wales Avenue and 150th St. opened. This Storage Notice from 1910 mentions the Brook Ave. and Wales Ave. addresses.
In 1911 a third warehouse opened at 1360 Webster Avenue near 170th St. This Storage Notice from 1912 lists all three addresses. These three were listed in the New York telephone directory through 1914. Several other moves occurred over the years, but 585 Wales Avenue and 1360 Webster Avenue remained in effect through 1948. This ad for Automobile Storage appeared in the New York Times in 1915. From 1949 through 1957 Kindermann Fireproof Storage Warehouses were located at 1360 Webster Avenue. In 1958 they moved to 2165 Jerome Avenue, where they stayed in business until 1982. (All of these Kindermann locations were in the Bronx.)
The founder was Julius Kindermann (1847-1913), an immigrant from Germany who was described in early directory lists and in the 1880 U. S. Census as a silk weaver. According to several family trees on ancestry.com "Julius" Kindermann was originally Wilhelm Moritz Julius Eduard Kindermann. His 1900 U. S. Census entry is misleading. It says clearly he was born December, 1837, but other data indicate this should be 1847. He was 33 years old in the 1880 census, 57 in the 1905 New York State Census, 62 in the 1910 U. S. Census, and died, age 66, 29 September 1913.
The sons at Julius Kindermann & Sons were Julius Kindermann Jr. (1876-1918), George Kindermann (1881-1947) and Frank Kindermann (1883-1943). Each registered for the World War I draft in 1918. Julius Kindermann Jr. was born 15 April 1876. George Kindermann was born 18 February 1881, and Frank Kindermann was born 30 November 1883. Julius Kindermann Jr. died later in 1918 and is buried in Woodlawn Cemetery, the Bronx. George and Frank registered for the World War II draft in 1942, both employed at J. Kindermann & Sons, 1360 Webster Ave., the Bronx.
George Kindermann received a short obituary in the New York Times, 28 May 1947, pg. 24, reading, "George Kindermann, president of J. Kindermann & Sons, Inc., storage-warehouse and furniture movers, 1360 Webster Avenue, the Bronx, died yesterday in St. Francis Hospital, the Bronx, after an illness of three weeks, at the age of 66. He lived at 900 Grand Concourse. Mr. Kindermann was a director of the Bronx County Trust Company, a charter member of the Bronx Rotary Club and also belonged to the Dunwoodie Golf Club, the Schnorer Club, the Bronx Board of Trade and several associations of warehousemen. He leaves a widow, the former Elfrieda Keil."
Copyright © 2016 Walter Grutchfield