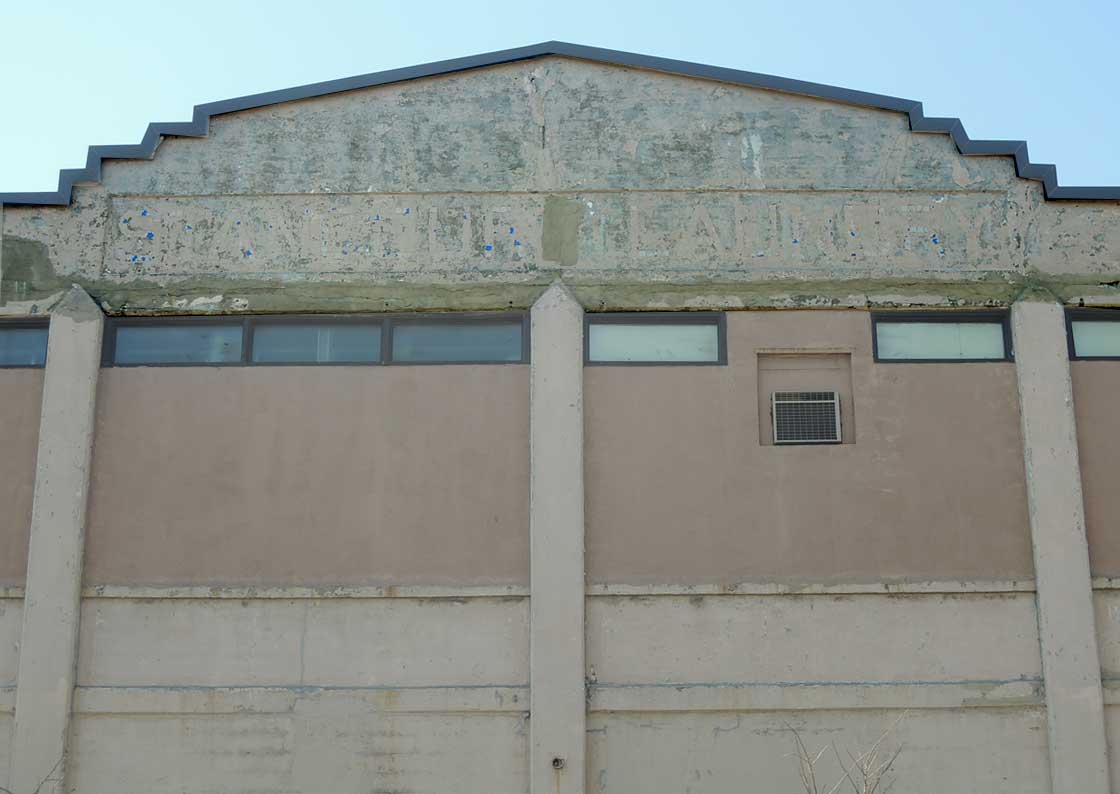 Stancourt Laundry, 1100 Worthen St., Bronx, New York, 2015

Dimly, dimly, very dimly, the words STANCOURT LAUNDRY can be made out in the pediment of this building on Worthen St., the Bronx.
Founded in the late 1890s, the Stancourt Laundry Co. was a division of Consolidated Laundries Corp. when in 1925/26 they erected this building to expand what seems to have been a booming business.
As reported in the New York Herald Tribune, 7 July 1925, pg. 25, "The Stancourt Laundry Company purchased from Edward C. Bridgman the vacant block bounded by Garrison Avenue, 156th Street, Barry and Worthen streets and consisting of over twenty-eight lots, having frontages of 290 feet on Garrison Avenue, 260 feet on 156th Street, 263 feet on Barry Street, and 265 feet on Worthen Street. Plans are being drawn for the erection of a two-story reinforced concrete building to cover the northerly half of the block at an approximate cost, including land, of $400,000. The purchaser and its subsidiary companies now operate several large laundries in greater New York. J. Clarence Davies, Inc., and J. Sterling Drake were the brokers."
A year later in the New York Herald Tribune, 8 June 1926, pg. 31, a follow-up story reported, "The Consolidated Laundries Corporation has begun the operation of a new unit in its system, the new Stancourt Laundry, 1100 Worthen Street. Overflow from the plants of the National Family Laundry Service Corporation which have been obliged to refuse business because of lack of capacity is being diverted to the new Stancourt Laundry. Twenty companies now compose the system of Consolidated."
In 1929 the Tribune reported on an expansion of the facilities, "J. J. Gloster, architect, has been selected to prepare plans for an addition to Stancourt Laundry, which, when completed, will occupy an entire square block and be one of the largest in the country. The property is bounded by Garrison Avenue, East 156th Street, Worthern [sic] Street and Barry Street. The addition will be two stories of reinforced concrete and is being designed for the Consolidated Laundries, A. F. Jenkins, president." (New York Herald Tribune, 25 Aug. 1929)
Initially the Stancourt Laundry was a very small operation. The Twelfth Annual Report of the Factory Inspector of the State of New York, transmitted to the Legislature 24 January 1898, reported a work force of 14: 1 male and 13 female (of whom 3 were under the age of 21). Two years later, the Fourteenth Annual Report of the Factory Inspector of the State of New York for the year ending 30 November 1899 put the figures at 26: 5 male (of whom 3 were under 18) and 21 female.
In these very earliest days Stancourt Laundry was located at 218 W. 42nd St. The Trow Business Directory for 1900 listed them under the heading Hand Laundry. In the Trow 1902 directory they were listed both under Hand Laundry and Steam Laundry. Trow's 1902 Copartnership Directory gave the following as company officers: M. E. Bruen, president; Anne Reynolds, treasurer; and Sarah J. Britto, Secretary. By 1903 Stancourt had opened a second location, listed in the New York City telephone directory as Main Office, at 526-530 W. 48th St. Obviously this was a growing business. By 1908 there were six Stancourt locations in Manhattan.
Company officers were also changing. Of the 1902 officers, M. E. Bruen remained as president in 1906. But Trow's 1907 Copartnership Directory included an entirely new group, consisting of Henry W. Stoer, president; Herman Glazel, secretary; and H. P. Shupe, treasurer.
In 1908 the following were officers at Stancourt Laundry Co.: Henry W. Stoer, president; Charles H. Van Doren, secretary; and Henry P. Shupe, treasurer.
Henry William Stoer (1863-1934) and Henry P. Shupe (1866-1929) lived in Cleveland, Ohio, and were in the laundry business there.
Charles Henry Van Doren (1875-1934) lived in Westfield, New Jersey, and received the following obituary in the New York Herald Tribune, 25 Jan. 1934, pg. 17, "Millington, N. J., Jan. 24.- Charles H. Van Doren, a former president of the New York State Laundry Owners Association, organizer and president of the New York Laundry Board of Trade, died today at his home here. He was fifty-nine years old. Mr. Van Doren also had served two terms as a member of the Westfield Town Council, and for six years as a member of the Union County Board of Freeholders, from which he retired last December. He was credited with the establishment of Westfield's financial and budgetary system, which has been the model for many communities throughout the country. He was president of the Van Doren Laundry Service in Westfield. His wife, Mrs. Emma Josephine Van Doren, two sons, Harold and Wilbur Van Doren, and a daughter, Mrs. Harold Conley, all of Westfield, survive."
In 1925 Stancourt Laundry was absorbed into the newly formed Consolidated Laundries Corp. As reported in the New York Times, 16 Dec. 1925, pg. 36, "The Consolidated Laundries Corporation has been organized, to acquire, directly or indirectly, all of the common stock of eighteen laundry companies. Financing will be accomplished by the sale of 125,000 shares of no par value common stock at $22 a share. The directors of the corporation have signified their intention of placing this stock on an annual dividend basis of $2 per share, payable quarterly, beginning April, 1926, and it is said that application will be made to list these shares on the New York Stock Exchange. An offering of the stock will be made by Bonner, Brooks & Co., 120 Broadway. ... The new company is incorporated in Maryland and Charles B. Kilby is its President. The concerns to be merged include: ... Stancourt Laundry Company, Inc. ... Their principal business is in this city and the cities and towns of Long Island and New Jersey. ..."
A. F. Jenkins (The F should be an S) mentioned above in 1929 became president of Consolidated Laundries in 1928. . The New York Times, 29 March 1928, pg. 34, reported, "A. S. Jenkins has been elected President of the Consolidated Laundries Corporation, succeeding C. B. Kilby, who is Chairman of the board. Mr. Jenkins has been with the American Chicle Company and lately as Vice President."
Arthur Sandford Jenkins (1891-1970) was born 27 August 1891 in Newark, New Jersey. He seems to have run into a spot of trouble when he was captain of a New Jersey national guard unit: "Capt. Arthur S. Jenkins of 54 Hollywood avenue, East Orange, was found guilty of negligently permitting Company C of the 113th Infantry to contract bills amounting to $2,963.44 when the company did not have money on hand to pay the debts. He was sentenced to be reprimanded." (New York Sun, 23 April 1918, pg. 5), but this does not seem to have prevented him from rising in the executive ranks of the laundry business. In 1937 "Consolidated Laundries Company is to pay Arthur S. Jenkins, president and a director, $25,000 in salary and a 5 per cent of the consolidated net profit of the company in excess of $200,000 a year" (New York Sun, 12 Feb. 1937, pg. 34). In 1942 he registered for the World War II draft when he was "Arthur Sandford Jenkins, 50, born 27 Aug. 1891, Newark, New Jersey, employed Consolidated Laundries Corp., 122 E. 42 St., New York City."
The building at Worthen St. and Garrison, Ave., the Bronx, remained a Stancourt, then Consolidated Laundries, facility from 1926 to 1972.
Copyright © 2016 Walter Grutchfield